Welcome to Day 2 of the Twelve Days of Pound Cake! Today, we have another reimagined classic: Pineapple Upside-Down Pound Cake.
FRIEND. Sometimes, when I'm devouring eating something exceptionally tasty, I get very sad when I see the last few bites on my plate. I actually start strategizing about how to make those bites last. Please tell me I'm not alone in this.
As a certified (????) lifetime pineapple and maraschino cherry fanatic, this cake is an absolute no-brainer for me. I was SO SAD when I saw the last couple of bites on that plate. I actually considered calling a friend (or two) that I'd gifted it to, and asking for those slices BACK.
About this Pineapple Upside-Down Pound Cake
Every time I start developing a cake, I begin with the end in mind. I think about the texture, the taste…everything. When I started working on this Pineapple Upside-Down Pound Cake, I wanted something SO rich and SO dense and so lovely that
I succeeded. This cake is everything that my pineapple-loving heart could have wanted. While it's a timeless classic, I'm glad to call it mine.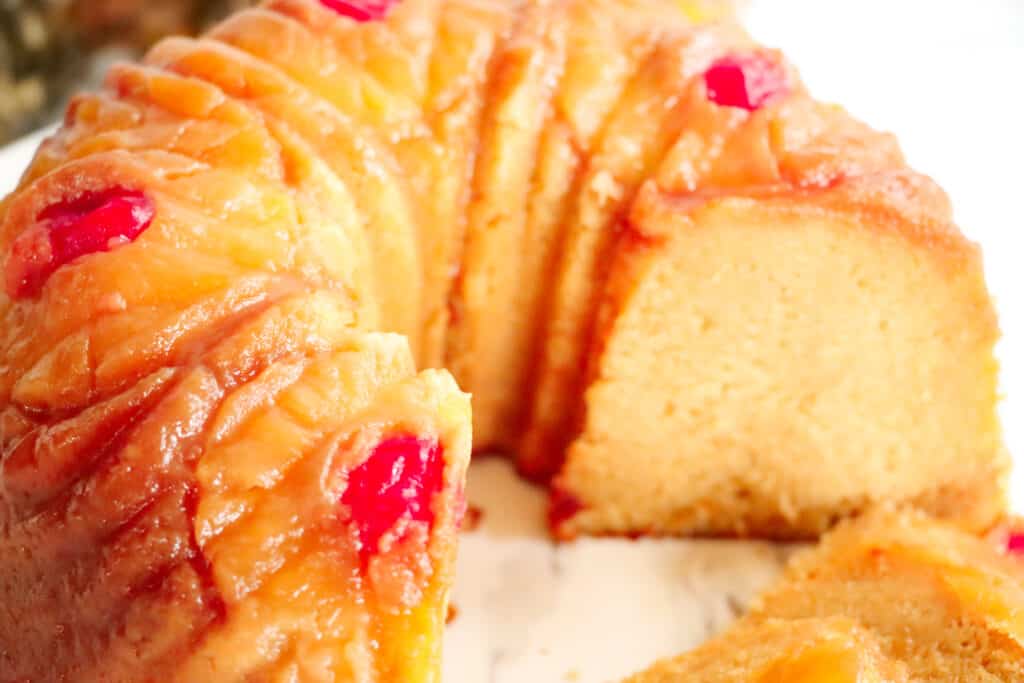 Let's talk about this cake, shall we?
The Begin with Butter Home Baking Academy is here! Check out our live classes and replays to help you get ready for holiday baking!

Want to purchase more than one class? Purchase a BwB Home Baking Academy bundle and save a bundle!
The Cake Ingredients
All-Purpose Flour: I love the pleasantly plump texture of a good pound cake. In my experience (and with my cakes), that beautiful texture comes from all-purpose flour. In this cake, with all of the heavy-duty ingredients, all-purpose flour is needed in order to make sure that the structure remains solid.
Vanilla Pudding: Vanilla pudding is a cake-maker's secret ingredient! It's often used to add moisture to a cake. I used it in this cake since I was determined to make this an experience. And it worked!
Baking Soda: Pineapple juice is highly acidic. So I added baking soda to this cake to ensure proper rise.
Kosher Salt: This is the kind of cake that can get very sweet very quickly. It's so important to have a bit of salt to counteract the sugar.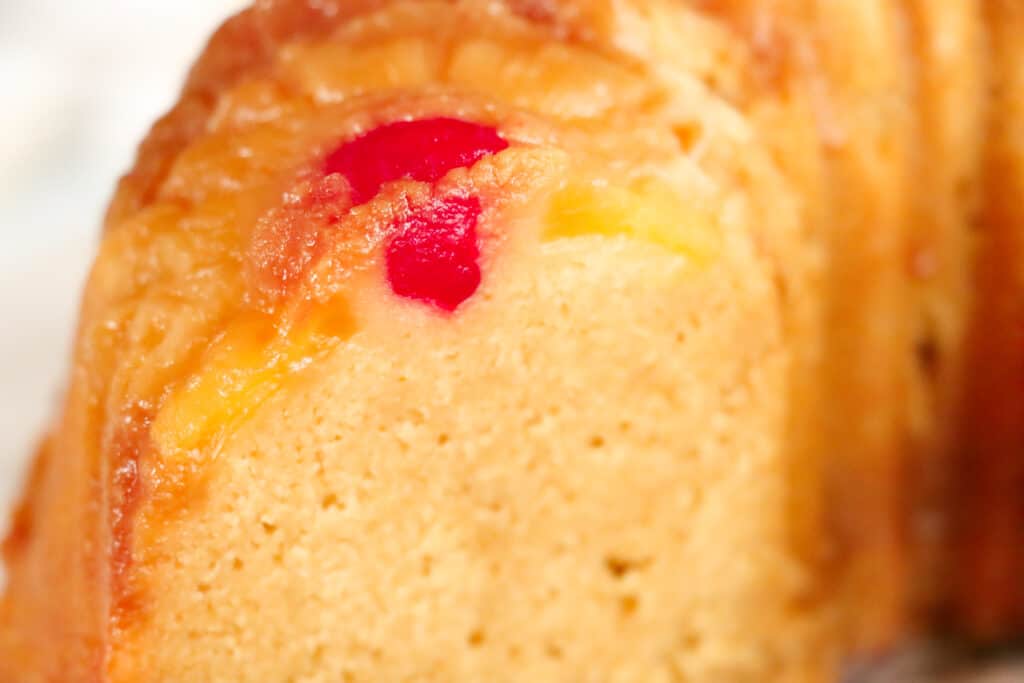 Unsalted Butter: I typically prefer butter-based pound cakes over oil-based pound cakes. For this cake, I chose butter over oil because I wanted the flavor, as well as the additional aeration that creaming butter and sugar would add.
Dark Brown Sugar: I chose dark brown sugar for this cake because I wanted the additional "je ne sais quois" from the molasses. I'm always looking to add a special touch to my cakes…the dark brown sugar definitely adds that special element to this cake!
Eggs: The protein in the eggs adds structure to the cake, while the fatty yolk adds delicious flavor.
Pure Vanilla Extract: This cake calls for two teaspoons of vanilla extract. Make sure to use the good stuff, like Nielsen-Massey, for this incredible recipe! Whatever brand you use, make sure you use pure vanilla extract.
Maraschino Cherry Juice: This cake gets a huge, puckering punch of flavor from pure pineapple juice. To help counter that punch, I added some of the maraschino cherry juice for just a bit of targeted sweetness.
Pineapple Juice: I chose to go all-in with the pineapple juice to satisfy my pineapple-loving heart. It adds a LOT of flavor to this cake, but because it's also very acidic, I needed to bump up the baking soda as well.
Onto the cake!
Beginners Start Here
If you're new to baking, or if you want to brush up on basics, here are a couple of super helpful articles from the BwB site that will help you get set up for success with this Pineapple Upside-Down Pound Cake.
These resources are super helpful to help you build consistency and confidence on your baking journey. Happy Reading!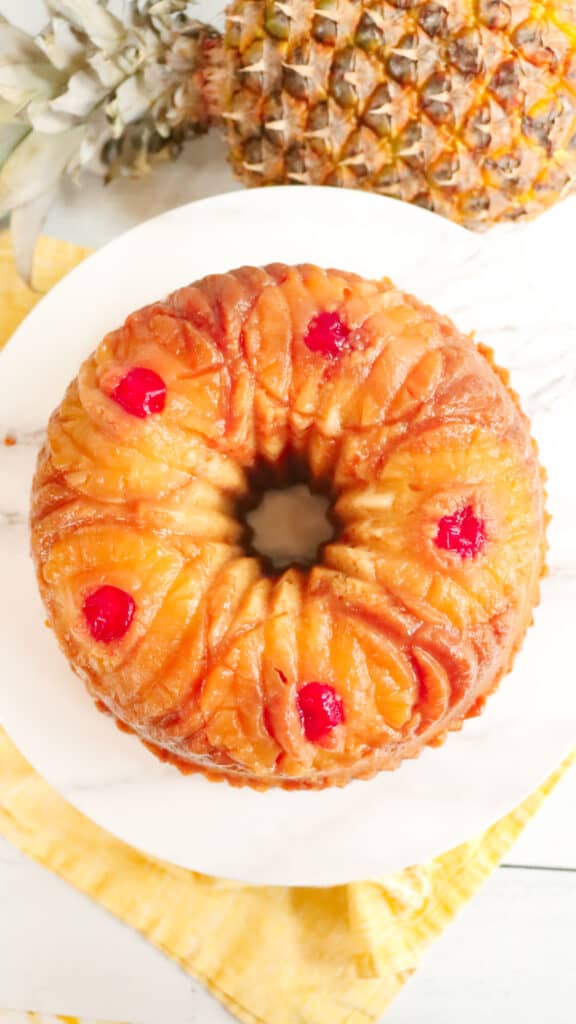 Important Tools Used in this Pineapple Upside-Down Pound Cake
Below, you'll find some tools that I used for this pound cake. These are the tools that I use in my kitchen for just about everything that I bake.
**I get paid a small commission if you purchase directly from these links, but they are truly amazing products that you'll find in my kitchen.**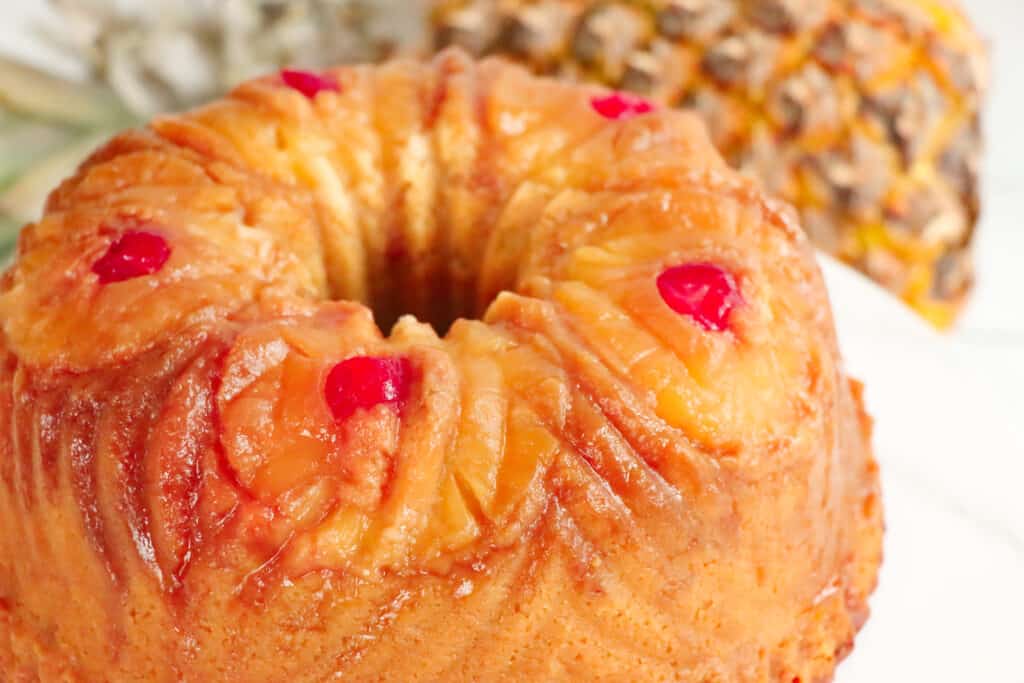 If you have them already, great! Think of this as a checklist to help you build the confidence that you'll need to execute this recipe!
This is the kind of cake that you save for special occasions because it would get eaten immediately if you made it regularly! That being said, I feel like I'll be making several of these this holiday season. For myself.
This gift is a blessing and a curse sometimes. ????
Enjoy the recipe, Friends! See you tomorrow for Day 3!
Print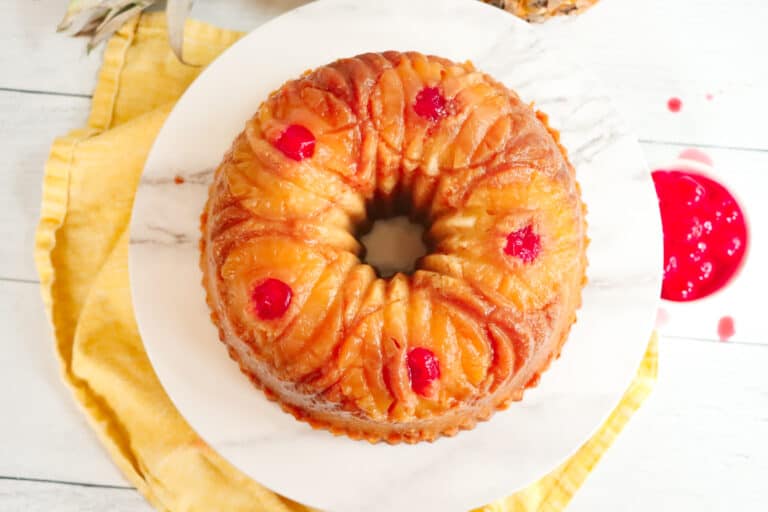 Pineapple Upside-Down Pound Cake
This Pineapple Upside-Down Pound Cake is a tremendous take on a classic cake.  It has satisfied my pineapple and maraschino cherry-loving heart in many ways and I hope you love it!
Total Time:

~5-7 hours (with cooling time)

Yield:

18

servings

1

x
For the Cake:
384

g

(3 c) all-purpose flour

100

g

(1 packet) vanilla pudding

1/2 tsp

baking soda

1.5 tsp

kosher salt
227 g (

1

c) unsalted butter, room temperature

500

g

(2.5 c) dark brown sugar

5

eggs

1 tsp

pure vanilla extract

1 tbsp

maraschino cherry juice

313

g

(1.25 c) pineapple juice
For the Simple Syrup:
67

g

(1/3 c) granulated sugar

84

g

(1/3 c) water

1 tbsp

pineapple juice

1/8 tsp

fine sea salt
For the Pan:
57 g (1/4 c) butter, melted
100 g (1/2 c) dark brown sugar
Pineapple rings
Maraschino cherries
Instructions
To Make the Cake:
Preheat oven to 325°F.

 

An

oven thermometer

will help you reach the right oven temperature; our ovens are often off, and that makes a huge difference!
Sift all-purpose flour, vanilla pudding, baking soda, and kosher salt into a medium bowl.

 

Set aside.
Add butter to the bowl of a stand mixer or a large mixing bowl.

 

Mix the butter until it is completely smooth.
Add dark brown sugar and cream butter and sugar until light and fluffy.

 

Take your time with this step!

 

(Not sure what properly creamed butter and sugar should look like?

 

Take a look

here

!)
Add eggs, one at a time, mixing until each egg is completely incorporated.

 

Scrape the sides and bottom of the bowl as needed.
Add the vanilla extract and maraschino cherry juice and mix until completely incorporated.
Add half of the flour mixture and mix until just incorporated.
Add all of the pineapple juice and mix until just incorporated.

 

The mixture might look a bit curdled at this point and that is okay!
Add the other half of the flour mixture and mix until just incorporated.  Finish with a few turns with a stiff spatula to ensure that everything is evenly mixed.
To Prepare the Pan:
Prepare the entire bundt pan as your normally would (I use the butter/flour method, and you can see how to do that right

here

!).

 

Gently pour the melted butter over the bottom of the pan, making sure not to splash the sides.
Sprinkle the brown sugar into the bottom of the pan, making sure to cover all of the butter.
Place pineapple rings into the bottom of the pan.

 

Add cherries to the center of the pineapple rings.
Gently add the batter to the pan.
Bake for 60-75 minutes, or until an instant-read thermometer reads 210°F-215°F.

 

My Goldilocks temp is 212°F.

 

Remove from the oven and allow to place on a cooling rack, in its pan, for ten minutes.

 

Place a piece of parchment paper under the cooling rack!
After ten minutes, invert the cake onto the cooling rack and watch the goodness happen!
To Make the Simple Syrup:
Add the water, granulated sugar, and salt to a small saucepan.

 

Bring to a boil and boil just until all of the solids are dissolved.

 

Remove from the heat.
Add the pineapple juice and stir to combine.
Gently brush on the parts of the cake that are not covered by the brown sugar "caramel" from baking (just the bottom parts of the cake).

 

Allow the cake to cool completely before cutting and

 

eating! (3-5 hours)
Notes
It is beyond important that you prep the pan properly for this cake.  Because melted butter and sugar makes caramel, which is just a really nice way of calling something GLUE.  I use my tried and true method of butter and flour, and I cannot vouch for any other methods of prepping the pan, but I can assure you that a properly prepared pan will release the cake!
Author:

Prep Time:

30 minutes

Cook Time:

60-75 minutes

Category:

Dessert

Cuisine:

American
Keywords: Pineapple Upside-Down Pound Cake, Pineapple Upside-Down Bundt Cake
Check out the other pound cakes from the Twelve Days of Pound Cake 2022!