Hello, Friends! And welcome to Day 6 of the Twelve Days of Pound Cake! Today, I have one of my favorite spice/citrus combinations on the whole planet, in the form of this Cardamom Orange Pound Cake.
This cake features my personal favorite spice in the whole wide world: cardamom.
Say it with me, friends. CARDAMOM. Even coming off the tongue it sounds so special. And that's because it is special. To me, it's actually the GOAT of the spices. The depth of flavor that it adds to anything it blesses is unmatched.
I knew I wanted an "orange spice" cake for this lineup, but when I started work on this cake (read: staring out the window and waiting for inspiration), I wasn't sure just what I wanted to do.
When it finally came to me, it felt like it had been there all along.
About this Cardamom Orange Pound Cake
This cake is decadent. There's no two ways around it. We are at the beginning of citrus season here in Maryland, so the oranges are just so….choice. (high five if you caught the Ferris Bueller reference just there.). Paired with the multi-faceted, deep scent and flavor of the cardamom, this cake is an incredible addition for any table at any time.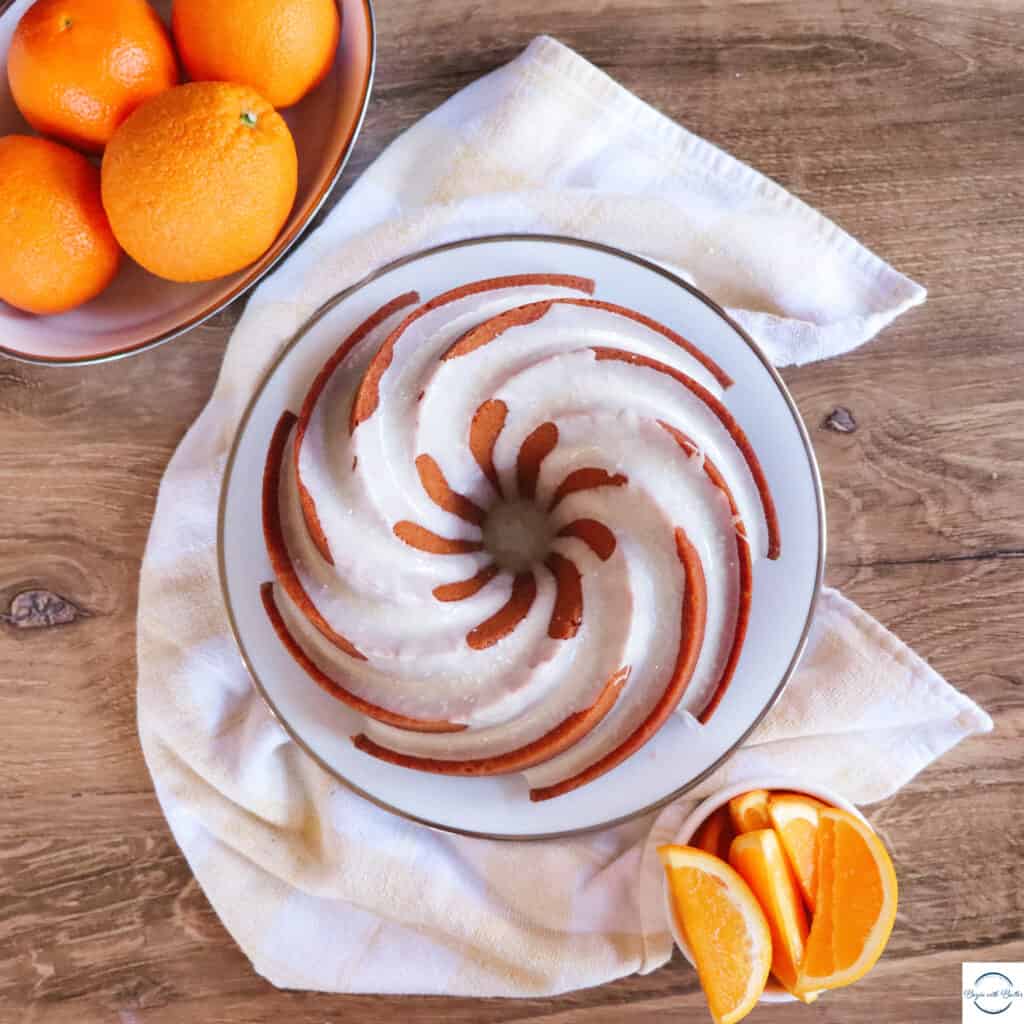 Cardamom Orange Pound Cake Ingredients
All-Purpose Flour: I love the pleasantly plump texture of a good pound cake. In my experience (and with my cakes), that beautiful texture comes from all-purpose flour. In this cake, the all-purpose flour helped me achieve the texture that I really wanted.
Baking Soda: This cake has acidic ingredients, so baking soda was the proper leavening to add to this cake.
Kosher Salt: Salt is very important in any dessert; it balances the sugar and keeps the dessert from becoming cloyingly sweet. If using table salt for this recipe, cut the amount in half.
Cardamom: Cardamom is difficult to describe using words. It's smoky and spicy and sweet at the same time. And it's deep. In modest amounts, it adds incredible flavor and scent to anything it touches.
Olive Oil: I played with this recipe a bit and ended up wanting to use olive oil instead of butter. First of all, this means that this cake comes together extremely quickly. But I also wanted a neutral-flavored oil that would allow the orange and the cardamom to come through very well.
Granulated Sugar: In this cake, granulated sugar adds sweetness and caramelization. That beautiful crust on the outside of your pound cake? It is largely because of the amount of sugar in your recipe!
Eggs: The protein in the eggs adds structure to the cake, while the fatty yolk adds delicious flavor.
Pure Vanilla Extract: This cake calls for two teaspoons of vanilla extract. Make sure to use the good stuff, like Nielsen-Massey, for this incredible recipe! Whatever brand you use, make sure you use pure vanilla extract. It can be difficult to find this time of year, so make sure to stock up!
Orange Zest: This is the money ingredient! Yes, orange juice adds some flavor to this cake, but the process of massaging orange zest into your granulated sugar releases those delectable citrus oils and imparts huge orange flavor into this cake!
Freshly Squeezed Orange Juice: Since you have to use the zest, might as well juice the oranges! The juice will be worth the squeeze! ????
Buttermilk: Buttermilk is a perfect accompaniment for almost any citrus cake. That holds very true here as well.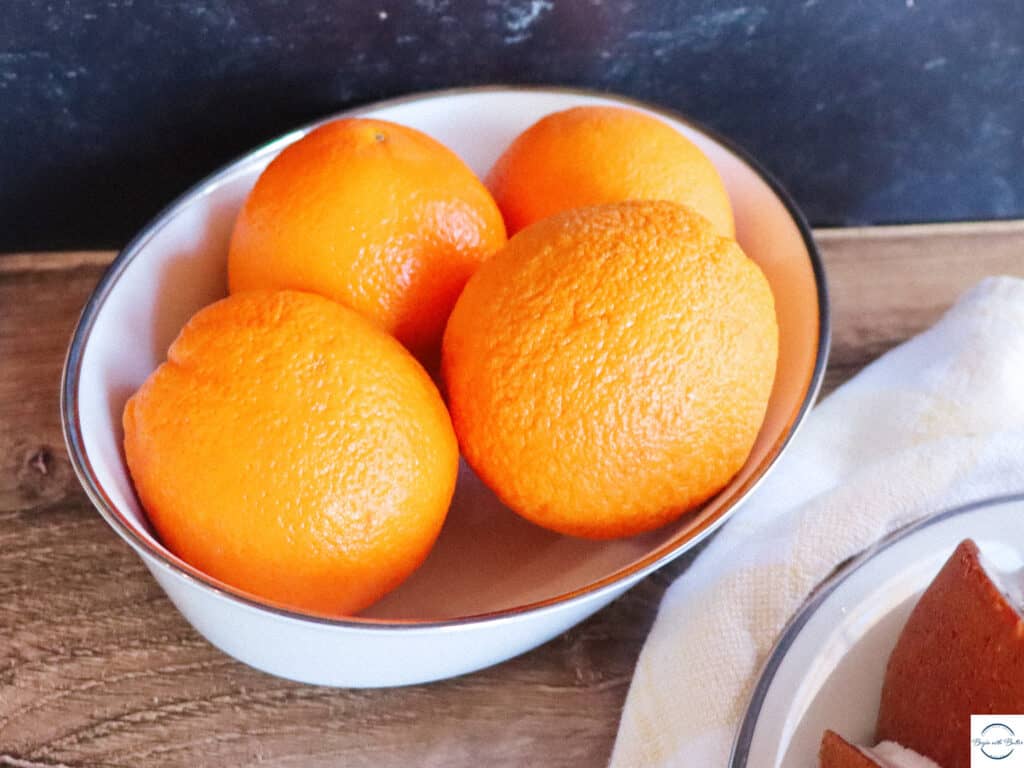 Beginners Start Here
If you're new to baking, or if you want to learn how to do some of the more tricky baking techniques, here are a couple of super helpful articles from the BwB site that will help you get set up for success with this Cardamom Orange Pound Cake.
These resources are super helpful to help you build consistency and confidence on your baking journey. Happy Reading!
Important Tools Used in this Cardamom Orange Pound Cake
Below, you'll find some tools that I used for this pound cake. These are the tools that I use all the time in my own kitchen.
**I get paid a small commission if you purchase directly from these links, but they are truly amazing products that you'll find in my kitchen.**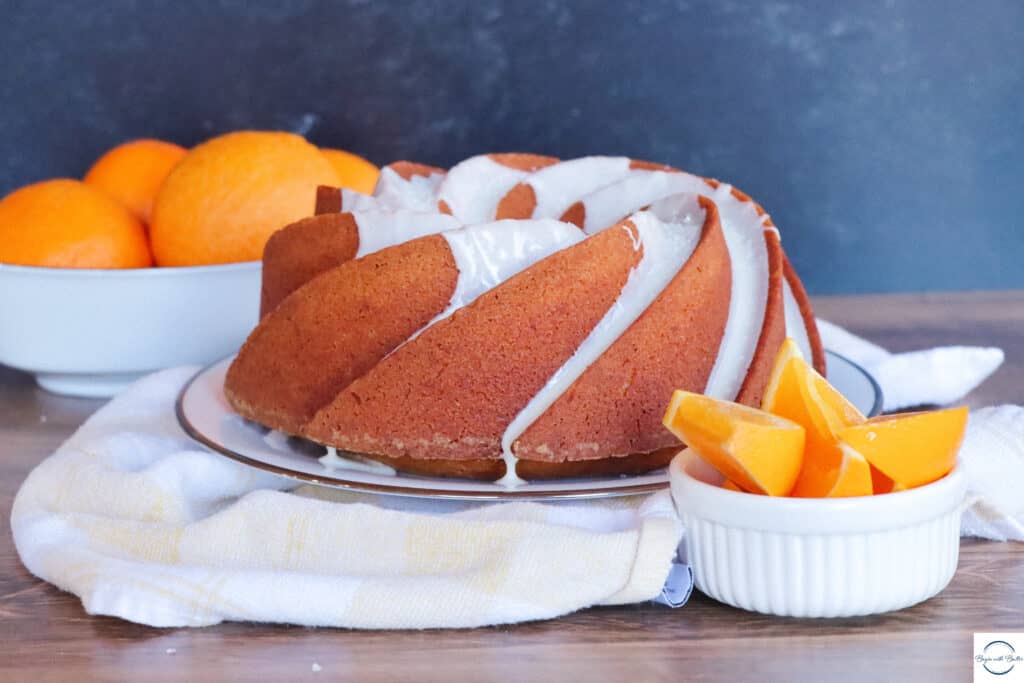 If you have them already, great! Think of this as a checklist to help you build the confidence that you'll need to execute this recipe!
This cake is over-the-top delicious and I hope you love it as much as I do. When you open that cake cover at your holiday event, you're going to stun everyone!
Enjoy the recipe, Friends! See you tomorrow for Day 7!
Print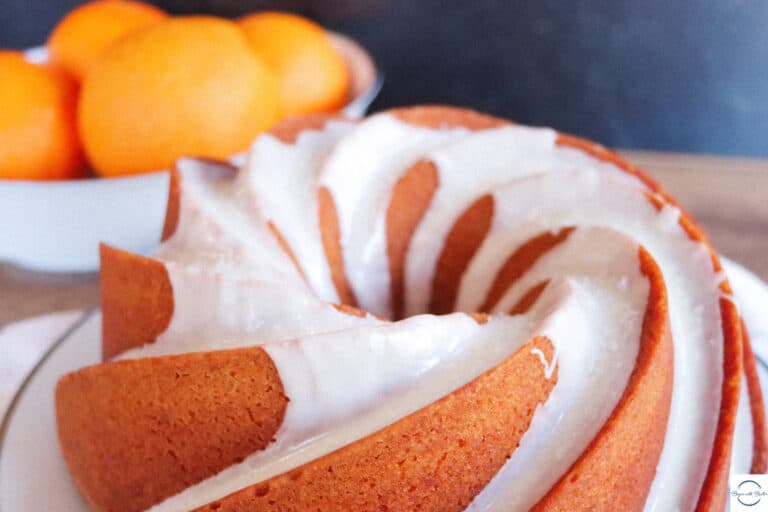 Cardamom Orange Pound Cake
This beautiful cake is a sensory delight.  From the citrus notes to my favorite cardamom spice, it is an incredible addition to any table.  And it is easy to make!
For the Cake:
384

g

(3 c) all-purpose flour

1 tsp

salt

1/4 tsp

baking soda

1 tsp

cardamom

500

g

(2.5 c) granulated sugar

2 tbsp

orange zest

5

eggs

2 tsp

pure vanilla extract

2 tbsp

freshly squeezed orange juice

250

g

buttermilk

270

g

(1.25 c) extra virgin olive oil
Orange Simple Syrup:
84

g

(1/3 c) water

67

g

(1/c c) granulated sugar

1/8 tsp

fine sea salt

2 tbsp

freshly squeezed orange juice

1 tsp

pure vanilla extract
For the Cardamom Orange Glaze:
240

g

(2 c) confectioner's sugar

3 tbsp

freshly squeezed orange juice (Triple Sec also works beautifully here if you're looking for a little kick!)

1/8 tsp

fine sea salt

1/8 tsp

cardamom

1 tbsp

water
Instructions
To Make the Cake:
Pre-heat your oven to a true 325°F.

 

This temperature is super important!

 

An

oven thermometer

will help you determine if your oven runs hot or cold.
Sift together the all-purpose flour, cardamom, baking soda, and kosher salt in a large mixing bowl.

 

Set aside.

 

In a large bowl, combine the granulated sugar and orange zest.

 

Using clean hands, massage the two together until the sugar turns orange.

 

Don't skimp on this step; give it 3-5 minutes minimum.

 

It's the technique that will extract most of the orange oils from the zest!

   

Thoroughly combine the infused granulated sugar, eggs, pure vanilla extract, and fresh squeezed orange juice, and buttermilk with a ballon whisk.

 

Add olive oil to liquid mixture and combine with the whisk until everything is thoroughly combined.

 

The oil will take a minute or two to combine with the rest of the mixture, but it will combine!

 

Keep stirring!
Add the wet mixture to the dry mixture and stir with the balloon whisk until no lumps of flour remain.
Prepare your bundt pan and add the batter to the prepared bundt pan.
Bake for 55-70 minutes in a 325°F oven, or until an instant-read thermometer reads 210°F-215°F.

 

My Goldilocks temp is 212°F.

 

Remove from the oven and allow to place on a cooling rack, in its pan, for ten minutes.
After ten minutes, invert the cake onto the cooling rack.

 
To Make the Orange Simple Syrup:
Add the water, granulated sugar, and salt to a small saucepan.

 

Bring to a boil and boil just until all of the solids are dissolved.

 

Remove from the heat.
Add the vanilla extract and orange juice and stir to combine.
Brush on the cake after inverting it onto the cooling rack.

 

Allow the cake to cool completely.

 

Like, 3-5 hours "completely".
To Make the Cardamom Orange Glaze:
Add the confectioner's sugar, fine sea salt, cardamom, vanilla extract, and three tablespoons of orange juice (or Triple Sec) to a medium mixing bowl.

 

Stir until the mixture is mixed but clumpy.

 

If all of the confectioner's sugar won't incorporate into the clumpy mixture, add another 1/2 tbsp of orange juice or Triple Sec.
Add water to the mixture and stir until smooth.
The final glaze should have the consistency of thick honey.
Pour over the cake with a spouted measuring cup, squeeze bottle, or spoon.

 

Enjoy!
Check out the rest of the lineup from the Twelve Days of Pound Cake 2022!