Hello, My Friends! And welcome to Day 9 of the Twelve Days of Pound Cake! Today, we have a classic classic, with a twist. It's a Hummingbird Pound Cake, without nuts!
To my Hummingbird Cake purists: I understand your side eyes. However, we have severe nut allergies in my home, so I don't ever bake with nuts.
I was not, however, willing to give up Hummingbird Pound Cake forever because of that. This is one of many times that being a recipe developer came in very handy.
The Begin with Butter Home Baking Academy is here! Check out our live classes and replays to help you get ready for holiday baking!

Want to purchase more than one class? Purchase a BwB Home Baking Academy bundle and save a bundle!
About this Hummingbird Pound Cake
Hummingbird Pound Cake is an absolute delight. It features ripe bananas and pineapple and that, Friends, is one of the best combinations on the planet earth. The texture is wholly unique to Hummingbird Pound Cake; it's more crumbly than a typical pound cake. The taste, however, is so delicious that I don't mind dropping a few crumbs as I walk around the house.
This is a spice cake; many recipes add cinnamon exclusively to Hummingbird Pound Cake, but I love nutmeg for the warmth that it adds to everything, so I added just a touch to make this homey cake even more homey. And of course there's a cream cheese glaze that is just perfection.
Oh. And my picky son snuck a whole piece of it when he thought I wasn't looking, so it must be incredible because he has NO CHILL about telling me when he doesn't like something. ????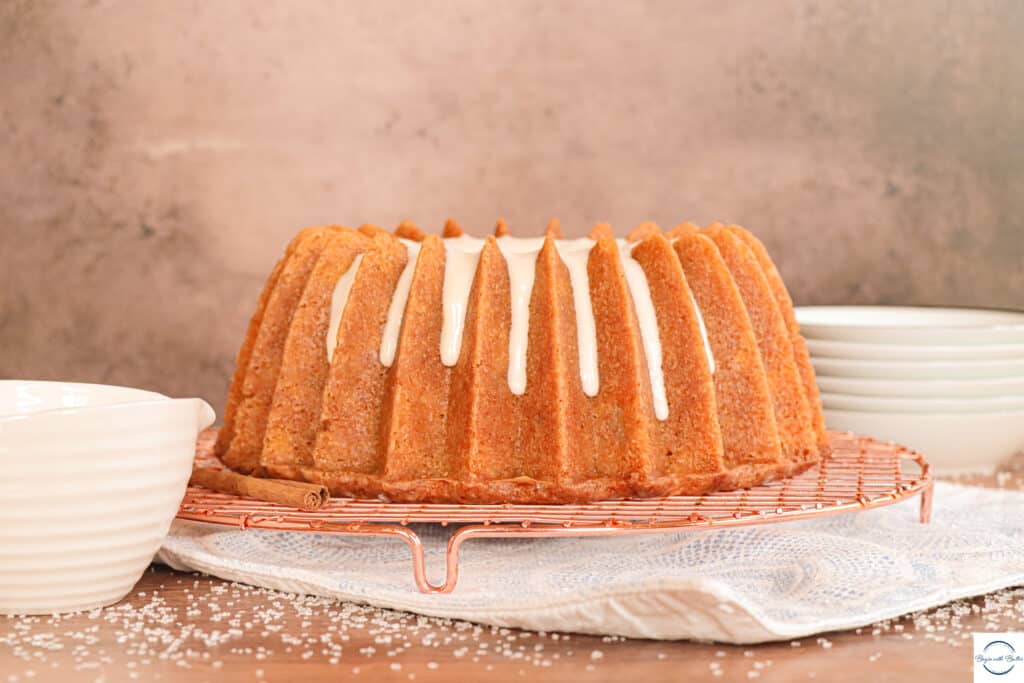 Hummingbird Pound Cake Ingredients
All-Purpose Flour: You'll want to use all-purpose flour in this cake. Cake flour has too little protein to provide proper structure for this cake.
Baking Soda: I used crushed pineapple and mashed bananas as the "liquid" in this cake. Because of that, baking soda was the proper leavening; both pineapple and bananas are acidic fruits.
Kosher Salt: Salt is very important in any dessert; it balances the sugar and keeps the dessert from becoming cloyingly sweet. If using table salt for this recipe, cut the amount in half.
Nutmeg: The slight amount of nutmeg in this recipe adds a big hit of warmth to this cake.
Cinnamon: Cinnamon is a traditional spice for this cake, so I wanted to be sure that it was represented in this cake. Measure the cinnamon carefully though; it can become overpowering if you're not careful with the measurement!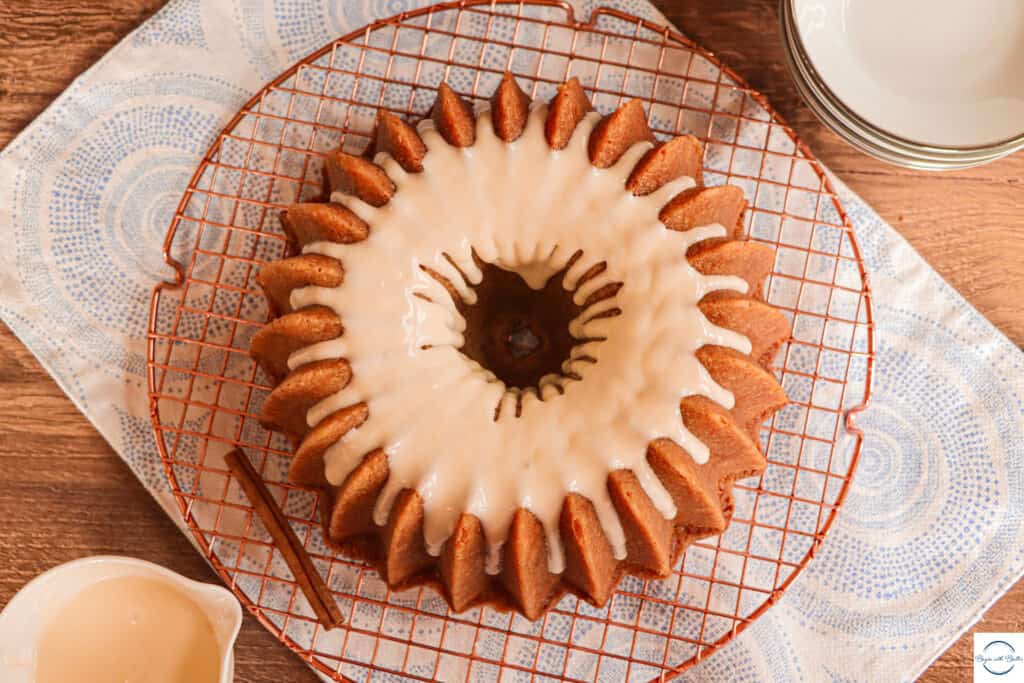 Unsalted Butter: This cake has some heavy-duty ingredients, so I wanted to use butter instead of oil. The butter helps this cake become lighter! Specifically, the process of creaming butter and sugar creates air pockets that assist with cake rise.
Vegetable Oil: I added two tablespoons of vegetable oil to this cake to help keep it wonderfully moist.
Granulated Sugar: Granulated sugar adds sweetness and caramelization. That beautiful crust on the outside of your pound cake? It is largely because of the sugar in your recipe!
Eggs: The protein in the eggs adds structure to the cake, while the fatty yolk adds delicious flavor.
Pure Vanilla Extract: Make sure to use the good stuff, like Nielsen-Massey, for this incredible recipe! Whatever brand you use, make sure you use pure vanilla extract. It can be difficult to find this time of year, so make sure to stock up!
Mashed Ripe Bananas: I do a chunky mash of my bananas, because I love the texture that it lends to this cake. If you prefer not to have chunks of banana in your cake, you can pulse the banana in a food processor until. itis smooth.
Crushed Pineapple (with the juice!): Pineapple adds flavor and texture to this amazing cake.
Pecans (optional): It's optional to fold in a cup of pecans into the batter. I did not, but this cake batter could easily support 1-1.5 cups of chopped pecans.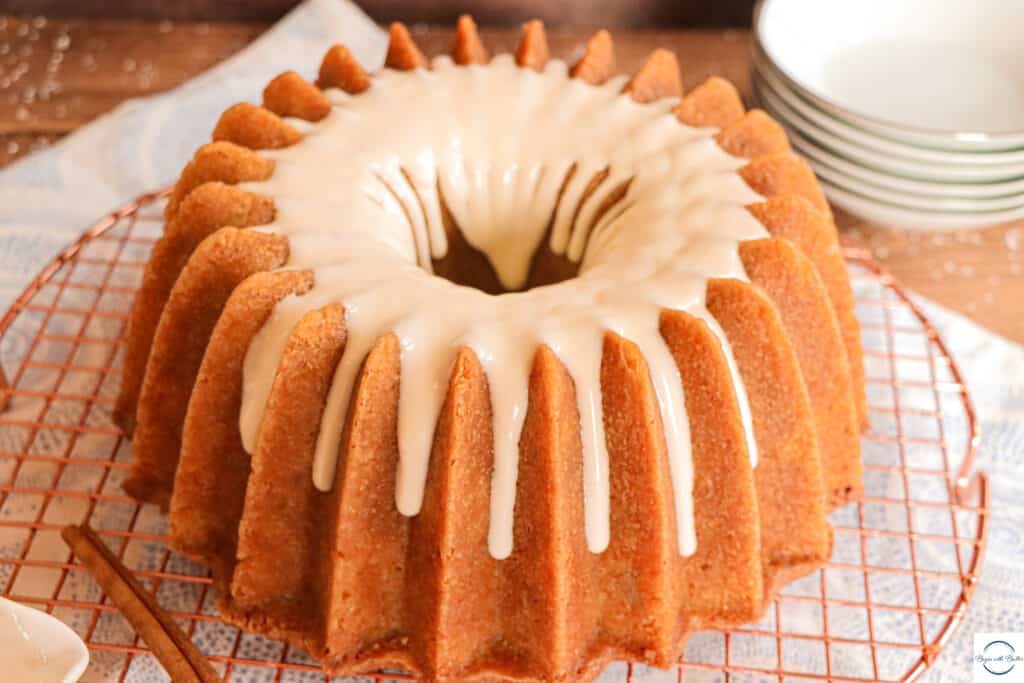 Beginners Start Here
If you're new to baking, or if you want to brush up on baking basics, here are a couple of super helpful articles from the BwB site that will help you get set up for success with this Hummingbird Pound Cake.
These resources are super helpful to help you build consistency and confidence on your baking journey. Happy Reading!
Important Tools Used in this Cinnamon Roll Pound Cake
Below, you'll find some tools that I used for this pound cake. These are the tools that I use all the time in my own kitchen.
**I get paid a small commission if you purchase directly from these links, but they are truly amazing products that you'll find in my kitchen.**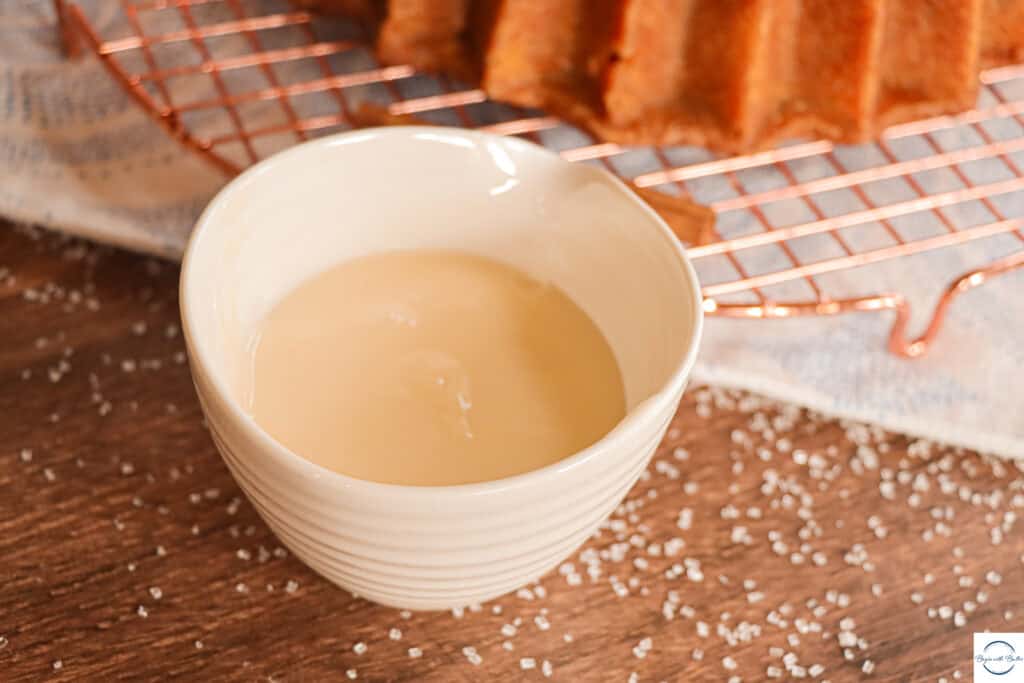 If you have them already, great! Think of this as a checklist to help you build the confidence that you'll need to execute this recipe!
Several of you all asked for this recipe by name, I hope that you love the recipe that I ended up developing for you!
Enjoy the recipe, Friends! See you tomorrow for Day 10!
Print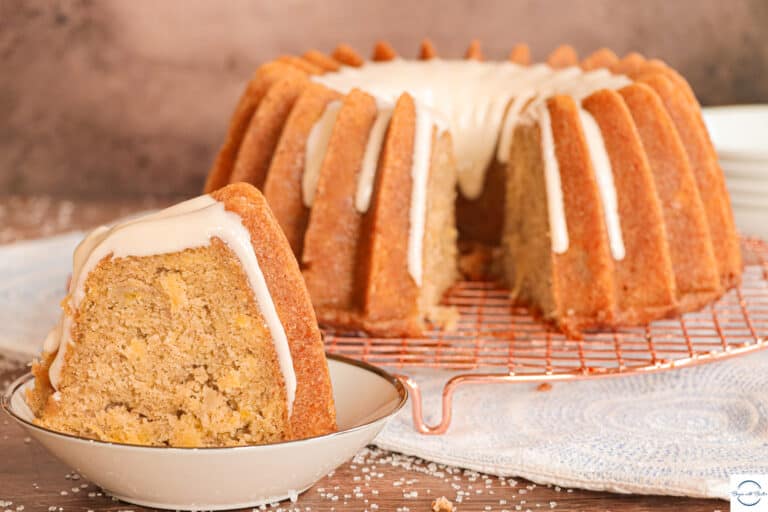 Hummingbird Pound Cake
This Hummingbird Pound Cake is a delectable treat, without the nuts!  It's incredibly moist and perfect for holiday tables.
Total Time:

~5-7 hours

Yield:

18

servings

1

x
For the Cake:
384

g

(3 c) all-purpose flour

1/4 tsp

baking soda

1 tsp

kosher salt

1 tsp

cinnamon

1/2 tsp

nutmeg

227

g

(1 c) unsalted butter, room temperature

2 tbsp

vegetable oil

500

g

(2.5 c) granulated sugar

5

large eggs, room temperature

2 tsp

pure vanilla extract

248

g

(1 c) ripe mashed banana (about 2 large bananas)

227

g

(8 oz) crushed pineapple, undrained
For the Vanilla Simple Syrup:
67

g

(1/3 c) granulated sugar

84

g

(1/3 c) water

1/8 tsp

fine sea salt

1 tsp

pure vanilla extract
For the Cream Cheese Glaze:
154

g

(2/3 c)

cream cheese, room temperature

240

g

(2 c)

confectioner's sugar

1 tsp

pure vanilla extract

3 tbsp

whole milk

1/8 tsp

fine sea salt
Instructions
To Make the Batter:
Set your oven to a true 325°F.

 

An oven thermometer is extremely useful here, since most ovens will not reach 325°F when set to 325°F.

 

Sift together the all-purpose flour, cinnamon, nutmeg, kosher salt and baking soda in a medium bowl.

 

Set aside.
Stir together the mashed bananas and crushed pineapple in a medium bowl.

 

Set aside.

 

Add the room-temperature butter and vegetable oil to the bowl of your stand mixer or a large mixing bowl.

 

Mix just the butter and oil with your hand or stand mixer until it is completely combined and smooth.

 

Add the granulated sugar and cream until the mixture is light and fluffy.
Add the eggs, one at a time, mixing each egg until it is completely incorporated into the mixture.

 

Scrape the sides and bowl as needed to ensure even mixing.
Add the vanilla and mix thoroughly.
Add half of the flour mixture and mix until just combined.
Add all of the pineapple/banana mixture and mix until just combined.
Add the second half of the flour mixture and mix until just combined.

 

Using a rubber spatula, give the sides and bottom of the bowl a final scrape to ensure that the batter is evenly mixed.
Prep a 10- or 12-cup bundt pan as you normally would (I use butter and flour to prep pans for this cake) and add the batter to the pan.

 

Use a rubber spatula to even out the batter, then tap the pan on the countertop several times to remove air bubbles from the batter.
Bake for 60-70 minutes in a true 325°F oven, or until an instant-read thermometer reads 212°F-215°F.

 
To Make the Vanilla Simple Syrup:
Add sugar, sea salt, and water to a small saucepan.

 

Bring to a boil and reduce to a simmer.

 

Remove from the heat as soon as the solids are completely dissolved.
Add pure vanilla extract and stir to combine.
Allow the cake to cool in its pan for ten minutes, then invert and place on top of a cooling rack.

 

Brush simple syrup on the cake and allow to cool completely.
To Make the Cream Cheese Glaze:
Add the room-temperature cream cheese to a large mixing bowl or the bowl of a stand mixer.

 

Mix until completely smooth.
Add the confectioner's sugar, whole milk, and vanilla extract to the bowl.

 

Mix on low speed until there are no more lumps.
Use a spouted measuring cup, spoon, or squeeze bottle to add the glaze to the completely cooled cake.
Enjoy!
Author:

Prep Time:

30 minutes

Cook Time:

60-75 minutes

Category:

Dessert

Cuisine:

American
Keywords: Hummingbird Pound Cake Without Nuts
Check out the other pound cakes from the Twelve Days of Pound Cake 2022!