Hello my Friends! Welcome to Day 11 of the Twelve Days of Pound Cake! Today's Cosmopolitan Pound Cake is a nod to someone extremely special in my life: my twin sister. You see, there was a time, before I was a baker, that I was actually a bartender. And the Cosmopolitan was the queen of cocktails when I was behind the bar.
My sister also tended bar around the same time (albeit, in higher class establishments than I), and we would always compare notes about how many "cosmos" we'd served on a given night. It was…a lot.
Yet we never tired of the flavors ourselves, and we always strove to make each one better than the last.
That's my general philosophy for life, Friends. I want each thing that I do to be better than the last.
About this Cosmopolitan Pound Cake
Besides vodka, there are three very prominent flavors in a good cosmo: orange (Cointreau), lime juice (for me, unsweetened ????), and cranberry. A good cosmo is a perfect balance between the bite of the vodka, the sweetness of the Cointreau (orange), and the tartness of the cranberries and lime.
This cake hit all of those notes for me. Every single one. And for those of you who love tart/sweet cakes, this is your girl. To extract all of that gorgeous tartness out of the limes, I massaged the zest into the granulated sugar. The result? A through note of lime that doesn't overpower the cake, but that accentuates the other flavors.
Just like the drink!
This cake is perfect for all of the holiday parties (NYE, anyone?), and it's highly customizable! You can have a boozy version or a kid-friendly version. Or both! (Just make sure to mark which one is which!)
Cosmopolitan Pound Cake Ingredients
All-Purpose Flour: I love the pleasantly plump texture of a good pound cake. In my experience (and with my cakes), that beautiful texture comes from all-purpose flour. In this cake, the all-purpose flour also helps to evenly distribute the cranberries.
Baking Soda: I chose to use sour cream in this cake. Because sour cream is an acidic ingredient, baking soda was the proper leavening for this particular pound cake.
Kosher Salt: Salt is very important in any dessert; it balances the sugar and keeps the dessert from becoming cloyingly sweet. If using table salt for this recipe, cut the amount in half.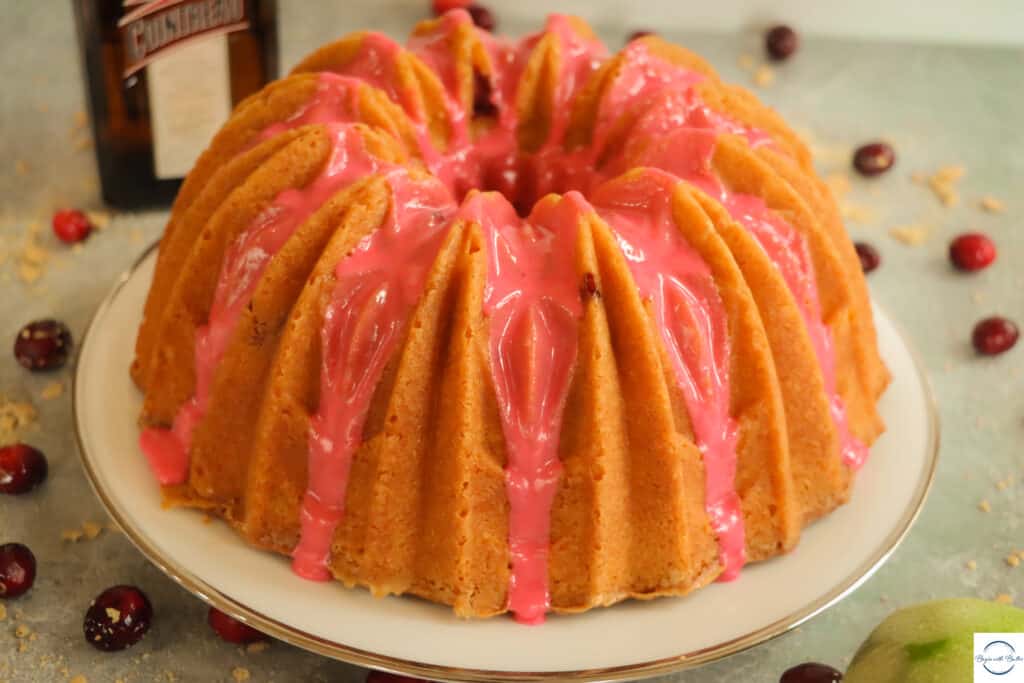 Unsalted Butter: This cake features huge flavors from the citrus and cranberries. After a couple of iterations, I settled on butter for this cake because that buttery richness played very nicely with the tartness of the cranberries and lime for this special cake.
Granulated Sugar: Granulated sugar adds sweetness and caramelization. That beautiful crust on the outside of your pound cake? It is largely because of the sugar in your recipe!
Eggs: The protein in the eggs adds structure to the cake, while the fatty yolk adds delicious flavor.
Pure Vanilla Extract: Make sure to use the good stuff, like Nielsen-Massey, for this incredible recipe! Whatever brand you use, make sure you use pure vanilla extract. It can be difficult to find this time of year, so make sure to stock up!
Orange Extract: I chose orange extract instead of orange zest because the orange zest and lime zest just wanted to fight one another. That fighting really impacted the flavor. Plus, if you want a deeper flavor, you can use Cointreau or Triple Sec for the orange flavor in the cake!
Sour Cream: You'll want to use full-fat sour cream for this recipe. Fat=flavor and you don't want to skimp on flavor! The rich sour cream also helps support the cranberries and promote even distribution in this cake.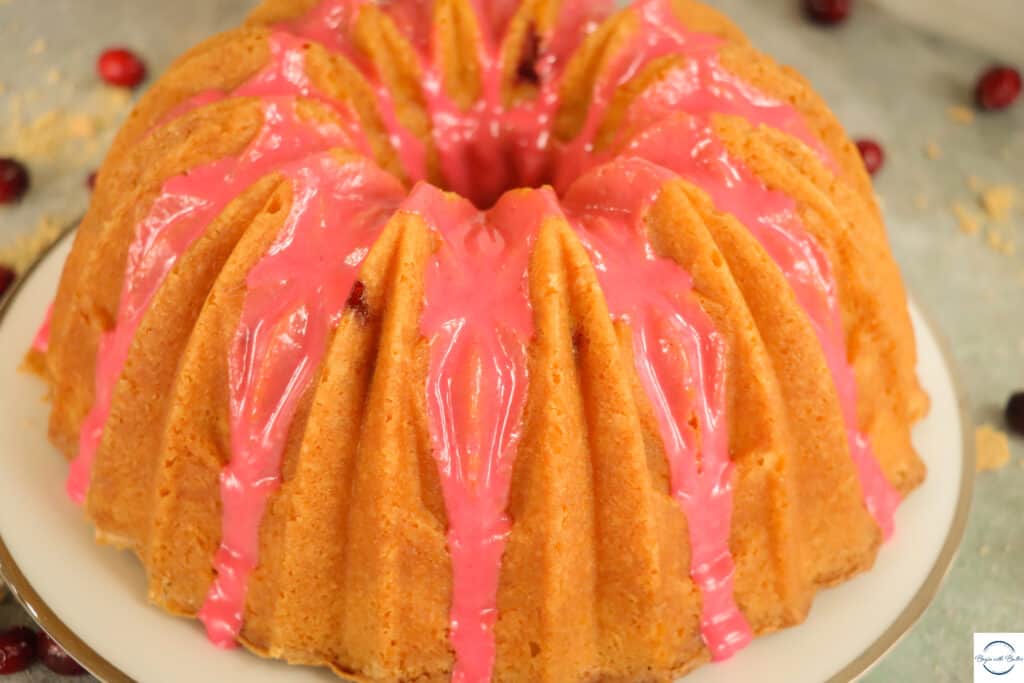 Beginners Start Here
If you're new to baking, or if you want to brush up on basics, here are a couple of super helpful articles from the BwB site that will help you get set up for success with this Cosmopolitan Pound Cake.
These resources are super helpful to help you build consistency and confidence on your baking journey, and that is my central mission here at Begin with Butter. Happy Reading!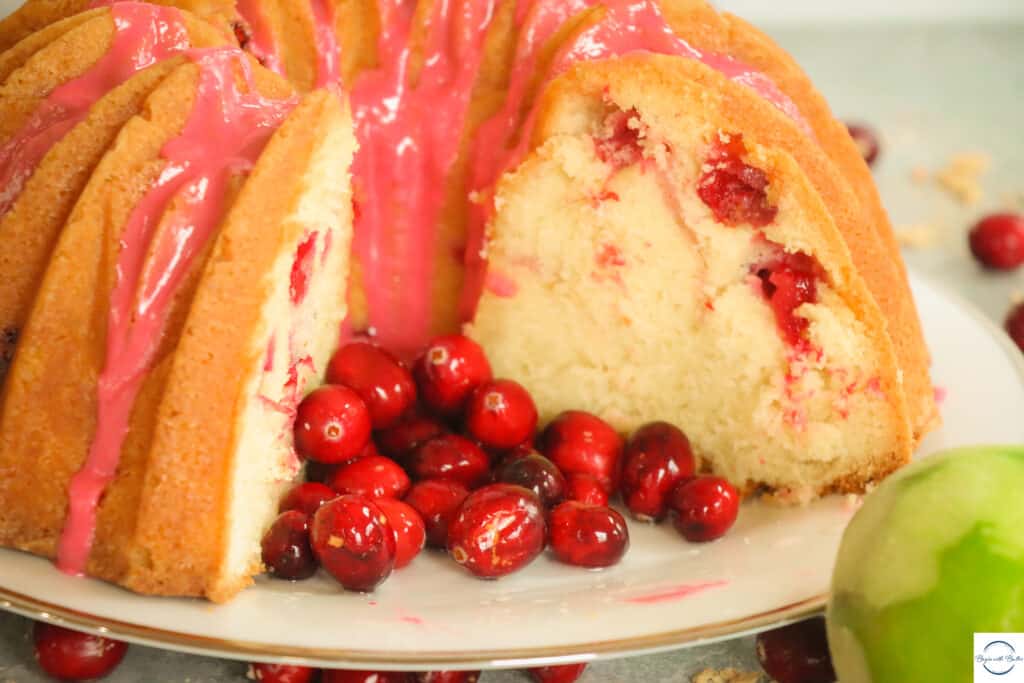 Important Tools Used in this Cosmopolitan Pound Cake
Below, you'll find some tools that I used for this pound cake. These are the tools that I use all the time in my own kitchen.
**I get paid a small commission if you purchase directly from these links, but they are truly amazing products that you'll find in my kitchen.**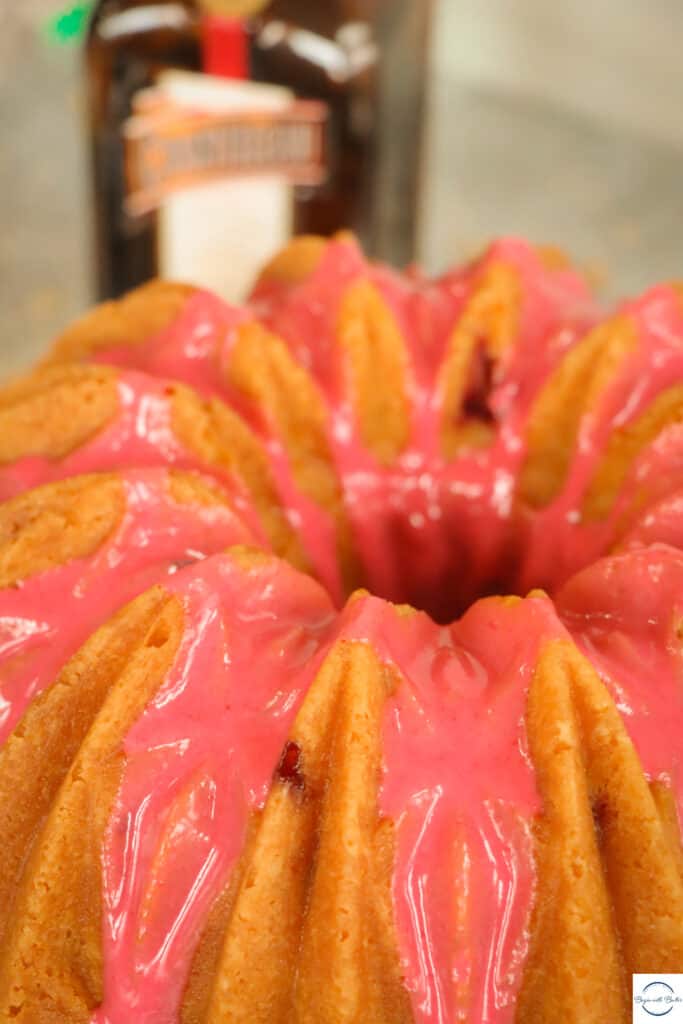 If you have them already, great! Think of this as a checklist to help you build the confidence that you'll need to execute this recipe!
I can't wait to serve this one to my sister, and go down memory lane about our bartending days!
Enjoy the recipe, Friends! See you tomorrow for our final pound cake for the Twelve Days of Pound Cake 2022!
Print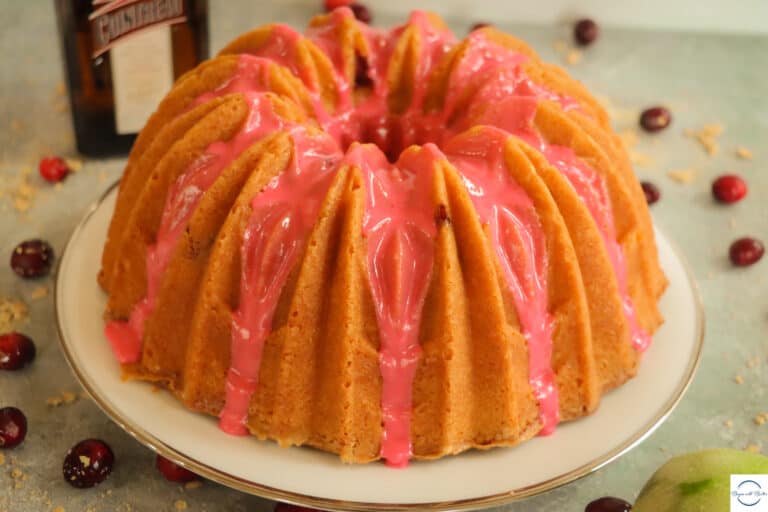 Cosmopolitan Pound Cake
This celebration citrus cake hits all the right notes!
Total Time:

~5-7 hours

Yield:

18

servings

1

x
For the Cake:
384

g

(3 c) all-purpose flour, plus 2 tbsp for dusting the cranberries

1/4 tsp

baking soda

1 tsp

salt

227

g

(1 c) butter, room temperature

500

g

sugar

2 tbsp

lime zest (about

2

limes)

5

eggs

1 tsp

vanilla extract

2 tsp

Cointreau or orange extract

227

g

sour cream

150

g

(1.5 c) fresh cranberries, cleaned
For the Orange Simple Syrup (which can be doubled!):
84

g

(1/3 c) water

67

g

(1/3 c) granulated sugar

1/8 tsp

fine sea salt

1 tsp

orange extract (or up to

3 tbsp

of Cointreau/Triple Sec)
For the Cranberry Gelée:
150

g

(1.5 c) fresh cranberries

150

g

(3/4 c) granulated sugar

2 tbsp

fresh squeezed orange juice

1/8 tsp

fine sea salt
For the Glaze:
240

g

(2 c) confectioner's sugar

1/8 tsp

fine sea salt

1 tsp

orange extract or Cointreau

1 tsp

lime juice

2 tbsp

cranberry gelée
Instructions
To Make the Cake:
Preheat oven to 325°F.

 

An

oven thermometer

will help you reach the right oven temperature; our ovens are often off, and that makes a huge difference!
Sift all-purpose flour, baking soda, and kosher salt into a medium bowl.

 

Set aside.
Add the granulated sugar and lime zest to a medium mixing bowl.

 

Using clean fingers, massage the zest into the granulated sugar until the sugar is fragrant and turns a light green.

 

(~5 minutes.)
Add butter to the bowl of a stand mixer or a large mixing bowl.

 

Mix the butter until it is completely smooth.
Add infused granulated sugar and cream butter and sugar until light and fluffy.

 

Take your time with this step, and scrape the sides of the bowl as needed.

 

(Not sure what properly creamed butter and sugar should look like?

 

Take a look

here

!)
Add eggs, one at a time, mixing until each egg is completely incorporated.

 

Scrape the sides and bottom of the bowl as needed.
Add the pure vanilla extract and Cointreau/Triple Sec (or orange extract) and mix until completely incorporated.
Add half of the flour mixture and mix until just incorporated.
Add all of the sour cream and mix until just incorporated.

 

Add the other half of the flour mixture and mix until just incorporated.

 

Give the batter several turns with a stiff spatula.
Add the fresh cranberries to a small bowl, along with 2 tbsp of all-purpose flour.

 

Gently fold cranberries into the prepared batter.
Prepare your bundt pan as your normally would (I use the butter/flour method, and you can see how to do that right

here

!).

 

Add the completed batter to the pan.
Bake for 60-70 minutes, or until an instant-read thermometer reads 210°F-215°F.

 

My Goldilocks temp is 212°F.

 

Remove from the oven and allow to place on a cooling rack, in its pan, for ten minutes.

 

Place a piece of parchment paper under the cooling rack!
After ten minutes, invert the cake onto the cooling rack.

 
To Make the Orange Simple Syrup:
Add the water, granulated sugar, and fine sea salt to a small saucepan.

 

Bring to a boil and boil just until all of the solids are dissolved.

 

Remove from the heat.
Add the orange extract or Cointreau and stir to combine.

 

Do not place back on the heat!
Brush on the cake after inverting it onto the cooling rack.

 

To make a more boozy cake, you can wait 10-20 minutes and brush a second coat of the simple syrup.

 

Allow the cake to cool completely.

 

(3-5 hours)
To Make the Cranberry Gelée:
Add 150 g of cranberries, granulated sugar, orange juice and sea salt to a small saucepan.

 

Bring to a boil and reduce to a low simmer, until most of the water has evaporated from the mixture.
Use an immersion blender to smooth out the gelée, then run it through a fine mesh strainer to remove the fibrous cranberry skin.
Allow to cool completely before using in the glaze.
To Make the Cranberry Glaze:
Add the confectioner's sugar, fine sea salt, orange extract/Cointreau, lime juice, and two tablespoons cranberry gelée to a medium mixing bowl.

 

Stir until the mixture is mixed but clumpy.

 

If all of the confectioner's sugar won't incorporate into the clumpy mixture, add another 1/2 tbsp of cranberry gelée.

 

Continue stirring and adding cranberry gelée until the glaze has the consistency of thick honey.
Pour over the cake with a spouted measuring cup, squeeze bottle, or spoon.
Enjoy!
Author:

Prep Time:

40 minutes (active)

Cook Time:

60-70 minutes

Category:

Dessert

Cuisine:

American
Keywords: Cosmopolitan Pound Cake