Welcome to Day 12 of the Twelve Days of Pound Cake! It's the last day, and I want to tell you, Friends: this Red Wine Black Forest Pound Cake is for the grown folks. I'm just gonna put it out there IMMEDIATELY. This one is for the people born "IN THE 1900s" as my kids would say. ????
It is also as fussy as it is gorgeous. Which is to say that is diva-level fussy.
It is "start the day before" fussy.
But when you open this box at your holiday gathering and a hush falls over the room, it will be more than worth it.
About this Red Wine Black Forest Pound Cake
This cake features dry red wine in the batter. While the alcohol evaporates during baking, there is still a beautiful flavor from the wine left in the batter. I've used Black Girl Magic Red Blend exclusively in this cake. It has gorgeous cherry notes that are just dreamy.
The cherry notes in that Black Girl Magic Red Blend are the perfect tie-in for the brandied cherries that top this special cake.
When my lucky friends opened this cake, they gasped. And my heart just melted.
It is that special. Whether you serve it for holidays or birthdays, it's an incredibly sophisticated pound cake that deserves center stage on any dessert table.
The Cake Ingredients
All-Purpose Flour: I've said it before and I'll say it again…I love the pleasantly plump texture of a good pound cake. In my experience (and with my cakes), that beautiful texture comes from all-purpose flour. Cake flour is a wondrous ingredient, to be sure. But to get that dense pound cake texture that I was looking for in this cake, I needed all-purpose.
Natural Cocoa Powder: I tested this cake with both natural and Dutch-processed cocoa powder. For me, this particular cake tasted better with natural cocoa powder; the cocoa powder and baking soda balanced against one another, which meant that the flavor from the wine could really shine. I also used an excellent natural dark cocoa powder from Scharffen Berger, which makes an incredible difference! (They don't pay me to say that…I just really love their cocoa powder.)
Kosher Salt: Chocolate cake (or really, any sweet thing) needs salt to balance the sugar. Without a tiny bit of salt, the cake becomes too sweet very quickly.
Vegetable Oil: I played with this recipe and ended up wanting to use vegetable oil instead of butter. First of all, that means this cake comes together lickety-split (and yes, that is a technical term). But I eventually chose vegetable oil because I found that butter covered the wine flavor more than I wanted (and I wanted the wine to shine without being overpowering.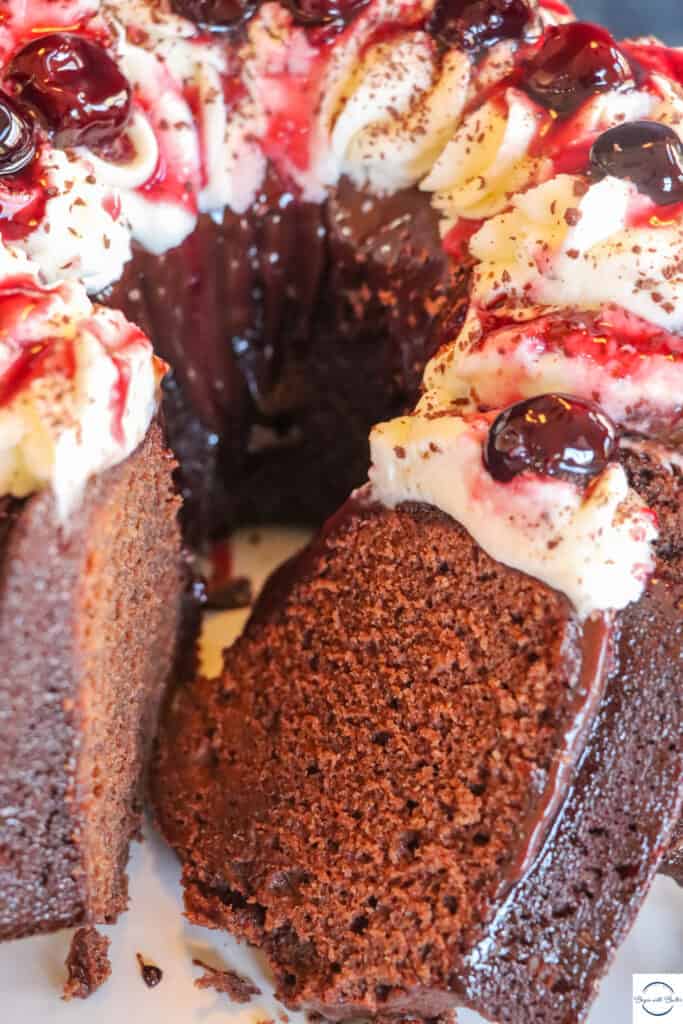 Granulated Sugar: As always, granulated sugar adds sweetness to this cake and helps with caramelization.
Eggs: The protein in the eggs adds structure to the cake, while the fatty yolk adds delicious flavor.
Pure Vanilla Extract: Chocolate and vanilla seem like polar opposites, but they go together oh-so-well. Make sure to use pure vanilla extract and not the imitation stuff that's so prevalent on store shelves this time of year. (I see you, retailers.)
Dry Red Wine: Someone told me a long time ago: "Don't cook with a wine you wouldn't drink." That same rule applies here. You want a dry wine for this cake; you'll definitely taste it in the finished product!
Beginners Start Here
If you're new to baking, or if you want to brush up on pound cake basics, here are a couple of super helpful articles from the BwB site that will help you get set up for success with this Red Wine Black Forest Pound Cake.
These resources are super helpful to help you build consistency and confidence on your baking journey. Happy Reading!
Important Tools Used in this Red Wine Black Forest Pound Cake
Below, you'll find some tools that I used for this pound cake. These are the tools that I use in my kitchen for just about everything that I bake.
**I get paid a small commission if you purchase directly from some of these links, but they are truly amazing products that you'll find in my kitchen.**
If you have them already, great! Think of this as a checklist to help you build the confidence that you'll need to execute this recipe!
This Red Wine Black Forest Pound Cake stole my whole heart! The moment it came to me (in a flash, no less), I knew that it would be the last cake of this event. Because it's just that special to me.
This Twelve Days of Pound Cake has been a whole event! And while I am sad to see it come to an end, I am so grateful to you all for supporting it from the beginning. That will forever stay with me… the wonderful, supportive community that is Begin with Butter. I hope you've enjoyed the ride as much as I have!
With all my love,
Shani
Print
Red Wine Black Forest Pound Cake
This one is for the grown folks.  Featuring a red wine chocolate cake, luscious chocolate ganache, stabilized whipped cream, and brandied cherries on top, this cake is an absolutely delicious showstopper!
Total Time:

~5-7 hours

Yield:

18

servings

1

x
For the Cake:
288

g

(2.25 c) all-purpose flour

63

g

(2/3 c) Natural cocoa powder

1 tsp

kosher salt

1/4 tsp

baking soda

500

g

(2.5 c) granulated sugar

5

eggs

2 tsp

pure vanilla extract

250

g

(1 c) dry red wine (Black Girl Magic Red Blend is my wine of choice, but use what you like!)

227

g

(1 c)vegetable oil
For the Chocolate Simple Syrup:
83

g

(1/3 c) water

67

g

(1/3 c) granulated sugar

1 tbsp

cocoa powder (can be natural or Dutch process)

1 tsp

pure vanilla extract

1/2 tsp

salt
For the Brandied Cherries:
350

g

(2.5 cups) pitted cherries, fresh or frozen

100

g

granulated sugar

2 tsp

fresh lemon juice

1 tbsp

cornstarch

63

g

plus (1/4 c) cold water

63

g

(1/4 c) brandy
For the Chocolate Ganache:
170

g

(1 c) semi-sweet chocolate chips

125

g

(1/2 c) heavy cream, well shaken
For the Stabilized Whipped Cream:
1 tsp

unflavored gelatin

4 tsp

water

250

g

(1 c) heavy cream, cold

60

g

(1/2 c) confectioner's sugar
Instructions
To Make the Brandied Cherries:
Add the cherries, granulated sugar, and fresh lemon juice to a small saucepan over medium-high heat.

 

Stir to combine.

 

Once the mixture begins to bubble, stir again and reduce heat to medium-low.

 

Allow to cook for 10-15 minutes, or until the cherries are softened (but not mush).

 

Combine the water and cornstarch in a small prep bowl.

 

Add to the cherry mixture.

 

Increase heat to medium-high for one minute.
Remove mixture from heat.

 

Add brandy to the mixture.

 

Use a camp lighter to CAREFULLY light the brandy.

 

Allow the brandy to burn off completely before stirring.
Place cherries in a heat-proof container and allow them to cool completely before using.
To Make the Cake:
Pre-heat your oven to a true 325°F.

 

This temperature is super important!

 

An

oven thermometer

will help you determine if your oven runs hot or cold.
Sift together the all-purpose flour, baking soda, natural cocoa powder, and kosher salt in a large mixing bowl.

 

Set aside.

 

QUICK NOTE: *Sifting is incredibly important!

 

Cocoa powder tends to clump, and the only way to avoid those clumps in your cake is to sift.

 

So…DON'T SKIP THE SIFT!*
Thoroughly combine the granulated sugar, eggs, pure vanilla extract, and red wine with a balloon whisk.

 

Add vegetable oil to the liquid mixture and combine with the whisk until everything is thoroughly combined.

 

The oil will take a minute or two to combine with the rest of the mixture, but it will combine!
Add the wet mixture to the dry mixture and stir with the balloon whisk until no lumps of flour or cocoa powder remain.
Prepare your bundt pan (my favorite way is the butter/cocoa powder method for this cake!) and add the batter to the prepared bundt pan.
Bake for 60-70 minutes in a 325°F oven, or until an instant-read thermometer reads 210°F-215°F.

 

My Goldilocks temp is 212°F.

 

Alternatively, you can remove this cake from the oven when a toothpick comes out with a few moist crumbs.
Remove from the oven and allow to place on a cooling rack, in its pan, for ten minutes.
After ten minutes, invert the cake onto the cooling rack.

 
To Make the Simple Syrup:
Add the water, granulated sugar, cocoa powder, and salt to a small saucepan.

 

Bring to a boil and boil just until all of the solids are dissolved.

 

Remove from the heat.
Add the vanilla extract and stir to combine.
Brush on the cake after inverting it onto the cooling rack.

 

Allow the cake to cool completely.

 

Like, 3-5 hours "completely".
To Make the Chocolate Ganache:
Place the chocolate chips in a heat-proof bowl.

 

Set aside.
Place the heavy cream in a heat-proof measuring cup (like

this one

!) and heat in a microwave until just before it starts to boil (45-75 seconds, depending on the microwave).
Pour the heavy cream over the chocolate chips and cover with plastic wrap.

 

Do not stir yet!
Allow the heavy cream to melt the chocolate for 5 minutes.

 

Stir with a small whisk or spoon to combine.

 

If the chocolate does not melt, place in the microwave at 10-second intervals, stirring in between intervals, until the mixture is completely smooth.
Allow the ganache to cool slightly (3-5 minutes) before using.

 

If you wait too long, the ganache will thicken and will not pour easily over the cake.
Pour the ganache over the cake using a spouted measuring cup, a squeeze bottle, or a spoon.
To Make the Stabilized Whipped Cream:
Place the gelatin in the 4 tsp of water.

 

Stir to combine completely.

 

Microwave for 10 seconds ONLY.

 

Set aside.
Place cold heavy cream and confectioner's sugar into a large mixing bowl, or the bowl of a stand mixer.  Stir gently until the confectioner's sugar is completely covered in heavy cream.
Mix at a medium pace with a ballon whisk or in the bowl of your mixer for 1-2 minutes, or until very soft peaks form.
Add the gelatin/water mixture to the soft peaks and continue mixing on high speed (or keep working that balloon whisk!) for another 30-40 seconds.
Build the Cake:
Using a spouted measuring cup, spoon, or squirt bottle, add the chocolate ganache to the cake.  Allow to cool for a minute or two before piping the whipped cream onto the cake.
If desired, you can sprinkle some chocolate shavings over the whipped cream.
Add several cherries to the top of the whipped cream.  I add some of the reserved cherry juice to the cake as well.
Serve alone, or with more of the brandied cherries on top.
Notes
This cake is a showstopper, but it takes time.  If making this for an event, I recommend making the cake, simple syrup, and cherries on one day, and waiting until the next day to finish the whipped cream and ganache.
Author:

Prep Time:

1 hour (total)

Cook Time:

60-70 minutes

Category:

Dessert

Cuisine:

American
Check out the other cakes in the Twelve Pound Cakes of 2022 Event!