Dear Sweet-Tart Friends: This Raspberry Sauce is perfect for you!
I've said before that the difference between a good cake and a great cake often boils down to the finishing touches on the cake. The simple syrups, buttercreams, and sauces that differentiate take a meh cake to a MEMORABLE cake.
This is a raspberry sauce for the ages, friends. And it is incredibly simple to make.
Deceptively simple.
It's perfectly sweet and perfectly tart and a perfect complement to ice creams, cake fillings, pancakes and waffles, and so much more.
Let's make it, shall we?
Pairings for this Raspberry Sauce
I've used this Raspberry Sauce in several ways. It's extremely versatile and this is just a few of the ways that I've incorporated it into my favorite recipes:
It's the filling in The Easter Coconut Cake;
I've used it to create a gorgeous raspberry glaze for my Champagne Pound Cake;
I used it for the thumbprint cookies that I made with my kids for a Sunday Session;
I've added it to vanilla no-churn ice cream to create a luscious raspberry swirl ice cream (recipe soon!);
I've used it with syrup on My Go-To Buttermilk* Pancakes;
I've added it to English muffins and shoved it into every nook and cranny for maximum goodness;
I've paired it with vodka and Elderberry tonic for a beautiful cocktail (and it's entirely possible that I'm drinking one of these right now); and
Many, many more ways! I'm actually excited to do more savory recipes with this amazing sauce!
So, when I say that My Favorite Raspberry Sauce is versatile, I mean it's versatile versatile.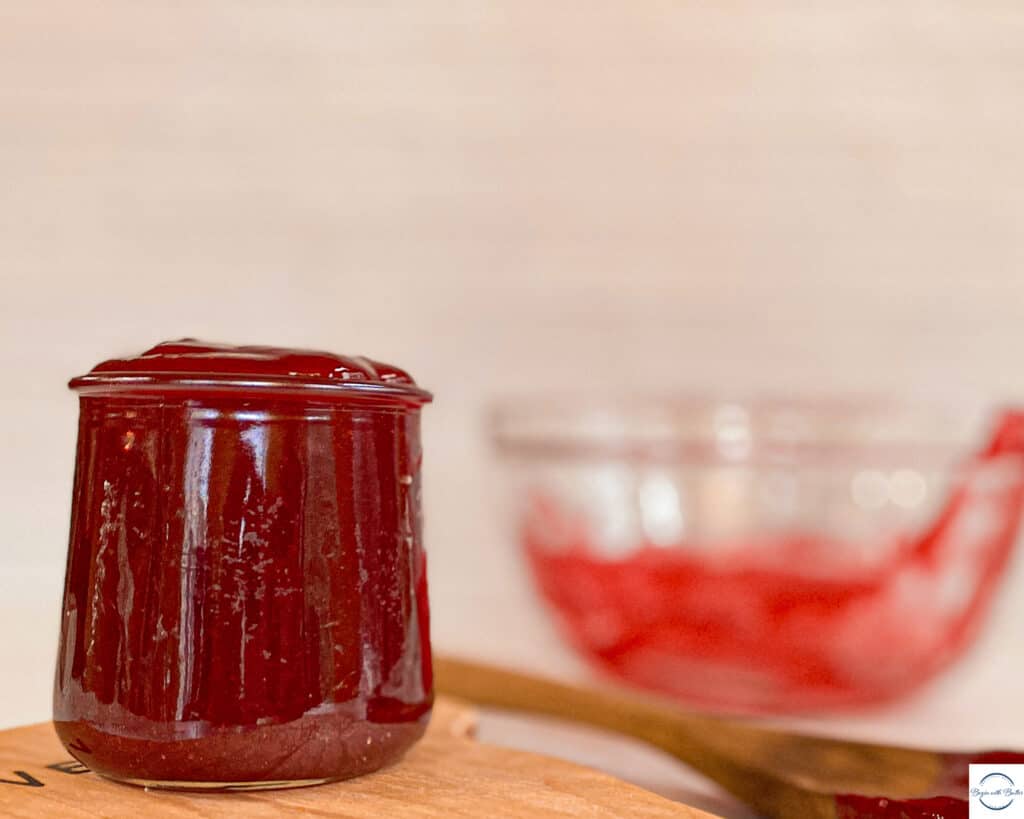 Demonstration
Want to see how to make this raspberry sauce? Check out this video!
This raspberry sauce is delightful in many ways. Let's get into the recipe, shall we?
Print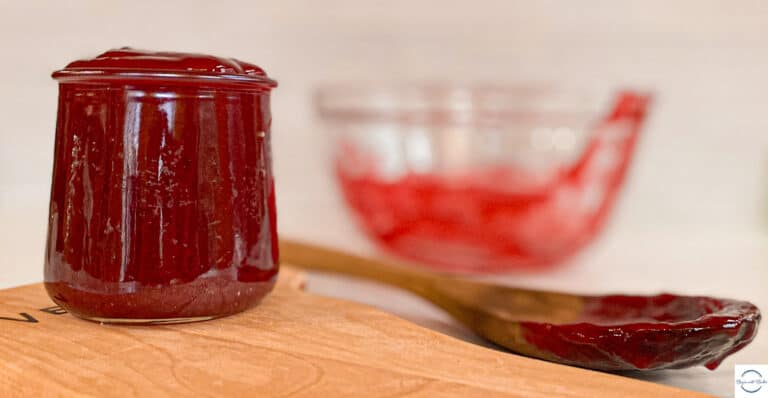 My Favorite Raspberry Sauce
This delightful sweet-tart raspberry sauce is an amazing addition to any sweet occasion.  Added to buttercreams or used on its own, this simple raspberry sauce delights the senses whenever it graces your table.
340

g

(~two pints) of raspberries, fresh or frozen

350

g

sugar

1/8 tsp

kosher salt

2 tsp

fresh lemon juice

1 tbsp

corn starch

2 tbsp

cold water
Instructions
Add raspberries, sugar, kosher salt, and lemon juice to a small saucepan.  Stir to combine.
Bring the mixture to a boil over medium-high heat, stirring frequently.
Reduce the mixture to a steady simmer and allow it to reduce for 15-20 minutes.  Stir frequently and check the heat to ensure that the mixture doesn't boil over.
Combine the corn starch and cold water in a small bowl.  Add to the saucepan.  Bring the mixture to a boil for one minute, then return to a simmer for 5-7 minutes, or until the white bubbles that are on top of the mixture disappear.
Place a fine mesh strainer over a medium bowl.  Pour the mixture over the fine mesh strainer and use a spoon to separate the sauce from the raspberry seeds.
Allow to cool and enjoy!  The sauce will thicken quite a bit upon standing or refrigerating.
Notes
This raspberry sauce can be stored in the refrigerator for up to a week.
This raspberry sauce has graced many a dessert this summer, and I hope you love it as much as I do!
Until next time!