I just *knew* the fourth iteration of this Very Vanilla Pound Cake was going to knock my kids' socks off, Friends.
NOPE. The response was…underwhelming. "It's not vanilla enough."
My ear took that as a challenge to create the most vanilla cake they've ever eaten. And we ended up here, with the most deliciously vanilla pound cake I've ever created. It's rich, buttery, and FULL of absolutely delicious vanilla flavor.
In fact, I went to bed last night with this cake mostly intact, and awoke this morning to more than half of it gone. I have not been able to ferret out the culprit, but my investigation continues.
Vanilla lovers, this one is an ode to you.
About this Very Vanilla Pound Cake
This Very Vanilla Pound Cake shines because of one simple ingredient: the humble vanilla bean. There is nothing that infuses vanilla quite like this source ingredient. It's so simple, yet it gives such a complex vanilla flavor to this cake that it makes this cake perfect for special occasions.
And, if you're taking this to a family gathering, the smell that emanates from the box when you open it will absolutely arrest everyone in the immediate vicinity. That's a guarantee. It is unmistakably everything that is vanilla: the warm, sweetly luxurious scent captures you instantly. Even before the first cut of this cake, you'll have the undivided attention of all the partygoers.
This pound cake also features my favorite pound cake texture; for me, that means a pound cake that I can put in a napkin and walk around with and not lose a crumb. It's that dense-yet-moist texture that is quintessentially "pound cake" to me. I have eaten (and enjoyed) pound cakes with this texture since I was a little girl, so it's hugely nostalgic for me to be able to now create such pound cakes from my own imagination.
Ingredients for the Very Vanilla Pound Cake
One of the absolute best things about this special pound cake is its short ingredient list. Be sure to source the best ingredients you can find; every single one will sparkle in this recipe.
All-Purpose Flour: All-purpose flour is the star of a pound cake, IMHO. The higher protein content helps create the incredible texture that reminds me so much of those pound cakes of my youth. Also, if you want a pound cake that conforms to these beautiful bundt pans and creates a stunning masterpiece, you'll want all-purpose flour; cake flour doesn't hold those gorgeous designs nearly as well.
Baking Soda: This cake uses sour cream as the liquid. For this reason, baking soda is the appropriate leavening. Don't substitute baking powder in this recipe; it's not the right tool for the job.
Kosher Salt: Every baked good needs salt to counteract the sugar. A little goes a long way, so be careful when you're measuring!
Unsalted Butter: Room temperature, unsalted butter is perfect for this cake. I used my favorite cultured butter from Vermont Creamery, but what you use is entirely up to you! The butter helps create the perfect texture in this cake; the creaming process creates beautiful little air pockets that help the leavening work even better!
Vegetable Oil: One tablespoon of oil helps this cake stay moist for a longer period of time. I used vegetable oil for this particular cake, since I didn't want the strong flavor that olive oil would lend to it.
Granulated Sugar: Sugar adds sweetness to our cake, but it also aids in caramelization! And with bundt cakes, that beautiful golden crust is largely due to the caramelization from the sugar!
Eggs: The egg whites in this cake add structure to the cake, while the fatty yolks add flavor. Make sure to take your time whilst adding the eggs! Too much liquid at one time will cause your batter to separate.
Whole Vanilla Bean: This cake uses the seeds from an entire vanilla bean pod. You need not ever worry whether this cake has enough vanilla in it. That, friends, is a lot of vanilla.
Sour Cream: I loved the final texture that sour cream lent to this cake. In a pinch, you can also use 250 g (1 c) of buttermilk. The cake won't be as rich if you do, since sour cream is about 80% fat, and full-fat buttermilk is only about 1.5-2% fat.
Beginners Start Here
If you're new to baking, or if you want to learn how to do some of the more tricky baking techniques, here are a couple of super helpful articles from the BwB site (and a resource from the BwB Home Baking Academy!) that will help you get set up for success with this Very Vanilla Pound Cake.
These resources are super helpful to help you build consistency and confidence on your baking journey. Happy Reading!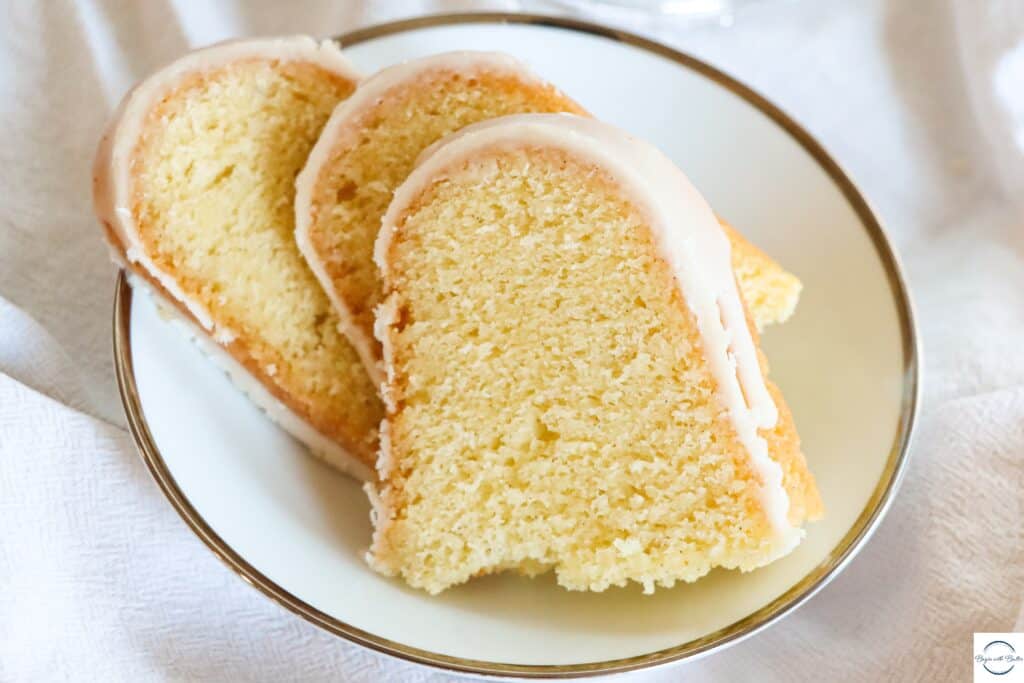 Important Tools Used in this Very Vanilla Pound Cake
Below, you'll find some tools that I used for this pound cake. These are the tools that I use all the time in my own kitchen.
**I get paid a small commission if you purchase directly from these links, but they are truly amazing products that you'll find in my kitchen.**
If you have them already, great! Think of this as a checklist to help you build the confidence that you'll need to execute this recipe!
This cake is brand new, and is already extremely special to me. To see the smiles on my family's faces as they absolutely crushed this cake (and then snuck additional pieces…I'm looking at you son) brought me so much joy. I love being able to provide something so wholesome for them, and I love making memories with them over food.
Enjoy the recipe, Friends!
Print
Very Vanilla Pound Cake
This Very Vanilla Pound Cake is truly incredible!  From the first scent to the last bite, it will delight vanilla lovers young and old.
Total Time:

5-7 hours

Yield:

18

servings

1

x
For the Cake Batter:
384

g

(3 c) all-purpose flour

1/4 tsp

baking soda

1 tsp

kosher salt

227

g

(1 c) unsalted butter, room temperature

1 tbsp

vegetable oil

500

g

granulated sugar

6

eggs, room temperature

1

vanilla bean

227

g

sour cream, room temperature
For the Simple Syrup:
67

g

(1/3 c) granulated sugar

84

g

(1/3 c) water

1.5 tsp

pure vanilla extract

1/8 tsp

fine sea salt
For the Glaze:
240

g

(2 c) confectioner's sugar

1/8 tsp

fine sea salt

1.5

–

2

tbsp whole milk

2 tsp

pure vanilla extract
Instructions
Preheat oven to a true 325°F.  An oven thermometer will help you determine whether your oven is at the correct temperature.
Sift together the flour, baking soda, and salt.  Set aside.
Add butter and vegetable oil to a large mixing bowl, or the bowl of a stand mixer.  Mix until completely smooth.
Add sugar and cream mix on medium speed until the mixture is light and fluffy.  Scrape the sides and bottom of the bowl as needed to ensure even mixing.
Add eggs, one at a time, mixing each egg until it's invisible.  Scrape the sides and bottom of the bowl as needed.
Open vanilla bean pod by gently using a sharp knife to split it open.  Scrape the vanilla beans from the pod and add to the batter.  Mix until the vanilla beans are distributed evenly.
Add half of the flour mixture and mix until nearly combined.
Add all of the sour cream and mix until nearly combined.
Add the other half of the flour mixture and mix until nearly combined.  Use a stiff spatula to thoroughly scrape the sides and bottom of the bowl, and give several turns to ensure that the batter is evenly mixed.
Prepare a 10 or 12-cup bundt pan with butter and flour.  Add the batter to the bundt pan and place in the oven at a true 325°F.  By cake for 60-70 minutes, or until an instant-read thermometer reads 212°F in the center of the cake.
Remove the cake from the oven and place on a cooling rack while still in the pan.  Allow it to remain in the pan for ten minutes while you make the simple syrup.
To make the simple syrup: Place water, sugar, and salt in a small saucepan.  Bring to a boil, then reduce to a simmer, cooking only until all of the sugar has dissolved.  Remove from the heat and add the pure vanilla extract.  Stir to combine.
After the cake has cooled in the pan for ten minutes, invert it on the cooling rack and remove the pan.  (Parchment paper under the cooling rack prevents big messes here!). Brush immediately with the simple syrup and allow to cool completely.
To make the glaze: Add confectioner's sugar, fine sea salt, pure vanilla extract, and 1.5 tbsp of whole milk to a large bowl.  Use a small whisk to combine.  Final glaze should have the consistency of thick honey.  If necessary, add the last 1/2 tbsp of milk to the glaze mixture to reach desired consistency.
Add glaze to the completely cooled cake and enjoy!
Author:

Prep Time:

20 minutes

Cook Time:

60-70 minutes

Category:

Dessert

Cuisine:

American