It is not right how quickly I just ate two Hot Cross Buns. Just back to back. They are sweet and slightly spicy and sticky and just…perfect.
But, as I've said before, quality control is one of the most important parts of my job. So, of course, that's why I did it.
About These Hot Cross Buns
Hot Cross Buns are traditional for Easter, and these deliver on that classic tradition. They contain cinnamon, nutmeg, and cloves, which make them a beautifully spiced treat. They have brown sugar, which gives an additional level of decadence that cannot be matched. They are literally packed with plumped raisins, which delighted my adult and child testers alike.
In other words, these Hot Cross Buns are literally meant to disappear from sight in record time.
You'll love adding these to your Easter table. I can't wait for you to make them! Prepare yourself…the ingredients list is long, but I assure you that these Hot Cross Buns are beyond worth it.
Also, the recipe makes either 8 or 12 Hot Cross Buns. The technique is exactly the same, but expect the larger buns to take 3-5 minutes longer in the oven. Oh, and the XL version is SUPER impressive!
Hot Cross Bun Dough Ingredients
Raisins: You'll plump up the raisins before using them to give them an extra delicious texture in these Hot Cross Buns.
Whole Milk: You'll want to use whole milk in this recipe, to take advantage of the full fat content. You can use 2% in a pinch, but I wouldn't use 1% or skim in this recipe.
Yeast: Yes! These are yeast rolls! But don't worry. You can absolutely accomplish these incredible, impressive rolls. Feeling a little timid about yeast? You can check out Bread Bootcamp for 50% off right now with code SPRING! You'll never feel insecure again about working with yeast!
All-Purpose Flour: I tried this recipe with both all-purpose and bread flour. I preferred the texture of the finished buns just a bit more with all-purpose flour. You could absolutely use bread flour for these incredible buns; just expect a bit more chew!
Kosher Salt: Salt is very important in any dessert or bread. It helps develop flavor and also counteracts the sugar in your recipe, to keep the finished product from being too sweet.
Cinnamon: These Hot Cross Buns benefit from a kiss of cinnamon. It adds such a special flavor to this recipe and it makes the finished product truly irresistible.
Nutmeg: The slight amount of nutmeg in this recipe adds a big hit of warmth to these buns, and makes them super homey.
Cloves: Cloves are a super hero in these hot cross buns! The tiniest amount of clove gives a big punch of spice. So use it sparingly!
Brown Sugar: The brown sugar adds some sweetness, but also a depth of flavor from the molasses!
Granulated Sugar: Granulated sugar adds sweetness and caramelization to these Hot Cross Buns! I tried this recipe without the granulated sugar, and found that the sweetness level was a bit lacking. Granulated sugar saved the day!
Orange Zest: Want that je ne sais quois in your recipe? The thing that nobody can place (but keeps them coming back for more and more Hot Cross Buns)? Use the orange zest. It's worth the additional effort.
Egg: The protein in the egg adds structure, while the fatty yolk adds delicious flavor.
Pure Vanilla Extract: Make sure to use the good stuff, like Nielsen-Massey, for this incredible recipe! Whatever brand you use, make sure you use pure vanilla extract! "Vanilla flavoring" is NOT THE SAME THING.
Unsalted Butter: While I treat the dough like a brioche (from a technique standpoint), it's not, in fact, a brioche dough. However, the butter in this recipe will really shine, so use your absolute favorite baking butter for this recipe.
Beginners Start Here
If this is your first time baking bread, or you're intimidated by yeast, or if it's been a while since you baked, here are some resources from the BwB website and the BwB Home Baking Academy that will help you be successful with these Hot Cross Buns!
While these aren't mandatory reading, they are extremely helpful resources that will definitely help you execute this recipe to a T.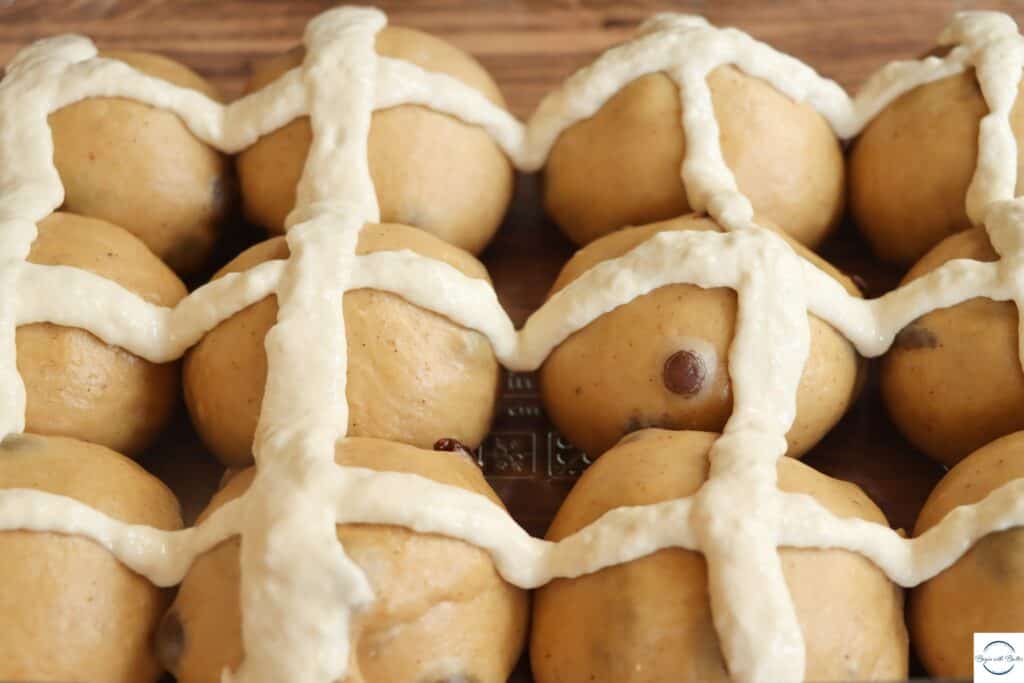 Important Tools Used in these Hot Cross Buns
Below, you'll find some tools that I used for these Hot Cross Buns. These are the tools that I use all the time in my own kitchen.
**I get paid a small commission if you purchase directly from these links, but they are truly amazing products that you'll find in my kitchen.**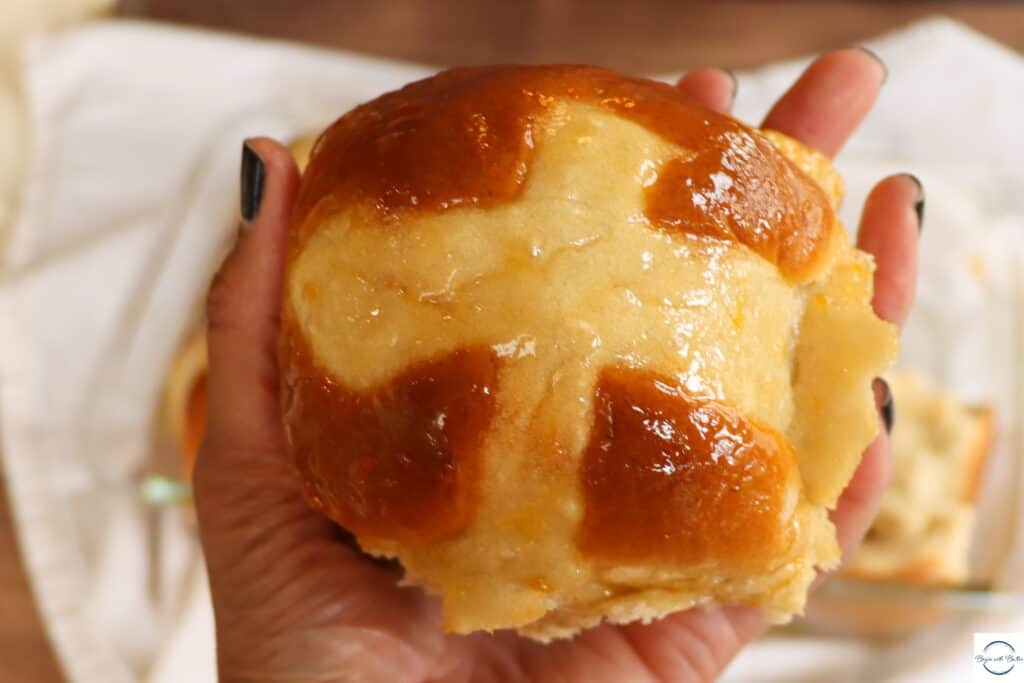 If you have them already, great! Think of this as a checklist to help you build the confidence that you'll need to execute this recipe!
I hope you enjoy these Hot Cross Buns this Easter! Happy baking, Friends!
Print
Classic (and XL!) Hot Cross Buns
These Hot Cross Buns are an incredible addition to your Easter table!
For the Dough:
217.5

g

(1.5 c) raisins

500

g

(2 c) boiling water

325

g

(1.33 c) whole milk

1 tbsp

yeast (instant or active dry)

1 tsp

sugar

512

g

(4 c) all-purpose flour

1.5 tsp

salt

1/2 tsp

cinnamon

1/4 tsp

nutmeg

1/4 tsp

cloves

50

g

(1/4 c) brown sugar

50

g

(1/4 c) granulated sugar

1 tbsp

orange zest (optional)
1 large egg

1 tsp

pure vanilla extract

57

g

(1/4 c) butter
For the Flour Cross:
100

g

flour

125

g

water water
To Finish:
1/2

c

Apricot Preserves (I love Bonne Maman)
Instructions
Place the raisins in a heat-proof bowl.

 

Carefully pour the boiling water over the raisins.

 

Set aside for 10 minutes.

 

Drain the water from the raisins and place the raisins in a single layer on a clean dish towel or some paper towels.

 

We want dry raisins for this recipe!
Warm the milk to 113°F to 115°F.

 

Add the yeast and 1 tsp of granulated sugar.

 

Combine thoroughly.

 

Allow yeast to bloom for 8 minutes.

 

Place flour in a container by itself and set aside.
Cut butter into 1 tbsp-sized pieces.
Once the yeast has bloomed, add yeast mixture, salt, cinnamon, nutmeg, cloves, brown sugar, granulated sugar, orange zest (if using), egg, vanilla, and ~450 g of flour to the bowl of a stand mixer.

 

Using the dough hook, combine the ingredients until a dough ball begins to form.

 

Add flour, one tablespoon at a time, if the dough remains sticky after five minutes.

 

The dough should pass the windowpane test before adding the butter.

 

At most, this recipe will require 1-2 additional tablespoons of flour, beyond the original 512 grams.

 

However, it's possible that you won't need all of the flour!
Once the dough passes the windowpane test, add the butter, one tablespoon at a time.

 

Mix each pat of butter until it's fully incorporated into the dough.
After all the butter has been added, knead with the dough hook until a supple dough forms.

 

The dough should not be shiny and it should again pass the windowpane test.
Add the raisins to the dough.  On lowest speed, combine the raisins until they are uniformly incorporated into the dough.  This could take 1-2 minutes on lowest speed.  Don't increase the speed of your mixer, because the raisins might break into pieces.  Patience, Friend.
Place the dough in a greased bowl and loosely cover it with plastic wrap.

 

Allow to rise for an hour and ten minutes, or until it passes the finger poke test.
Split the dough into either eight (for XL) or twelve equal pieces (a digital kitchen scale works amazingly for this task!) and shape into balls.

  Place each ball 1″ from its neighbor in a 9″x13″x baking dish. 

Need help with shaping?

 

Watch my video that shows my techniques for bread making by hand

here

!
Cover loosely with plastic wrap and allow the rolls to rise for 45 minutes.

 

While the dough is rising, make the flour paste for the crosses and heat your oven to a true 375°F.
To make the flour paste, add the 100 g of flour and 125 g of water to a small bowl.

 

Stir until completely combined.

 

The final texture of the flour paste should be thick, but pipeable.
Place the flour mixture in a gallon-sized freezer bag.

 

Cut a tiny hole at the tip of the bag.

 

Smaller than you think you need!

 

Pipe crosses onto the buns and bake immediately.
Bake at 375°F for 25-30 minutes (28-35 minutes for XL buns), or until the buns are a deep golden brown.

 

While the buns are baking, prepare the apricot preserves.
To prepare the apricot preserves, place them in a microwave-safe container. Microwave until melted, or about a minute.
Once the buns are out of the oven, brush them immediately with the apricot preserves.
Enjoy warm!
Notes
Bread baking is as much an art as a science.  So, the amount of flour that you need for this recipe might vary.  Variations in humidity, protein content, and many other things will impact how much you need.  BUT you should not need more than 1-2 tbsp more than the recipe calls for.  Want to be absolutely confident with your flour?  Use a digital kitchen scale to measure it!