I *very excitedly* told my children that this Sweet Potato Pineapple Pound Cake was coming to the blog this week while we drove to school one morning.
Daughter: Is this a late April Fool's Day joke?
Son: Why would you do that?
Well, Friends, THE JOKE IS ON THEM because this is, quite literally, one of my favorite pound cakes of all time. I ate this and slow danced by myself in the kitchen. This cake was hugging me from the insides and, as my father-in-law likes to say, tasted like more.
Great Scott I loved this cake! And yes, Friends, I can confirm that sweet potato and pineapple definitely go together. Even my son liked it, admitting that "it was good".
About this Sweet Potato Pineapple Pound Cake
This cake uses crushed pineapple and sweet potato puree. The two together create an unbelievable texture for this particular cake, one that is dense and moist and…utterly perfect.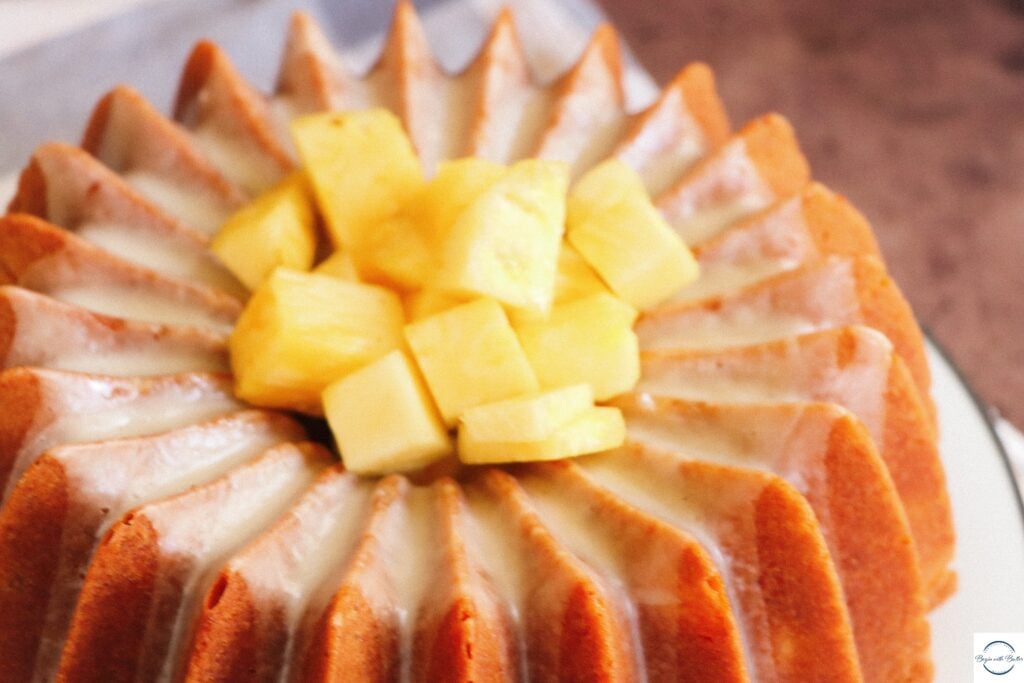 It's sweet and subtly tangy from the pineapple, and also subtly sweet from the sweet potato. The pineapple glaze? Forget about it. It's over-the-top incredible, and the perfect sweet addition at the end of the prep time.
The hardest part about making this cake is waiting until it's completely cooled to consume it. But you can do this!
Ingredients in this Sweet Potato Pineapple Pound Cake
Stick with me here, Friends. The ingredients list looks much more daunting than it truly is!
All-Purpose Flour: All-purpose flour helps create the specific, special texture to this cake. The higher protein content helps to create the thick, dense-but-moist deliciousness that is key for this cake.
Kosher Salt: Salt helps to balance the sweet in baked goods. The tiny amount of salt in this recipe perfectly counterbalances the granulated sugar, as well as the sweetness in the pineapple and the sweet potato.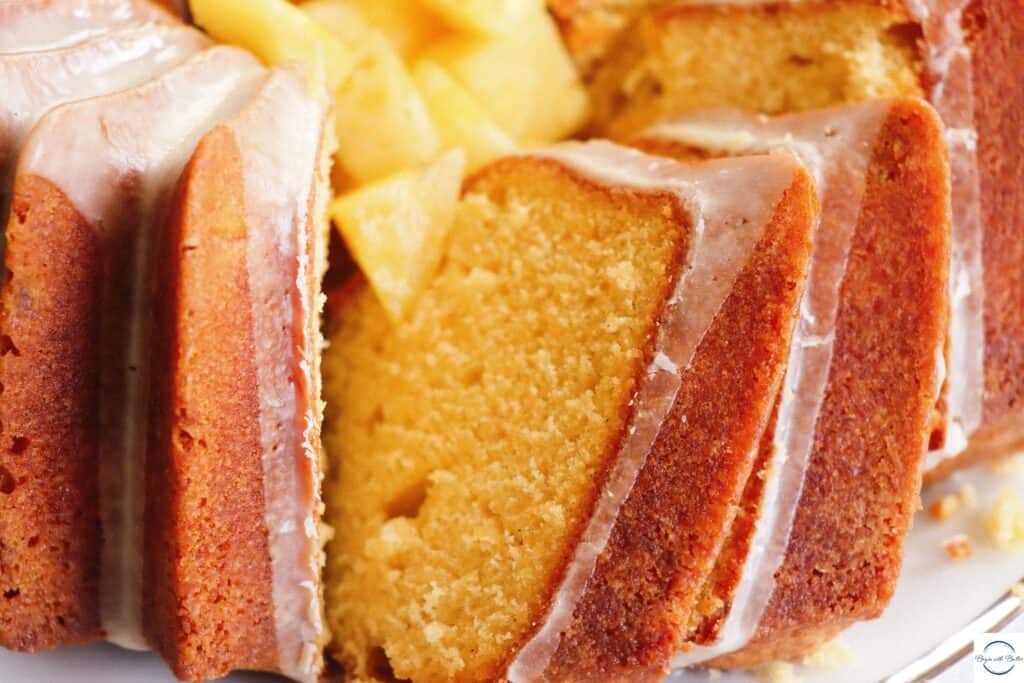 Cinnamon: The tiny kiss of cinnamon in this cake gives it just a hint of spice. It's enough to make you feel warm and giddy, but not enough to overpower the wonderful flavors from the pineapple and sweet potato.
Ginger: Ginger adds a beautiful, warm element to this special cake. It's the perfect compliment to the pineapple and sweet potato, and it helps bring the two special ingredients to their full potential.
Baking Soda: Pineapple is an acidic ingredient, making baking soda the appropriate leavening for this cake. Please don't substitute baking powder!
Unsalted Butter: Butter is a star in this cake! It adds special flavor, and also the creaming process creates air pockets that allow this cake to rise into the special Sweet Potato Pineapple Pound Cake of your dreams!
Eggs: The fatty yolks add flavor to this amazing to this cake, while the protein-rich egg whites assist with the texture and rise.
Granulated Sugar: Granulated sugar adds sweetness to this cake, but it also helps with caramelization! That gorgeous crust on the outside of your cake is largely due to the sugar in this recipe!
Vanilla Bean Pod: The mighty vanilla bean pod does so much in this cake. It truly plays above its weight and adds beautiful warmth and vanilla flavor.
Sweet Potato Puree: The sweet potato adds just a bit of sweetness to this cake, but, even more notably, it helps create the absolutely unctuous, delicious texture of this cake.
Crushed Pineapple: Use the juice and the pineapple for this cake! The sweet-tart flavor is truly excellent in this cake! Once you have what you need for the cake, reserve some of the juice for the pineapple glaze as well.
Beginners Start Here
If you're new to baking, or if you want to learn how to do some of the more tricky baking techniques, here are a couple of super helpful articles from the BwB site (and a resource from the BwB Home Baking Academy!) that will help you get set up for success with this Sweet Potato Pineapple Pound Cake.
These resources are extremely helpful to help you build consistency (and confidence) in your baking. Need more help? Feel free to send me an email at hello@beginwithbutter.com!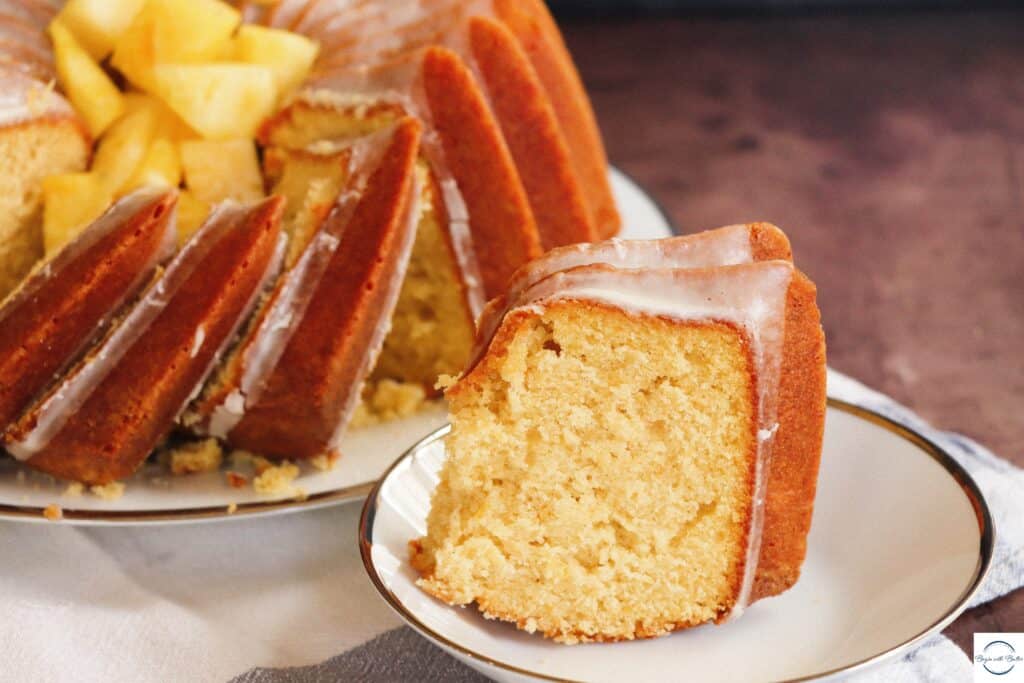 Important Tools Used in this Sweet Potato Pineapple Pound Cake
Below, you'll find some tools that I used for this incredible cake. These are tools that I use all the time in my own kitchen.
**I get paid a small commission if you purchase directly from these links, but they are truly amazing products that you'll find in my kitchen.**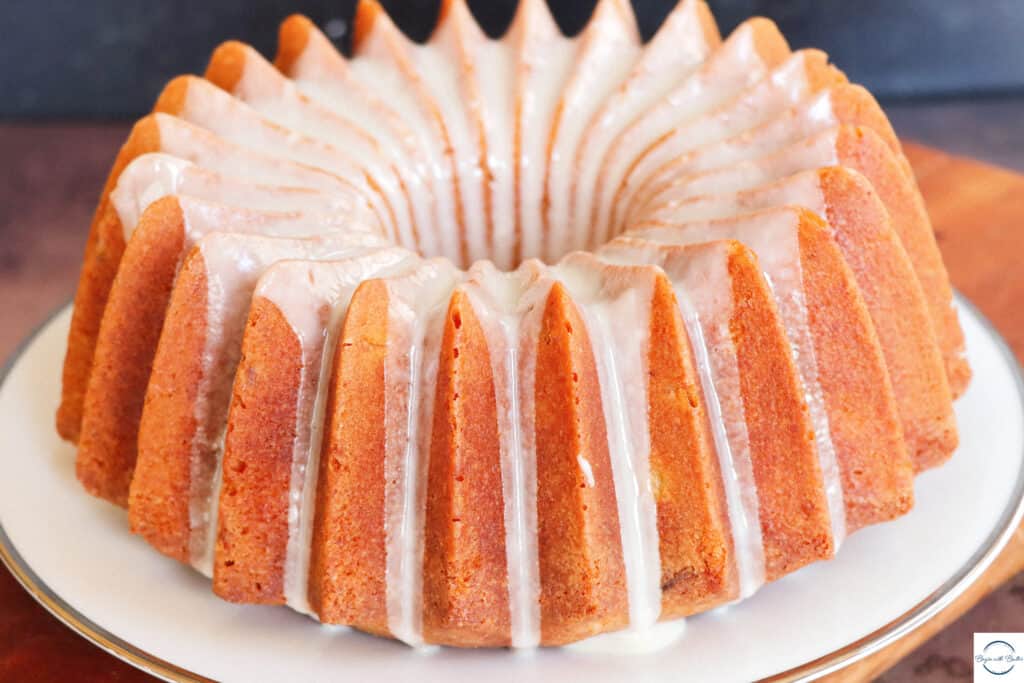 If you have them already, great! Think of this as a checklist to help you build the confidence that you'll need to execute this recipe!
This cake is proof that unexpected flavors can sometimes work very well together! So well, in fact, that they can create new favorites. I have no idea why I wanted to put these flavors together so desperately, but Friends, I am so glad that I did. It's my great hope that you'll be glad as well!
Enjoy, my Friends!
Print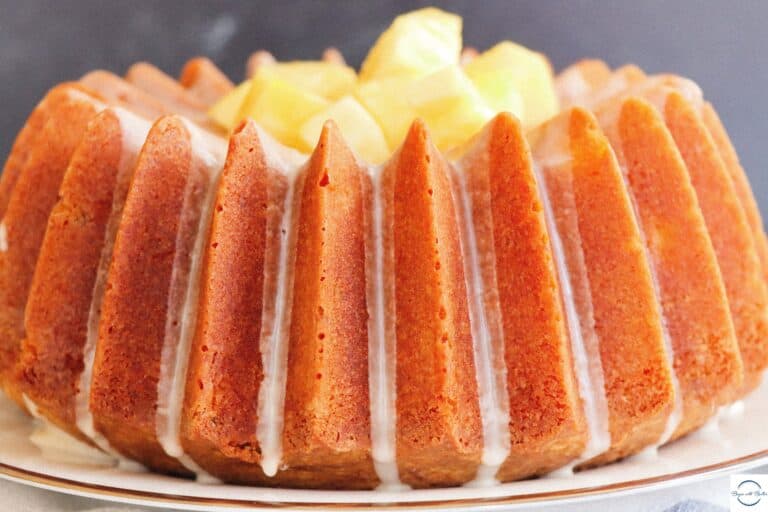 Sweet Potato Pineapple Pound Cake
This incredible cake is pound cake perfection.  It's sweet, luscious, slightly spiced goodness comes from a kiss of cinnamon and ginger, as well as the deliciousness from the pineapple and sweet potato!
Total Time:

5-7 hours

Yield:

18

servings

1

x
For the Cake:
384

g

(3 c) all-purpose flour

1 tsp

kosher salt

1/2 tsp

cinnamon

1/2 tsp

ginger

1/4 tsp

baking soda

227

g

(1 c) unsalted butter, room temperature

500

g

(2.5 c) granulated sugar

5

eggs, room temperature

1/2

vanilla bean pod

175

g

(1/2 can) sweet potato puree, fresh or canned

175

g

(1/2 can) crushed pineapple, with juice
For the Vanilla Simple Syrup:
84

g

(1/3 c) water

67

g

(1/3 c) granulated sugar

1/8 tsp

fine sea salt

1 tsp

pure vanilla extract
For the Pineapple Glaze:
240

g

(2 c) confectioner's sugar

1/4 tsp

fine sea salt

1 tsp

pure vanilla extract

3

–

4

tbsp pineapple juice (strained from remaining crushed pineapple)
Instructions
Preheat oven to a true 325°F.  An oven thermometer is essential for this step.  Many ovens run quite hot or cold, and it's impossible to know unless you have an oven thermometer to gauge the true temperature in your oven!
Sift the all-purpose flour, kosher salt, cinnamon, ginger, and baking soda into a medium bowl.  Set aside.
In a large mixing bowl or the bowl of a stand mixer, mix the butter only until it is very smooth.  Add the sugar and cream the butter and sugar together until they are light and fluffy.  (Not sure how to cream butter and sugar?  Check out this post!)  Scrape the sides and bottom of the bowl as necessary.  Don't shortcut this step!  It's essential to great baked goods!
Add eggs, one at a time, mixing each egg until it is fully incorporated before adding the next egg.
Carefully split the vanilla bean pod lengthwise and scrape out the vanilla seeds.  Add them to the batter and mix thoroughly.
Add half of the flour mixture and mix until nearly combined.
Add all of the sweet potato puree and crushed pineapple and mix until nearly combined.
Add the second half of the flour mixture and mix until nearly combined.
Finish the batter by giving several turns with a stiff spatula, until you have a cohesive batter.  Make sure to thoroughly scrape the sides and bottom of the bowl during this step.
Prep a 10- or 12-cup bundt pan and add the batter to the pan.  Bake for 65-75 minutes, or until an instant-read thermometer reads 212°F in the center.
Remove the cake from the oven and allow to remain in the pan for ten minutes.  While the cake is in the pan, make the simple syrup.
To make the simple syrup: Add water, granulated sugar, and salt to a small sauce pan.  Bring to a boil.  Turn off once all of the sugar is dissolved.  Remove from the heat and add the pure vanilla extract.
Invert the cake on a cooling rack and brush immediately with simple syrup.  Allow to cool completely before adding the glaze.
To make the glaze: add confectioner's sugar, fine sea salt, pure vanilla extract, and 3 tbsp of pineapple juice to a medium bowl.  Still with a whisk until all of the confectioner's sugar is moistened.  If necessary, add the rest of the pineapple juice in 1/2 tbsp increments.  The final glaze should have the consistency of thick honey.
Using a spouted measuring cup, squeeze bottle, or spoon, place glaze atop your completely cooled cake.
Enjoy!
Author:

Prep Time:

30 minutes (active)

Cook Time:

65-75 minutes

Category:

dessert

Cuisine:

American