This Fall, I wanted something to create something incredibly nummy. And, my friends, this Sweet Potato Pound Cake hit every. nummy. note.
Y'all know nummy. It's the thing you want to eat on a cool Sunday afternoon in the fall when you're wearing sweatpants, wrapped up in a blanket, watching Netflix, listening to the rain and thoroughly enjoying the fact that you don't have to go anywhere. Nummy.
That was oddly specific and I feel like I just told on myself.
This Sweet Potato Pound Cake comes together quickly and is full of flavor. Don't want to make sweet potato puree from scratch at the outset? No worries! Make it ahead or use the canned stuff! This, as always, is a no-judgment zone.
But, this Fall, you'll want to make this cake. It tastes like you spent all day on it and is as unfussy as they come.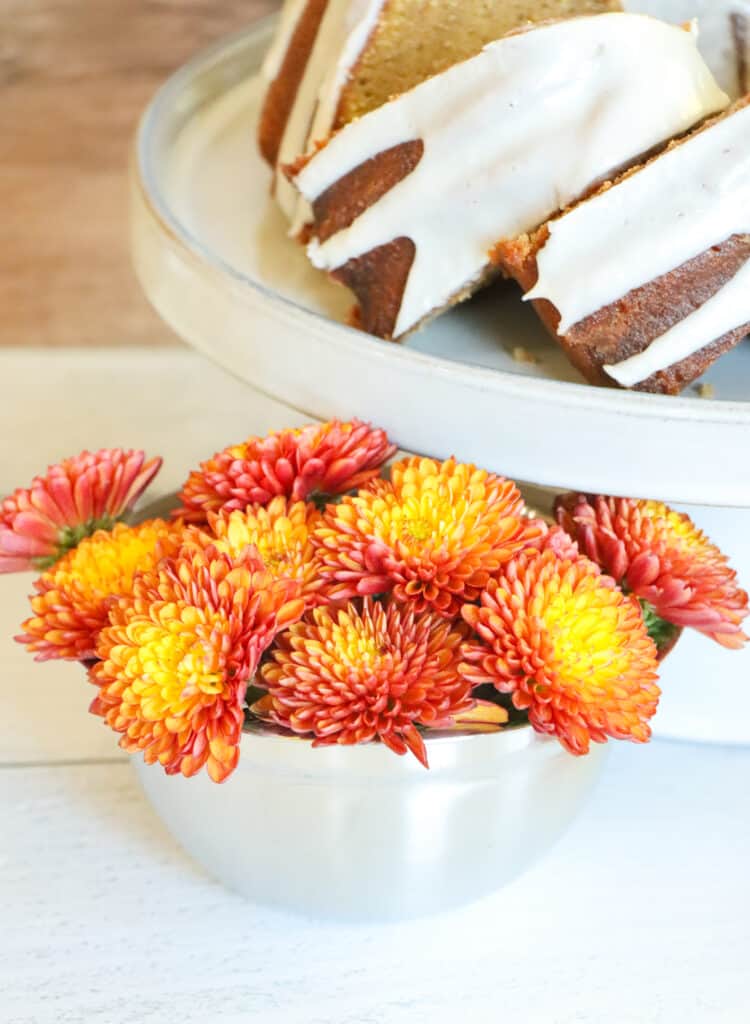 Beginners Start Here
If you're new to baking, or if you want to brush up on basics, here are a couple of super helpful articles from the BwB site that will help you get set up for success with this Sweet Potato Pound Cake.
These resources are super helpful to help you build consistency and confidence on your baking journey. Happy Reading!
Important Tools Used in this Sweet Potato Pound Cake
Below, you'll find some tools that I used for this pound cake. These are the tools that I use in my kitchen for just about everything that I bake.
**I get paid a small commission if you purchase directly from some of these links, but they are truly amazing products that you'll find in my kitchen.**
If you have them already, great! Think of this as a checklist to help you build the confidence that you'll need to execute this recipe!
Y'all. I love this cake so much. You know how I feel about my Pumpkin Spice Pound Cake, but family? FAMILY? This is the one I'll be noshing all this fall (and winter) when I have the chance to Netflix. My sweatpants and I are ready for the journey. Enjoy the recipe!
Print
Sweet Potato Pound Cake
This unfussy cake is the food equivalent of a lovie blankie.  It's comfortable and easy and perfect for the newfound fall and winter chill in the air.  Oh, and it's unbelievably delicious too!
For the Batter:
384

g

all-purpose flour

1/2 tsp

cinnamon

1/2 tsp

nutmeg

1 tsp

kosher salt

1/4 tsp

baking soda

345

g

unsalted butter, room temperature

500

g

dark brown sugar

5

large eggs

2 tsp

pure vanilla extract

425

g

(1 can) sweet potato puree (about 1.5 large or 2.5 medium sweet potatoes)
For the Simple syrup:
84

g

(1/3 c) water

63

g

(1/3 c) granulated sugar
For the Vanilla Glaze:
240

g

(2 c) confectioner's sugar

3.5 tbsp

whole milk
.5-1 tbsp heavy cream

2 tsp

vanilla extract

1/2 tsp

fine salt
Instructions
To Make Sweet Potato Puree:
Peel and rinse sweet potatoes.  Dice into 1/2-inch cubes.  Place in a medium saucepan and fill the saucepan with enough water to completely cover the potatoes.
Bring the potatoes to a boil, then reduce to a low boil for 10 minutes.  When potatoes are fork tender, remove from the heat and smash with a potato ricer or potato masher.  Set potatoes aside for about 30 minutes to cool to room temperature.
Measure 425 grams (2 c) of sweet potatoes in a small bowl and set aside.
To Make the Batter:
Set your oven to a true 325°F.  An oven thermometer is extremely useful here, since most ovens will not reach 325°F when set to 325°F.  
Sift together the all-purpose flour, cinnamon, nutmeg, kosher salt and baking soda in a medium bowl.  Set aside.
Add the room temperature butter to the bowl of your stand mixer or a large mixing bowl.  Mix just the butter with your hand or stand mixer until the butter is completely smooth.  Add the brown sugar and cream until the mixture is light and fluffy.
Add the eggs, one at a time, mixing each egg until it is completely incorporated in the mixture.  Scrape the sides and bowl as needed to ensure even mixing.
Add the vanilla and mix thoroughly.
Add half of the flour mixture and mix until just combined.
Add all of the sweet potato puree and mix until just combined.
Add the second half of the flour mixture and mix until just combined.  Using a rubber spatula, give the sides and bottom of the bowl a final scrape to ensure that the batter is evenly mixed.
Prep a 10- or 12-cup bundt pan as you normally would (I use butter and flour to prep pans for this cake) and add the batter to the pan.  Use a rubber spatula to even out the batter, then tap the pan on the countertop several times to remove air bubbles from the batter.
Bake for 55-70 minutes in a true 325°F oven, or until an instant-read thermometer reads 212°F-215°F (or a toothpick comes out completely clean).  
To Make the Simple Syrup:
Add sugar and water to a small saucepan.  Bring to a boil and reduce to a simmer.  Remove from the heat as soon as the sugar is completely dissolved.
Allow the cake to cool in its pan for ten minutes, then invert and place on top of a cooling rack.  Brush simple syrup on the cake and allow to cool completely.
To Make the Vanilla Glaze:
Add the confectioner's sugar, fine sea salt, vanilla extract, and whole milk to a medium mixing bowl.  Using a 9" whisk, stir the ingredients together until all of the confectioner's sugar is combined.
Add 1/2 tbsp of the heavy cream and combine.  If you'd like to thin out the glaze further, add the second 1/2 tbsp and combine.
When complete, the glaze should be the consistency of thick honey.
Pour over the cake as desired, using either a spoon, spouted measuring cup, or a squeeze bottle.
Cake can be stored at room temperature for one day, then refrigerated for up to a week.
Notes
Want a rum-infused glaze?

 

You can replace the milk in the glaze with your favorite rum (light or dark would work just fine).

 

Just beware that this cake is not for little ones at that point.

 

Want a rum flavor without the kick?

 

Add a teaspoon of rum extract to the glaze and leave everything the rest of the recipe as is!
I think that candied pecans would top this cake beautifully.

 

However, my kitchen is a nut-free baking zone, so I cannot confirm this for sure. Just call it a hunch, based on prior experience of candied pecans and sweet potatoes.

 

????