It's Fall, Friend! And while I will have every "achoo" in the book queued up and ready to go (it's a good time to buy stock in Kleenex if you're interested), I'm also excited because Fall means it's time for one of my favorite treats in the Whole Wide World…this Apple Spice Pound Cake.
This cake is just dreamy. And you can absolutely use one of the ugly apples from your apple-picking exploits! (Fun fact: I go to a local farm with my children every year for one day and pay for it dearly for weeks afterward. There are no apples picked.)
This cake is the dessert version of leggings with thick socks, boots and puffy vests. This cake is moist and dense, doesn't use a bajillion ingredients, and is simple enough for a weekday dinner and also special enough for a holiday table.
You want this cake. And you'll feel like a kitchen BOSS once you've made it.
About this Cake
Friend, this is an apple cake. So I really wanted the apples to shine bright like a diamond. But you do need a few more ingredients:
All-Purpose Flour: I chose all-purpose over cake flour for this cake. I love the particular texture that all-purpose flour lends to pound cakes in particular; it's that pleasantly plump, dense-but-light texture that just melts in your mouth. It works wonders in this cake.
Baking Soda: This cake uses apple sauce and diced apples, which are both acidic in nature. As such, you'll need baking soda for this cake.
Kosher Salt: It's widely known that salt is the great balancer of sweet. But it also helps to balance the spices (ginger and cinnamon) in this recipe. A simple teaspoon does the trick!
Cinnamon: Cinnamon adds a woody and spicy element to this cake. The smell of apples and cinnamon is intoxicating to me this time of year. You don't want to skip it in this cake.
Ginger: Friends, Ginger has entered the Fall group chat. It is one of my absolute favorite baking ingredients in any form. In this recipe, the ginger enhances the cinnamon flavor, and the cinnamon mellows what can be an overpowering ginger flavor, while also bringing out the vanilla notes from the beautiful ginger.
Butter: I much prefer butter-based cakes over oil-based cakes. That said, I love butter in this recipe for two reasons: 1) the creamed butter and sugar make what could be a very dense, over-wrought cake into a deliciously light pound cake texture; and 2) the flavor cannot be beat. Want an amazing buttery flavor? I use Vermont Creamery exclusively and have never been anything but incredibly pleased with the outcome.
Granulated Sugar: The granulated sugar adds sweetness and beautiful caramelization to this cake.
Eggs: The protein in the eggs adds structure to the cake, while the fatty yolk adds delicious flavor.
Vanilla Extract: This cake calls for two teaspoons of vanilla extract. Make sure to use the good stuff, like Nielsen-Massey, for this incredible recipe! Whatever brand you use, make sure you use pure vanilla extract.
Unsweetened Apple Sauce: This cake has apples two ways. The applesauce serves as the liquid in this case, adding moisture and a tart apple taste. Make sure that you use unsweetened apple sauce, or the cake could end up cloyingly sweet.
Apple: The diced apple in this cake adds wonderful texture and flavor. You could skip it if you don't like chunks of apple in your food, but it would be a real loss for you to do that! I've made this cake with fuji, Honeycrisp, and Granny Smith apples and had delicious results each time.
Simple Syrup: The simple syrup in this cake adds a tremendous sheen and a *kiss* of vanilla flavor. Simple syrup is a professional's best-kept secret; it's the game-changer that will keep your friends and family coming back to your dessert on the dessert table over and over again!
Maple Cinnamon Glaze: To finish this cake, I wanted to add a delicious Maple Cinnamon Glaze. Don't skip the glaze, my friend. I love you and would hate to see you miss out on it.
It might seem like a lot, but I promise that once you get past the dry ingredients, this cake comes together lickety split. Onto the cake!
Beginners Start Here
If you're new to baking, or if you want to brush up on basics, here are a couple of super helpful articles from the BwB site that will help you get set up for success with this Apple Spice Pound Cake.
These resources are super helpful to help you build consistency and confidence on your baking journey. Happy Reading!
Important Tools Used in this Apple Spice Pound Cake
Below, you'll find some tools that I used for this pound cake. These are the tools that I use in my kitchen for just about everything that I bake.
**I get paid a small commission if you purchase directly from some of these links, but they are truly amazing products that you'll find in my kitchen.**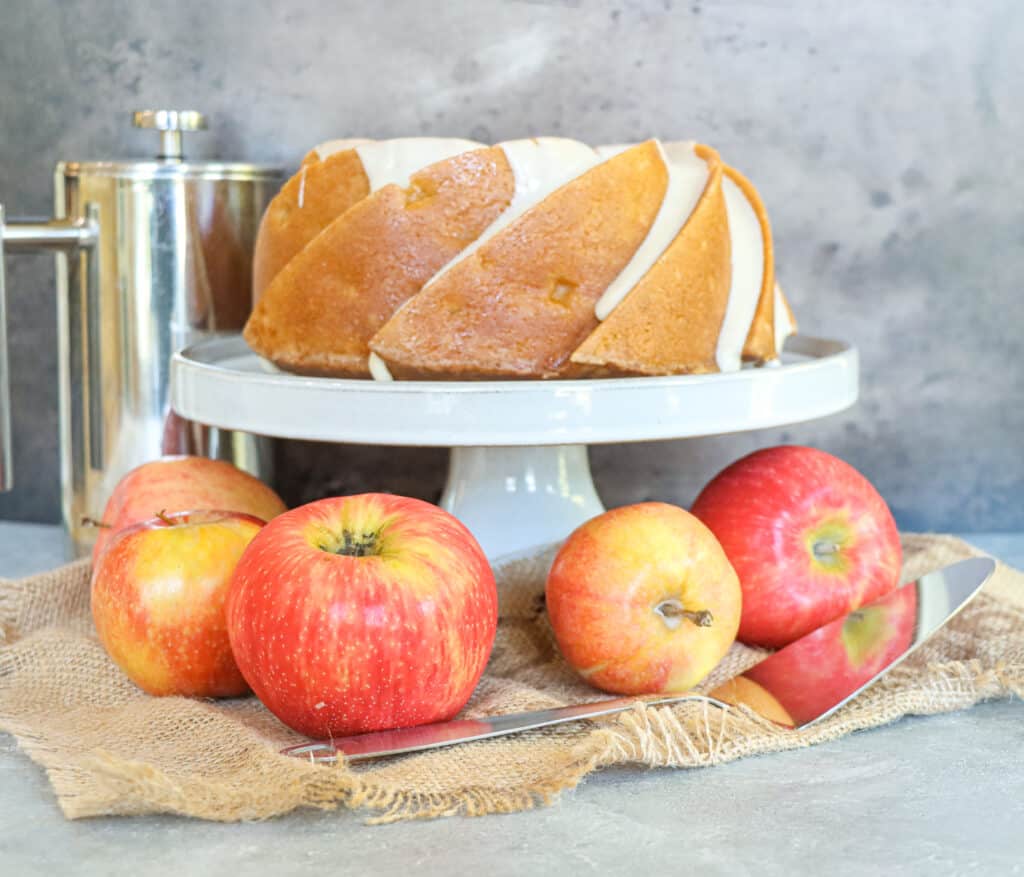 If you have them already, great! Think of this as a checklist to help you build the confidence that you'll need to execute this recipe!
This cake will be in HEAVY rotation this fall in my house. It's so special and I love the apple chunks! They go perfectly with my leggings and sweaters. Enjoy the recipe Friends!
Print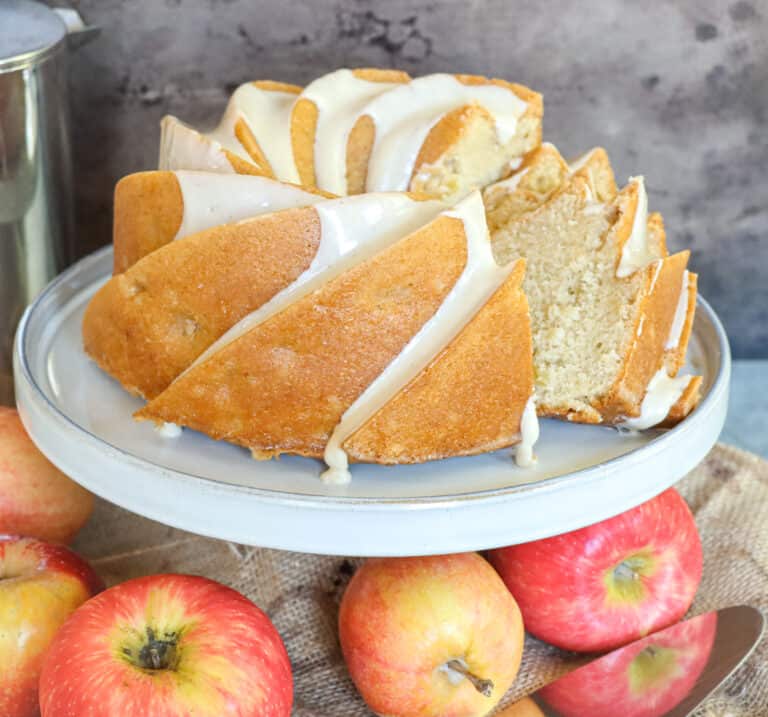 Apple Spice Pound Cake with Maple Cinnamon Glaze
This Fall wonder is the perfect intersection of apples and cinnamon.  It's easy but decadent.  And an absolutely perfect Fall treat.
Total Time:

~5-7 hours

Yield:

14

servings

1

x
For the cake:
384

g

(3 c) flour

1/4 tsp

baking soda

1 tsp

salt

1 tsp

cinnamon

1/4 tsp

ginger

230

g

(1 c) butter, room temp

500

g

(2.5 c) sugar

6

eggs

1.5 tsp

vanilla

250

g

(1 c) unsweetened apple sauce

1

medium apple (~

180 g

before dice), peeled, cored, and chopped (medium dice)
For the Simple Syrup:
67

g

(1/3 c) granulated sugar

84

g

(1/3 c) water

1.5 tsp

vanilla

1/8 tsp

fine salt
For the Cinnamon Maple Glaze (You Can Double This if You Like a Lot of Glaze!):
90

g

(1/4 c) maple syrup

1/4 tsp

maple extract (optional)

1/8 tsp

cinnamon

90

g

(3/4 c) confectioner's sugar

1/4 tsp

fine sea salt
Instructions
To Make the Cake:
Preheat the oven to a true 325°F.  Use an oven thermometer to determine whether your oven is accurate.
Sift together the flour, baking soda, salt, and cinnamon in a medium bowl and set aside.
Add butter to the mixing bowl and mix with a hand mixer or stand mixer until smooth.  Add butter and cream butter and sugar until light and fluffy.
Add eggs, one at a time, mixing well after each addition.  Scrape the bowl after the third egg and the final egg.  Add vanilla and mix well.
Add half of the flour mixture and mix until combined.  Add all of the apple sauce and mix just until combined.  Add the second half of the flour mixture and mix until almost combined.  
Add fresh apples and use a rubber spatula to fold them into the batter and do the last few turns/final bottom scraping of the bowl.
Prep a 10- or 12-cup bundt pan with butter and flour.  Put batter into bundt pan and bake at a true 325° for 60-75 minutes.  
Remove the cake from the oven and allow to rest for ten minutes.  While the cake is resting, make the simple syrup by combining the sugar and water in a small saucepan and bringing it to a boil.  Once the mixture is boiling, reduce the heat and simmer just until the sugar is completely dissolved.  Remove the mixture from the heat and add the vanilla extract.
After the cake has rested for ten minutes, turn it over on a cooling rack, atop a piece of parchment paper.  Brush the simple syrup on the entire cake with a pastry brush.  Allow the cake to cool completely before adding the final glaze.
To Make the Final Glaze: 
Combine the confectioner's sugar, cinnamon, kosher salt, maple syrup, and maple extract (if using) in a medium-sized bowl.  Whisk gently until the mixture is completely combined.  The final mixture should have the consistency of thick honey, and you should be able to pour it.  If it is too thick, you can add maple syrup, 1/4 tsp at a time until it reaches the desired consistency.  
Pour or spoon the final glaze over the top of the cake evenly, allowing it to drizzle down the sides.
Author:

Prep Time:

1 hour (active)

Cook Time:

60-75 minutes

Category:

Dessert

Cuisine:

American
Keywords: Apple Spice Pound Cake, Apple Spice, Apple Cinnamon Cake, Apple Cinnamon Pound Cake
I hope you make and love this cake many times this Fall! It is truly a very special cake and it deserves to be on every table.
If you make it, make sure to tag me on Instagram so I can shout you out!
Until next time, Friends!