I have this to say about this Chai Lemon Blueberry Pound Cake:
It is absolutely…delightful. This is the elegantly-spiced cake that summer didn't know it needed. With fresh blueberries, a kiss of lemon for brightness, and the complex-but-oh-so-complementary spices in the fresh-brewed masala chai, this cake is deep, summery, and beautiful. It sings to all five of your senses-four before you even take a bite.
This cake is the summer love that you never forgot. Or, in my case, the summer love that you married. ??????
I love it so very much. It fragranced my entire kitchen with a spicy-sweet-summery scent, and the taste was even better than I could have imagined!
And I might have gorged myself on the extra Lemon Cardamom glaze.
Okay, I did gorge myself. It's sweet and smoky and spicy…and that kick of lemon just made me throw my hands in the air in praise. So yes, I ate it all. It topped this cake perfectly and transported me somewhere very nice.
Come learn with me! BwB's monthly Masterclasses are fun, informative, and only $20! Sign up here!
Why Masala Chai?
After making this cake, the question for me became: why not masala chai?
You see, "chai" in Hindi is the word for "tea". The chai that I made for this recipe (using this recipe from the great blog Tea and Tumeric) is actually masala chai, which is tea with milk and spices. The recipe has cardamom and pepper and cinnamon and cloves, which marry into masala chai and create a perfect pairing for this classic lemon blueberry cake.
The masala chai adds a lovely spicy note to the lemon, and the fresh, sweet pops of blueberry against that masala spice blend were just delectable. The flavor actually builds the longer the cake is in your mouth, which made me slow down and linger as I ate it. I was truly transported by this cake, in ways both expected and unexpected. And the masala chai had a lot to do with that.
Beginners Start Here
If you're new to baking, or if you want to brush up on basics, here are a couple of super helpful articles from the BwB site that will help you get set up for success with this amazing Chai Lemon Blueberry Pound Cake.
These resources are super helpful to help you build consistency and confidence on your baking journey. Happy Reading!
Important Tools Used in this Chai Lemon Blueberry Pound Cake
Below, you'll find some tools that I used for this pound cake. These are the tools that I use in my kitchen for just about everything that I bake.
**I get paid a small commission if you purchase directly from some of these links, but they are truly amazing products that you'll find in my kitchen.**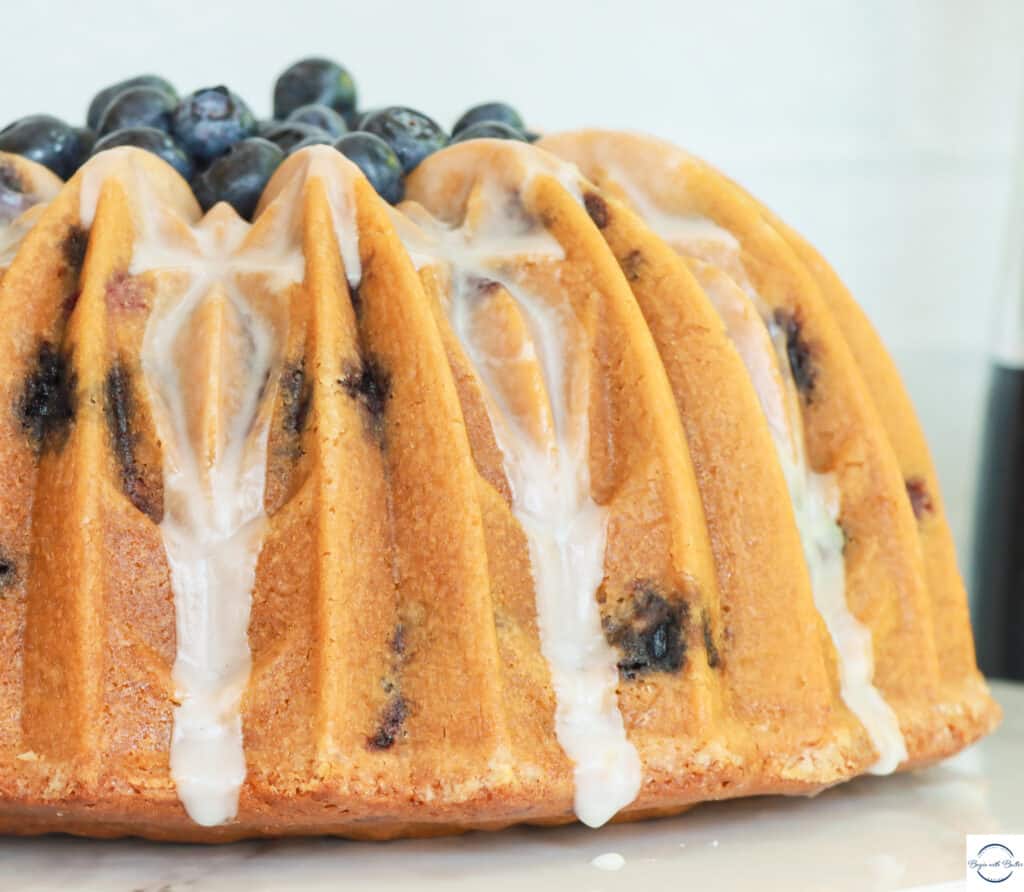 If you have them already, great! Think of this as a checklist to help you build the confidence that you'll need to execute this recipe!
Onto the recipe! ????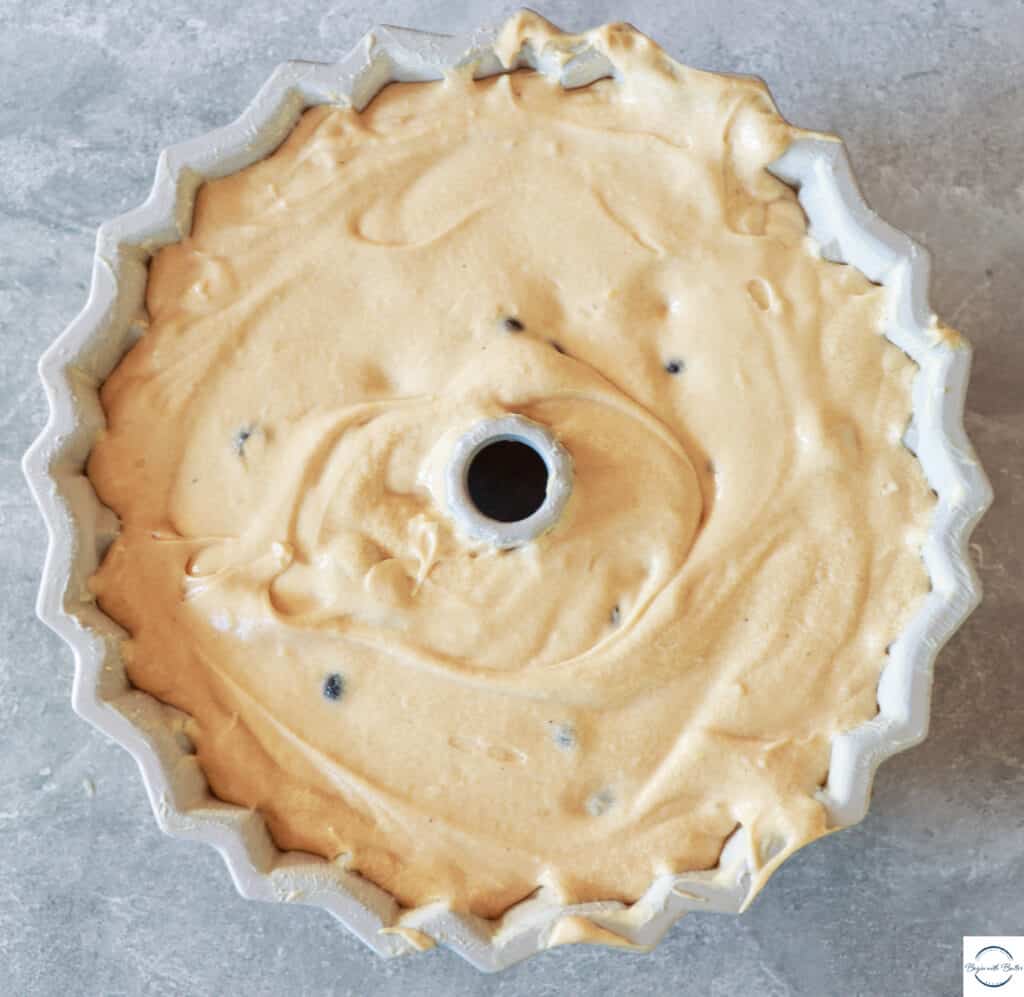 Print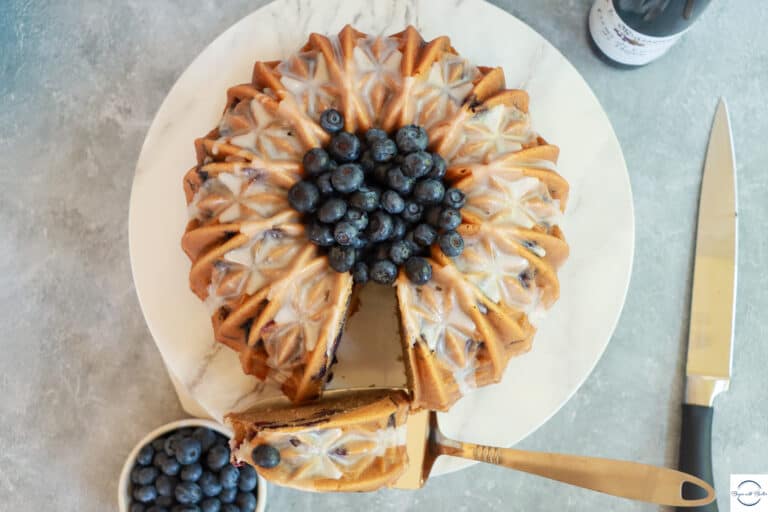 Chai Lemon Blueberry Pound Cake
This Chai Lemon Blueberry Pound Cake is a sweet, spiced summer dream.
Total Time:

~5-7 hours

Yield:

18

servings

1

x
For the Batter:
250

g

chai, pulled and then cooled to room temperature (I used this recipe from Tea and Turmeric)

384

g

all-purpose flour, plus 2 tbsp all-purpose flour for the blueberries

1 tsp

kosher salt

1/4 tsp

baking soda

227

g

unsalted butter, room temperature

2 tbsp

neutral oil (I used avocado oil)

500

g

granulated sugar

5

eggs

1 tsp

vanilla extract

2 tsp

lemon zest

240

g

(1.5 c) fresh blueberries
For the Simple Syrup:
67

g

granulated sugar

84

g

water

1/8 tsp

fine salt
For the Lemon Cardamom Glaze:
240

g

confectioner's sugar

1/8 tsp

cardamom

1/8 tsp

fine salt

3 tbsp

fresh lemon juice

1 tbsp

water
Instructions
Before the Batter:
Make the masala chai.  If you're experienced with pulling the masala chai, I highly recommend doing so in order to aerate the chai.  If not, a milk frother will help aerate the chai.  Allow to cool to room temperature (~70°F) before using in the batter.
To Make the Cake:
Heat oven to a true 325°F.  An oven thermometer is extremely helpful to ensure that you reach the appropriate baking temperature.
Sift the all-purpose flour, kosher salt, and baking soda into a medium bowl and set aside.
Add room temperature butter and neutral cooking oil to a large mixing bowl or the bowl of a stand mixer.  Mix butter and oil until smooth.  Add sugar to the butter/oil mixture and mix on low/medium speed until the mixture is light and fluffy.
Add the eggs, one at a time, mixing until each egg is completely incorporated.  Scrape the sides and bottom of the bowl as needed.
Add the vanilla extract and lemon zest and mix on low/medium speed until thoroughly incorporated.
Add half of the flour mixture to the batter and mix on low speed until almost incorporated.
Add all of the masala chai to the batter and mix on low speed until almost incorporated.  It is important that the masala chai is cooled to room temperature for this step.
Add the other half of the flour mixture and mix on low speed until almost incorporated.
Place the blueberries and two remaining tablespoons of all-purpose flour into a medium mixing bowl.  Toss the blueberries in the flour to coat.  
Gently fold the blueberries (but not the additional flour—see note) into the batter, mixing only until the blueberries are completely covered.
Place the batter into a prepared, greased baking pan (you can see my technique here) and place into the oven at 325°F for 65-80 minutes, or until an instant-read thermometer reads 212°F-215°F.  Alternately, the cake is done when a toothpick comes out completely clean (though if you pierce a blueberry, you might have a blue toothpick!).
While the cake bakes, make the simple syrup.  To make the simple syrup, add the sugar, add the granulated sugar, water, and fine salt to a small saucepan.  Bring to a boil and stir.  Boil only until all of the sugar is dissolved.  Remove from the heat.
Remove the cake from the oven and place the cake pan on a cooling rack for ten minutes.  Then, invert the cake pan onto the cooling rack, remove the cake pan and and brush with the simple syrup.  Allow the cake to cool completely before pouring the final glaze.
While the cake cools, make the final glaze.  Add the confectioner's sugar, cardamom, fine salt, fresh lemon juice, and water to a medium mixing bowl.  Stir gently with a 9" whisk until the glaze is the consistency of thick honey.  Once the cake is completely cooled (3-5 hours should be safe), pour the glaze over the cake, using either a spouted measuring cup or a squeeze bottle.
Enjoy!
Notes
It's very important that the masala chai is cooled to room temperature before adding to the batter.  I also highly recommend using freshly-made masala chai for this recipe!
After tossing the blueberries, you'll want to remove the excess flour so that it doesn't go into your batter.  You can gently toss the blueberries in a fine mesh strainer, or you can use a spoon to carefully scoop the blueberries into the batter.  But don't just dump all of the contents of the blueberry bowl into the batter!
Author:

Prep Time:

45 minutes

Cooling Time:

3-5 Hours

Cook Time:

65-80 minutes

Category:

Dessert

Cuisine:

American
Keywords: masala chai, pound cake, lemon blueberry pound cake
Thank you for stopping by today! Consider subscribing to Begin with Butter so that you can get new recipes and content directly in your inbox!