If strawberries mark the start of summer, then peaches are summer. And these Peach Cobbler Muffins are summer personified to me.
Peaches remind me of my Dad. He would gorge himself on the sticky sweet fruit all summer. So much so that his peach rations had to be….well, rationed. Because he just didn't stop when peaches were in the house. He'd have one in each of his gigantic hands and he'd munch on them until the pits were clean. Then he'd go back for more!
In many ways, my Dad was a very buttoned-up, serious man. But a good soft peach made him positively giddy. Watching my father–who shined his shoes until they reflected his handsome face, and who wore three-piece suits every day to work–smile wide while peach juice ran down his face and onto his shirt in our Naperville backyard…well, friends, that is one of my core childhood summer memories.
So when I was developing this recipe, I had him squarely in mind.
Come learn with me! BwB's monthly Masterclasses are fun, informative, and only $20! Sign up here!
About this Peach Cobbler Muffin
Here's the thing about peaches: all by themselves, they don't taste a whole lot like peaches in your baked goods. Those soft peaches I just described are for eating anyway. Not for baking.
You see, in baked goods, peaches are like apples. They break down and get super soft, and a beautiful, soft, ripe peach can get reduced to a flavorless mush when baked. And that's a sad state of affairs to be sure.
To counter that effect in these muffins, I chose a very firm white peach. For more peachy flavor, you can use a firm yellow peach, but yellow peaches are almost peak season here in Maryland, so finding firm yellow peaches is a bit more difficult.
To bump up the peachy flavor and create the perfect texture in this Peach Cobbler Muffin, I used some of those firm peaches to create a chunky peach purée, with granulated sugar, Triple Sec, pure vanilla extract, and a kiss of salt.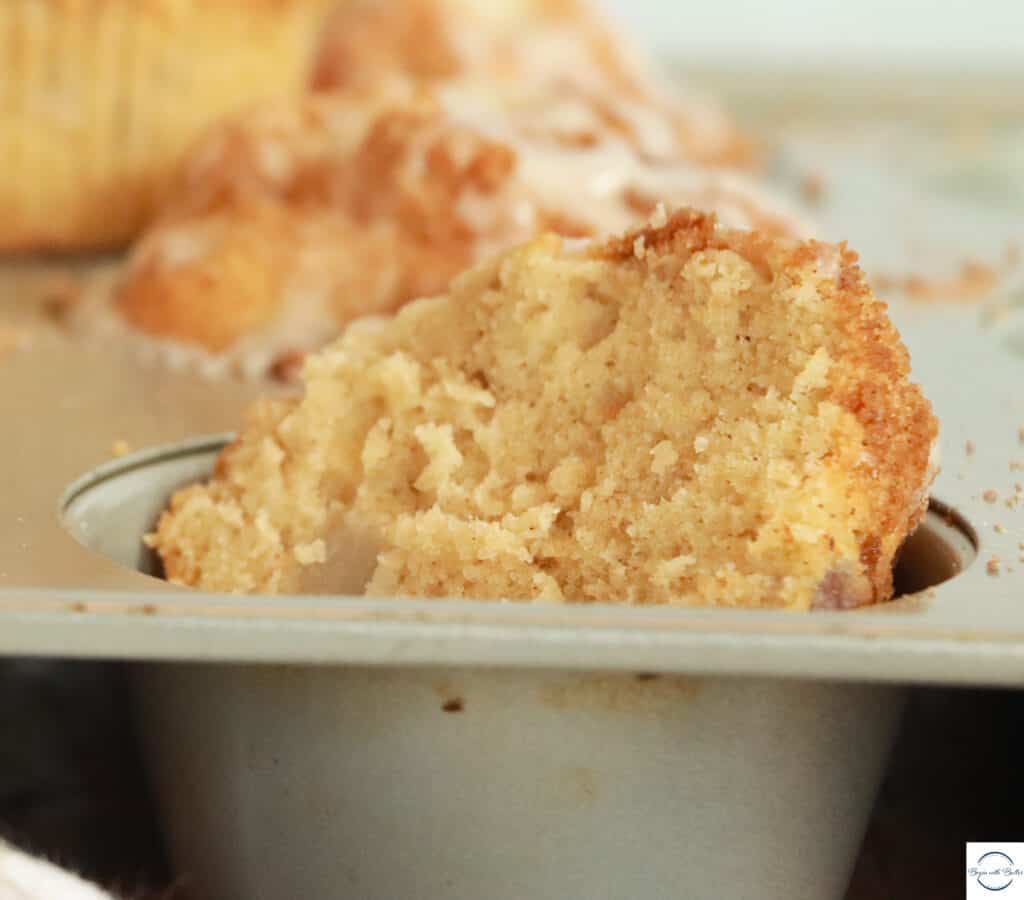 In addition to the chunky peach purée, this recipe features diced fresh peaches and brown sugar. Because the molasses in the brown sugar, combined with the cinnamon and nutmeg in batter itself, is just…::contented sigh::. The muffin is topped with a brown sugar streusel topping and, if you're feeling "saucy" (pun intended), you can drizzle it with my favorite vanilla glaze.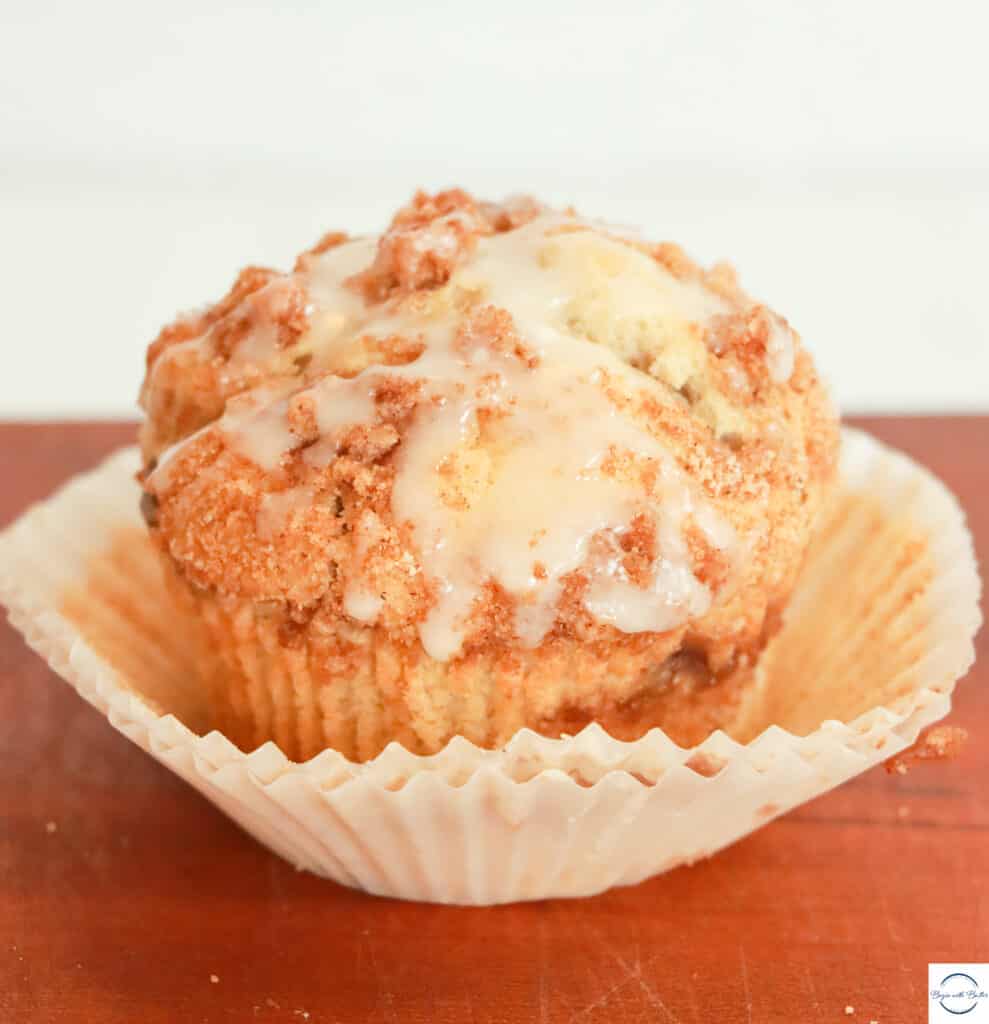 This muffin is a little more work than the traditional two-bowl muffin recipe, but it's beyond worth it.
Want to make a special breakfast for travel-weary guests this summer? Pair these muffins with this absolutely incredible Bourbon Smash recipe from Britney Breaks Bread for a delightful receiving meal they won't soon forget.
If a languid summertime brunch on the deck with friends is more your speed, try these muffins with this wonderfully refreshing Sparkling Rosemary Peach Piscine Cocktail from Le Chef's Wife for a truly inspired peach experience.
My daughter spotted these muffins cooling on the counter and immediately channeled her grandfather. She attacked with reckless abandon and tried to abscond with one in each hand.
I love her for that.
Want to see a video of me making these scrumptious muffins? Check out this Office Hours episode!
Enjoy the recipe, my friends!
Print
Peach Cobbler Muffins
These wonderfully-spiced Peach Cobbler Muffins are perfect for a summertime brunch.  Featuring two levels of real peach flavor, these muffins are the perfect way to celebrate this special summer treat.
Total Time:

~60 minutes

Yield:

12

–

15

muffins

1

x
For the Peach Purèe: 
3

medium peaches, halved and pits removed

1 tsp

pure vanilla extract

50

g

granulated sugar

2 tbsp

triple sec or

2 tsp

fresh-squeezed orange juice

1/8 tsp

kosher salt
For the Muffin Batter:
320

g

flour, plus 2 tbsp for peaches

1 tsp

salt

1/2 tsp

baking soda

1/2 tsp

cinnamon

1/8 tsp

nutmeg

170

g

butter, room temperature

150

g

brown sugar

3

eggs, room temperature

1 tsp

vanilla extract

1 tsp

triple sec (optional)

64

g

sour cream, room temperature
~135 g (~1/2 c) peach purée, cooled to room temperature

154

g

(1 c) firm fresh peaches (about 1 medium peach), diced
For the Streusel Topping:
67

g

brown sugar

32

g

all purpose flour

2 tbsp

cold butter
The Best Vanilla Glaze, optional
Instructions
To Make the Chunky Peach Purèe:
Cut the peach halves into 1/4 slices.  Add the peach slices, granulated sugar, vanilla extract, triple sec or orange juice, and kosher salt to a small saucepan.
Bring the mixture to a boil in a small saucepan, then reduce to low heat.  Allow the mixture to simmer for 20-25 minutes.  Stir every 2-3 minutes to check the liquid level in the bottom of the pot and to make sure that the peaches don't stick to the saucepan.  If the liquid level is reducing too quickly (and the peaches aren't softening), reduce the heat.
Once the peaches are fork-tender, use an immersion blender to blend until they form a chunky purée texture.
Remove from the heat and into a heat-proof bowl to cool to room temperature before using.
To Make the Muffins:
Preheat oven to a true 350°F (using an oven thermometer ensures that you get to the right temperature!).  Prepare a 12-cup muffin pan with muffin liners and set aside.
Sift the 320 g flour, 1 tsp salt, 1/2 tsp baking soda, 1/2 tsp cinnamon, and 1/8 tsp nutmeg into a medium-sized bowl.  Set aside.
Thoroughly combine sour cream, 135 g (~1/2 cup) cooled chunky peach puree, pure vanilla extract, and triple sec (if using) in a small bowl.  Set aside.
To make the streusel topping, combine the 67 g brown sugar, 32 g all-purpose flour, and 2 tbsp of cold butter in a small bowl.  Use two forks or your fingers to break the butter into pea-sized pieces and combine the rest of the mixture.  Place in the refrigerator until ready to top the muffins.
Place the butter into a large mixing bowl or the bowl of your stand mixer.  Mix until the butter is completely smooth.  Add the sugar and cream butter and sugar until light and fluffy.  (Need help figuring out what it means to "cream butter and sugar until light and fluffy"?  Check out this post!)
Add eggs, one at a time, mixing until each egg is completely incorporated.  The mixture might start to look a little curdled at this point but that's okay in this recipe!
Add half of the flour mixture and mix until nearly combined.  Scrape the sides and bottom of the bowl to make sure that there is no flour at the bottom.
Add all of the sour cream mixture and mix until nearly combined.
Add the second half of the flour mixture and mix until nearly combined.
Finish mixing with a rubber spatula, mixing only until no streaks of flour remain.
Place the diced peaches and the remaining two tablespoons of flour into a small bowl.  Stir thoroughly to coat.
Use a sifter or fine mesh strainer to remove excess flour from the diced peaches.  We don't want extra flour in this thick batter!
Gently fold the diced peaches into the batter.  Using an ice cream scoop or a 1/3 cup measuring cup, place batter into the prepared muffin cups.  Top with the refrigerated streusel topping.
Bake at 350°F for 25-30 minutes, or until a toothpick comes out clean.  Allow to cool in the muffin pan for three minutes, then remove to a wire cooling rack to cool completely.
If desired, top with The Best Vanilla Glaze after cooling for 15-20 minutes and enjoy!
Notes
Firm peaches work best in these peach muffins.  Ripe or over-ripe peaches are better suited for eating, since they will get super soggy in this recipe.
You do not have to remove the peach skins for this recipe.  The cooking and baking process make them nearly disappear!
Author:

Prep Time:

30 minutes

Cook Time:

25-30 minutes

Category:

Breakfast

Cuisine:

American
Nutrition
Serving Size:

One Muffin

Calories:

406

Sugar:

29.3 g

Sodium:

293.9 mg

Fat:

17 g

Carbohydrates:

52.9 g

Protein:

7.2 g

Cholesterol:

131.7 mg
Keywords: Peach Muffins, Peach Cobbler, Peach Cobbler Muffin
Thank you for stopping by and letting me share one of my favorite summer memories with you!
Until next time, friends!