Friends, I'm excited today to announce the start of a new initiative at Begin with Butter. I'm calling it the "Lil' Something Sweet" series, where we're going to be making some easy desserts that you can make in minutes! First up is one of my favorites for summertime: these grilled peaches with fresh whipped cream!
The grilling process helps these peaches develop the most beautiful complex flavor and texture, and helps them reach ultimate decadence.
An Ode to My Daddy
This recipe was 100% inspired by my Daddy. When I was growing up, peaches didn't stand a chance in our house. Whether my mother purchased them from a farm stand or a grocery store, he would hoard those grapefruit-sized peaches in his giant hands and eat them two-fisted. Any peaches that I got were purely by happenstance most of the time. Unless I happened to help my mother with groceries and I saw them peeking out of the bag. If that happened, I would grab one in both hands and run.
My father also had a serious thing for peach ice cream; we made it at home. My parents had a teamwork approach to making this ice cream that seemed quite cruel to me as a child.
My mother would leisurely make the ice cream base, my father would come up with the perfect mixture of ice and ice cream salt for the saltwater slush, and then us kids would nearly break our arms and dislocate our shoulders cranking out that ice cream with a hand crank ice cream maker. I had so many numb arms, Friends. But it was always worth it, because that was the absolute best peach ice cream I've had in my life. To this day, I haven't found a recipe that tops my mother's.
After making that ice cream, do you think we got to indulge? NOPE! My daddy would give us each a single stingy scoop and then declare the rest of it his. I relished those peach ice cream scoops and am not ashamed to say that I licked those bowls clean.
Apparently, when my father was young, my grandmother used to "put up peaches" for the winter. Risking a beat down, he would abscond with her put up peaches and HIDE THEM UNDER HIS BED where he could enjoy them with fresh biscuits.
Between my Peach Cobbler Pound Cake, my Peach Cobbler Muffins, and my Peach Hand Pies, I'm not sure which one he'd like most. I am sure that he'd taste-test every single one thoroughly before making a decision, though.
Y'all. My Daddy had a serious thing for peaches. So this recipe had to be perfect.
About these Grilled Peaches with Fresh Whipped Cream
For a girl who loves a fresh peach, this is a huge deal. Anything that heightens the taste of summer's perfect fruit is a win in my book. And the grilling process-without any additional help from any seasonings whatsoever-actually improves the flavor. It seems impossible but it is entirely true; peaches actually taste better with a little char because it brings out the natural sugars in the fruit.
If the grilled peaches weren't enough, I have found a whipped cream with the *perfect* amount of sweetness to complement the beauty of these late-season peaches. With these grilled peaches, you don't want a whipped cream that is too stiff or too sweet. Too stiff and the texture of the dessert gets lost. Too sweet and the taste of the peaches gets lost. For the whipped cream, you want just a kiss of additional sweetness and a touch of salt to balance the dessert. A luxurious soft-whipped cream is perfection here.
It all comes together in less than fifteen minutes, and can be served with any late summertime meal! It is truly perfect for a special dinner al fresco with friends, or a Tuesday when you want a "lil' something sweet."
How to make these Grilled Peaches with Fresh Whipped Cream
When I say that this dessert can be done in fifteen minutes, it can absolutely be done in fifteen! However, as my friend Hammed from The Prince Eats says so eloquently all the time, "the meal is won in the prep." Same concept with dessert. While I talk about mise en place all the time, to execute this dish in fifteen minutes, you'll really have to have things ready to go!
What does it mean to have things ready to go? It means having a stainless steel bowl and balloon whisk chilling in the freezer. It means having very cold heavy whipping cream that comes out of the refrigerator immediately before you use it. It means having salt, confectioner's sugar, and vanilla out, measured and ready to go. It means a preheated grill and clean yellow peaches (this recipe doesn't work nearly as well with white peaches).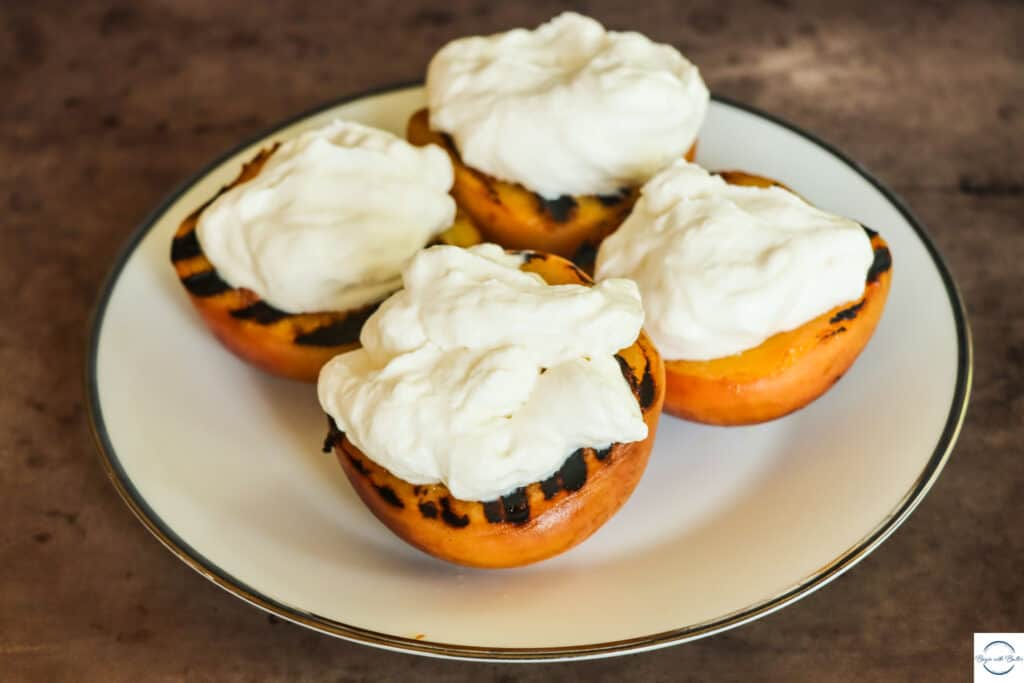 And that's it. You could actually skip chilling the bowl and balloon whisk, but this dessert comes together much faster if you do this step. And Friends, you'll want this dessert to come together fast.
The Grilled Peaches
To start, you'll warm your grill to about 350°F-375°F, or warm your cast iron grill plate over medium heat on the stove. If you cook these peaches too high and fast, you could make them bitter, and that would be a shame.
It doesn't matter if you're using gas or charcoal, and friends, I'm not entering that debate. I am completely lazy when it comes to grilling, so I use gas. That is not to say that gas grillers are lazy. I speak only for myself.
While the grill is preheating, cut your clean peaches in half. To get the best halves, slice lengthwise with a sharp knife (be careful!) around the entire peach pit. Then twist! One side will likely have the pit in it. Make sure you remove the entire pit with either a sharp knife or spoon. Some peach pits will split a bit when you cut into the peach, so make sure to grab the small pieces that may have broken off!
Once the grill is preheated, place the peach halves, face down, on direct heat and close the grill lid. You'll want to use tongs to check them at about the 6-8 minute mark. You're looking for a reddish color (we definitely want yellow peaches for this recipe!), and some char marks. If you want to get really fancy, you can rotate the peaches halfway into the cooking time to get crosshatch grill marks. Grilling may take anywhere from 6-10 minutes, depending on the actual heat of your grill.
The peaches are finished when they have turned a deeper golden color and they are lightly charred. You want them to soften a bit from the grilling process, but you don't want them to turn to mush.
The Fresh Whipped Cream
Once the peaches are done, it's time to make the whipped cream. I said what I said, Friends. Don't make the whipped cream before the peaches are finished. The peaches need to cool slightly anyway, so this is the perfect time to set them aside and make your whipped cream. Plus, if you're entertaining, this is the ideal time to show off for your guests.
To make the whipped cream, add the cold heavy cream, tiny pinch of fine salt, and the confectioner's sugar to your chilled bowl. Stir gently with the chilled balloon whisk to combine.
NOTE: you can absolutely do this step with a hand mixer or stand mixer if you'd like!
Once all of the ingredients are combined, whisk gently until it starts to thicken, turning the bowl with your non-dominant hand to make sure that everything gets combined evenly. Whisk gently, making sure to keep your wrist, elbow and shoulder loose. You don't want to injure yourself making whipped cream!
At the beginning, the heavy whipping cream will be very loose and milky, but as you continue working with the balloon whisk, you'll start to notice the *slightest* resistance as the cream begins to thicken. Keep going, remembering to keep your wrist, elbow and shoulder nice and loose.
Whip the heavy cream until it is a loose, floppy whipped cream texture (about 4-6 minutes total, but it might not take that long). Add the vanilla and whip for another 30 seconds or so at a leisurely pace. The heavy cream for this recipe is intentionally soft, because I love the texture of the soft whipped cream against the grilled peach. But if you want a stiffer whipped cream, just keep working that balloon whisk!
Once the whipped cream is done, place it on the grilled peaches and serve immediately. The whipped cream will melt like ice cream, and that just adds to the decadence of this beautifully quick dessert.
This dessert is so simple and special. I am absolutely in love with its accessibility and I can't wait to make it over and over…or at least until peach season has come to an official end.
Ciao until next time!
Print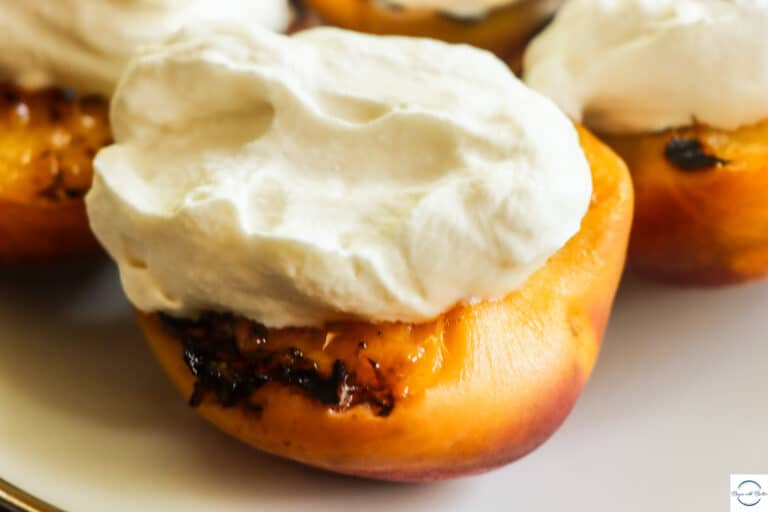 Grilled Peaches with Fresh Whipped Cream
These grilled peaches with fresh whipped cream are so easy and so fast that it's impossible to believe they could be so delicious.
Total Time:

15 minutes

Yield:

4

servings

1

x
2

large yellow peaches (white peaches work, but not as well)

1/2 tbsp

Olive Oil (for drizzling on the peaches)

125

g

(1/2 c) heavy whipping cream

14

g

(1/8 c) confectioner's sugar

1/8 tsp

fine sea salt

1 tsp

vanilla extract
Instructions
Before You Start:
Place a stainless steel mixing bowl and balloon whisk in your freezer while you make your peaches.
To Make the Peaches:
Heat a grill to about 350°F-375°F, or heat a grill pan thoroughly on medium heat.  (See Note)
Cut clean peaches lengthwise, carefully going all the way around each peach.  Twist to separate and fully remove the peach pits.
Drizzle olive oil on cut side of each peach.  Brush to distribute evenly.
Place peaches, cut side down, on the grill over direct heat.  Don't be afraid if you hear a bit of a sizzle!
Gently check the peaches with tongs about every 2 minutes.  You're looking for peaches that have slight char (grill lines are a bonus, not a necessity) and are a darker golden color.  Additionally, the texture should be slightly softened, but not mushy.
Total time will depend on the size and ripeness of the peaches, but this generally takes anywhere from 6-10 minutes.  Peaches that started off more firm will take a few minutes longer; soft late summer peaches will likely be on the 6-8 minute end. 
Once the peaches are done, place on a heat-proof serving plate and set aside.
To Make the Whipped Cream:
After the peaches are done, place cold heavy cream, fine sea salt and confectioner's sugar into a large mixing bowl, or the bowl of a stand mixer.  Stir gently until the confectioner's sugar is completely covered in heavy cream.
Mix at a medium pace with a ballon whisk or in the bowl of your mixer for 1-2 minutes, or until very very soft (floppy) peaks form.  
Add the vanilla extract to the floppy peaks and continue whisking on medium speed (or on high speed in a stand mixer) for another 30-45 seconds.  
For this dessert, we want a soft whipped cream.  For that reason, you want to stop when you still have soft peaks.  It makes for a beautiful presentation and the most decadent mouthfeel from this particular dessert.
Add a dollop of whipped cream to the cut side of each peach and serve immediately.  The whipped cream will get melty the longer it sits on the warm peach, so you could even do this last step after the peaches are on the table in front of your guests!
Enjoy!
Notes
Make sure that you don't grill these too high and fast!  You risk the fruit becoming bitter, instead of drawing out the natural sweetness in the fruit.
Author:

Prep Time:

15 minutes

Category:

dessert
Keywords: grilled peaches, grilled peach, whipped cream, fresh whipped cream