Friends, my daughter has been waiting for this one since the top of 2023. She recently hit me with the eyes and I was powerless to put this off any longer. So, today on the blog, we have my amazing Peach Hand Pies. These don't last long at all in my house.
These Peach Hand Pies are flaky and decadent, and because these use frozen peaches, YOU CAN EAT THEM YEAR-ROUND.
That was wonderful news for my baby girl, who has a serious thing for anything peach. ? That's right. You don't have to wait for the 5-week peach season to enjoy these peach pies. just go to your local grocer's frozen food section and grab a bag of frozen peaches, and you're good to go! So now, you can have a taste of summer any time of the year.
You're absolutely welcome!
About these Peach Hand Pies
The cat's out of the bag with these, friends. In order to develop this recipe two whole months before peaches even consider being ripe in Maryland, I had to go to the freezer aisle of the grocery store. A 16-ounce bag of frozen peaches is more than enough to make these hand pies. And since frozen peaches are peaches that are picked and packaged at the height of their ripeness, you're losing nothing by using the frozen ones. You can actually depend on these peaches to be sweet, unlike fresh peaches, which can vary from sweet to tart with no rhyme or reason.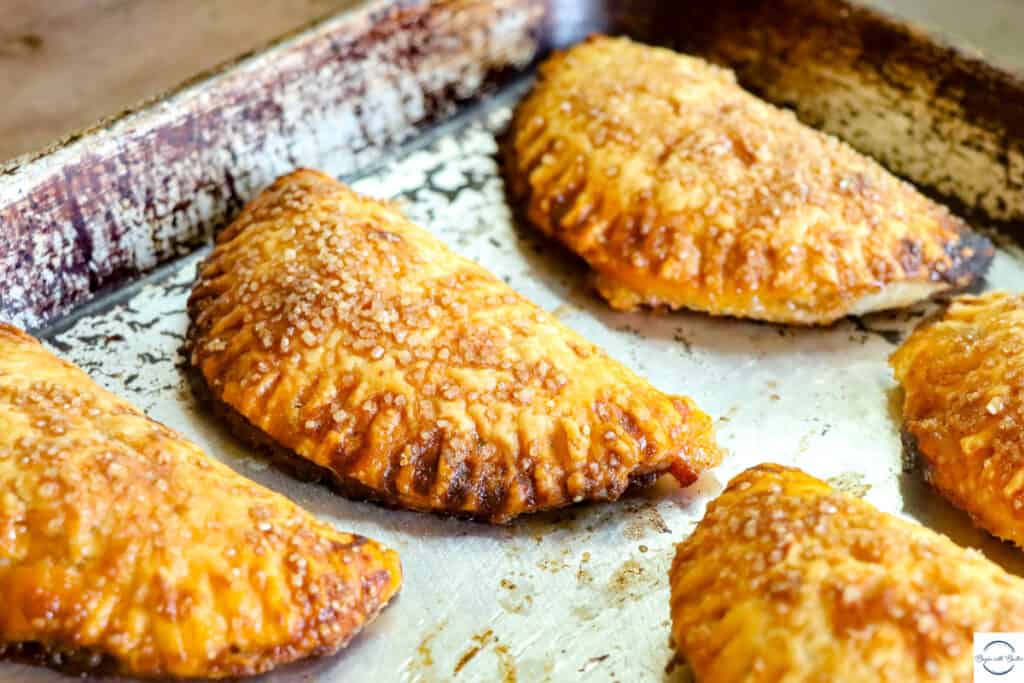 Now, Friends, I love a sweet, fresh, juicy peach. I love the way the juice positively dribbles down my chin and clothing. I love them when they're just reaching that soft-er phase, and the flesh is nice and dark in the middle. But I love to eat those peaches as God made them.
So this solution is absolutely perfect for me.
Can you use fresh peaches? I'm sure you could. I'll report back later this summer.
Another little secret about this recipe? ORANGECELLO. YES.
Trust me. You want either Orangecello or Triple Sec to really bring out the peach notes in this incredible recipe. It's optional and you can absolutely use fresh squeezed orange juice, but OMG it takes these Peach Hand Pies way over the top.
Last thing, I promise. I love how friendly these Peach Hand Pies are for beginning pie bakers. Pie is traditionally a very daunting task for new pie bakers, and this coconut oil crust gives you lots and lots of leeway to learn! While you're building confidence with pie baking, you'll want that leeway. Save the butter and leaf lard for another day.
I should mention that this pie crust is also incredibly flaky as well, so flaky that you won't believe that it's not a butter crust. I mean…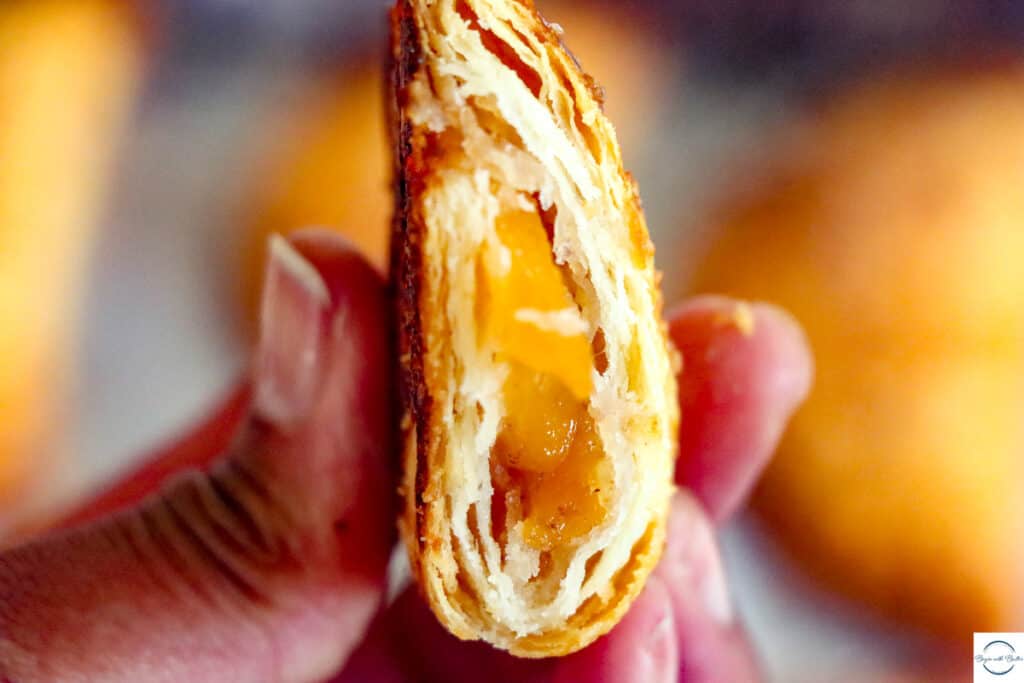 Beginners Start Here
I get it. Pie can be a daunting task. There are many, many places where it could go terribly wrong, and, truth be told, you don't ever know if it went right until you're biting into the finished product.
But the more you make it, the more you develop a feel for what each stage should look like. And that, friends, is where kitchen confidence comes from.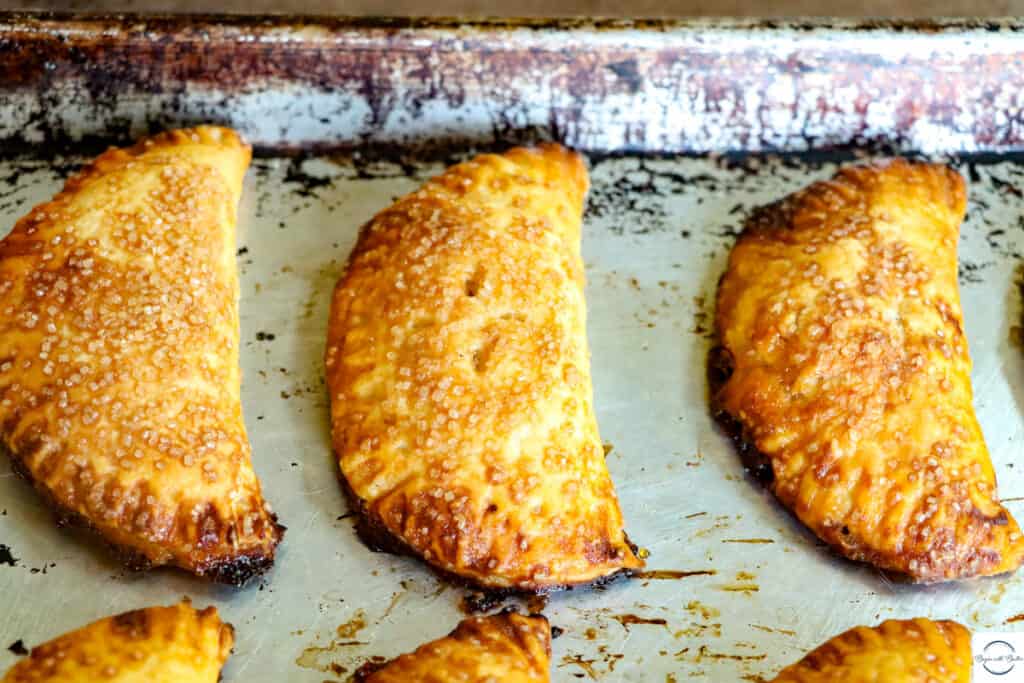 To help you with that learning curve, here are some articles from the Begin with Butter site!
Coming to the BwB Home Baking Academy on July 1, 2023: My LIVE Hand Pie Class!
These aren't mandatory reading, but they will help you tremendously with your pie confidence! And who wouldn't want that? ?
How to Make this Peach Hand Pie Crust
Here at Begin with Butter, we believe in 360° of baking education. So much so, that I've created a whole Begin with Butter Home Baking Academy to help you shore up baking skills! My classes teach you how to become a more consistent, confident baker, and they're super fun to boot!
There's also oodles of free information right here on the site! Check out the Equipment & Ingredients and Techniques pages to help you improve your baking skills!
For this special Peach Hand Pie Crust, I hosted an Instagram Live the other day and had an absolute blast. You can watch me make the crust (and get a bunch of tips!) by checking out this Instagram Live post! It's thirty minutes of instruction that will make all of your pies so much better.
However you want to learn this amazing dough, I've got you covered!
Because baking education is kinda my jam.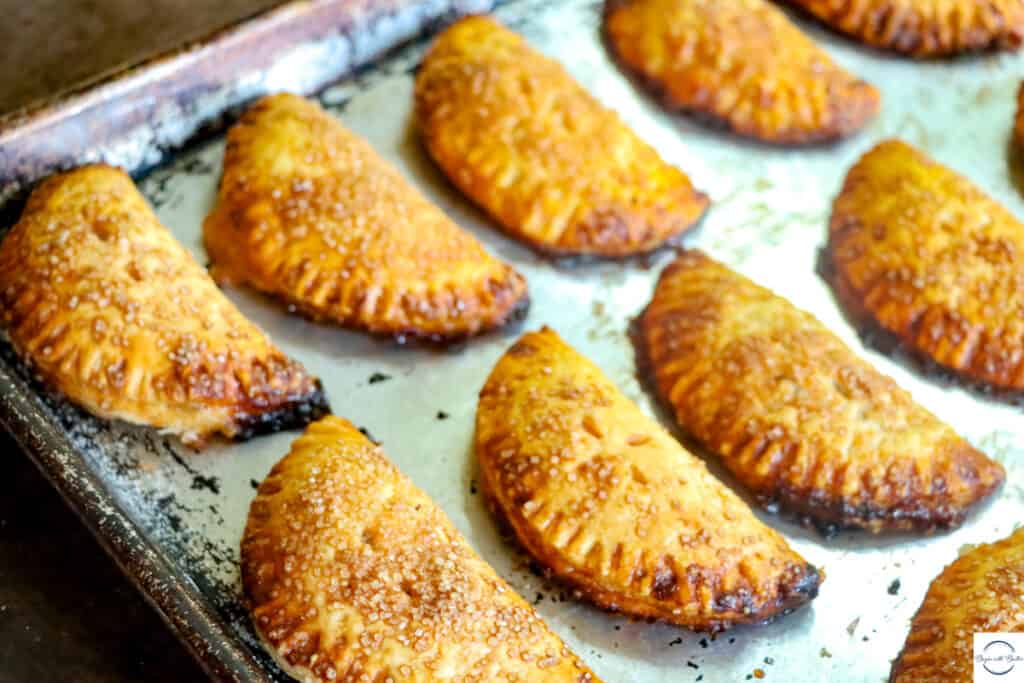 Answering some of your questions about Peach Hand Pies
Does the coconut oil have to be refrigerated before using in the pie dough?

No! You actually don't want the coconut oil to be rock-hard before you use it. To make this dough, your coconut oil needs to be solid but soft. The only caveat is that it cannot be liquefied.

If the coconut oil is too hard, it will just break into pieces when you try to roll out your dough. So, don't refrigerate the oil before using! It works against you!
Why did you use frozen peaches?

Here in Maryland, the peach season is SHORT. We can rely on good peaches from mid-July until maybe mid-August.

My daughter finds this unacceptable. So, in my never-ending desire to make my children happy, I figured out a happy medium. I have not tested this recipe with fresh peaches, but I imagine that it will be absolutely amazing. Will report back.
Why do I need to refrigerate the hand pies after shaping them?

While you're shaping the hand pies, you don't want your oven on at 400°, heating up your kitchen and possibly melting the fat in your dough. Keep the kitchen as cool as possible, friends. Because although the coconut oil doesn't need to be frozen or cold when you make this dough, you still don't want it to melt.

Once the hand pies are shaped, you want them as protected as possible from the residual heat from the oven. Coconut oil doesn't take much to go to liquid, and the refrigerator will keep the fat comfortably solid while you heat your oven for 35-45 minutes.
Can I make a double crust pie with this recipe?

Yes! You'll want to double the filling recipe though.
Friends, I am absolutely in love with these special little hand pies. I hope you make them and enjoy them as much as my family and I do!
See you next time!
Print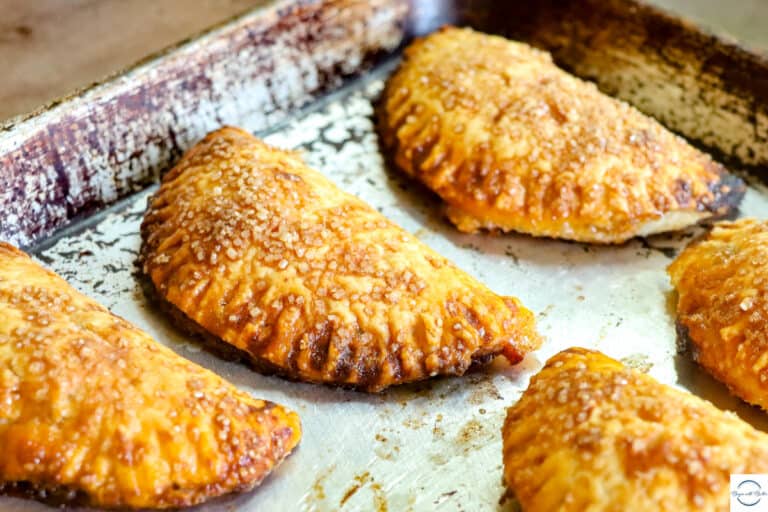 Peach Hand Pies
These absolutely adorable treats are perfect year-round!  The coconut oil crust is perfect for beginners to learn the ropes of pie crust, and it's wonderfully delicious and flaky to boot.  Make these now!
Total Time:

~1 hour

Yield:

12

–

15

hand pies

1

x
For the Filling:
2

c

diced peaches

150

g

(3/4 c) granulated sugar

2 tbsp

triple sec or orangecello (optional)

1/2 tbsp

lemon juice or apple cider vinegar

2 tbsp

flour

1/2 tsp

kosher salt

1/2 tsp

ginger

1/2 tsp

cinnamon
For the Crust:
300

g

(2.33 c) all-purpose flour

1/4 tsp

fine sea salt

2 tbsp

granulated sugar

227

g

(1 c) coconut oil, room temperature but solid

2 tbsp

vodka

70

g

(4.67 tbsp) water, plus more if needed
Instructions
To Make the Filling:
Add diced peaches, granulated sugar, triple sec/orangecello (if using), lemon juice/apple cider vinegar, flour, cinnamon, salt, ginger, and cinnamon to a small saucepan.  Stir to combine.
Place on a stovetop, on medium heat, until the mixture begins to bubble.  Stir frequently to keep from burning.  The mixture will go from chunky and flour-y to very liquid, then will finally start to reduce.  Remove from heat as soon as the mixture has reduced by 1/3 and has thickened.
Immediately place in a heat-proof bowl and set aside until it's completely cooled.
To Make the Crust and Build the Hand Pies:
Add the 300 g all-purpose flour, fine sea salt, and granulated sugar to a large mixing bowl.  Whisk to combine.
Add the solidified coconut oil to the flour mixture.  Completely cover the coconut oil with the flour.  Then use your fingers to smush the coconut oil into pea-sized pieces (you can also use a pastry cutter for this step).  The pieces will not be uniform and this is ideal!
Combine the vodka and water.  Pour evenly over the flour/coconut oil mixture and stir gently to combine with a fork.  The mixture should be shaggy but combined.
Split the pie dough into two equal-ish parts in your mixing bowl.
Place flour on a pastry mat.  Create a thick disc with one half of the pie dough, and place the disc atop the well-floured pastry mat.  Flour the top of the dough disc and also your rolling pin.  Gently roll to 1/4" thickness.  *On this first pass, the dough will feel very soft.  I cannot emphasize enough to be gentle!
Once you've reached 1/4" thickness, fold the dough in half two times.  Then roll the dough again to 1/4" thickness.  The dough will feel much stronger on the second rolling!
Use a 4.5" biscuit cutter to cut out circles for your hand pies.  If you have a lot of dough left over, you can re-roll the extra dough one time and make more hand pies.
Make the egg wash by adding the whole egg and 1 tsp of water to a small bowl, then whisking to combine.
Add ~2 tbsp of the peach pie filling to each dough circle.  Brush egg wash over the edges of the circles that are closest to you, then close gently.  Use a fork to seal gently.
Place formed hand pies on a parchment-lined baking sheet and place in the refrigerator for at least 45 minutes to an hour before baking.
Preheat your oven to 400°F (convection) while your hand pies are in the refrigerator. Allow the oven to come to a true 400°F before putting the hand pies in the oven!
Before baking, cut small vents into the hand pies with a sharp knife, then brush each hand pie with egg wash.  Add turbinado sugar (optional) to the top of each hand pie, then place in the oven.
Bake the hand pies for 18-24 minutes, or until the hand pies are a deep golden brown.  Remove from the oven and place on a cooling rack.
These hand pies are best when they are warm, so they'll be ready to eat within 15-30 minutes of coming out of the oven.  To reheat, place in a 300°F oven for ~5 minutes.  Microwaving is not recommended for these hand pies.
Notes
These hand pies are best eaten best day (and warm!), but they can be stored in an airtight container for up to three days.  
Author:

Prep Time:

45 minutes

Cook Time:

18-24 minutes

Category:

Dessert

Cuisine:

American
Keywords: Peach Hand Pies, Peach Hand Pie, Hand Pie