I recently published The Anytime Pizza Dough, which is a Friday staple in my home. It comes together quickly, has two rises, has incredible chew, and tastes like you spent two days making it.
Seriously. That dough must be experienced to be believed.
What I didn't tell you, Family, was that there's a very special and extremely easy pizza sauce that I often pair with that dough. The combination is serious dynamite and it is a big part of the reason why I never, ever use my phone to dial for anybody else's pizza around here.
(If you can access a good mozzarella di bufala, you'll want to add that too. Otherwise, a good part-skim, low moisture mozzarella works extremely well!)
I mean…
This highly customizable pizza sauce has exactly five easy ingredients and it is exactly what your next homemade pizza needs. It is so versatile, that I've been known to use it as pasta sauce when I needed a very quick win.
How to Make this Sauce
This pizza sauce comes together with only five ingredients. You'll want to source the best grape or cherry tomatoes that you can find, since the tomato flavor is the star here: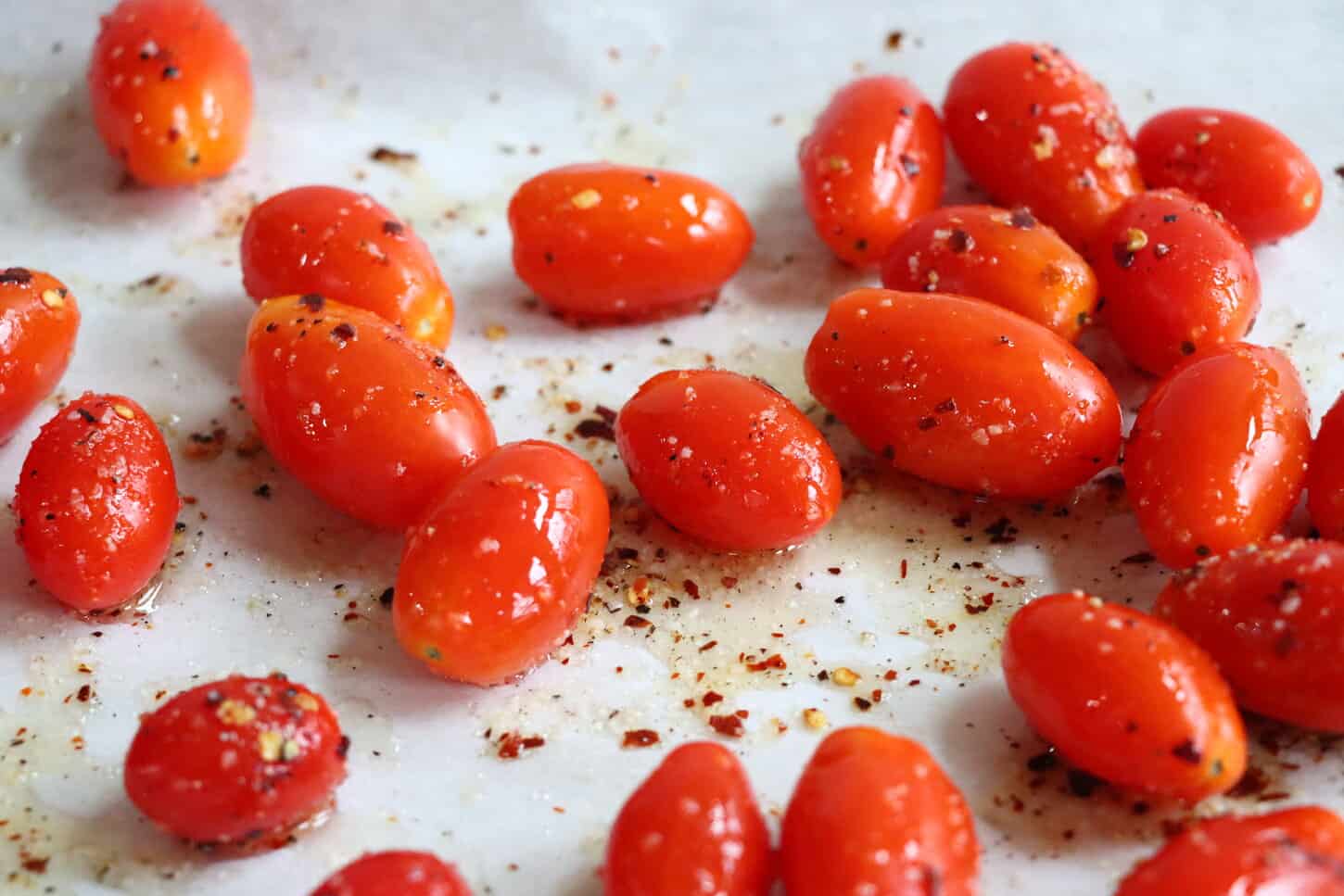 To make the sauce, place parchment paper on a rimmed baking sheet. Pour the oil over the tomatoes, then sprinkle the salt, pepper, and crushed red pepper over the whole thing. Use a silicone or rubber spoon to stir the whole thing together, then pop it into a 425°F oven for anywhere from 11-16 minutes.
Once the tomatoes reach your desired level of caramelization (I prefer mine really caramelized), remove them from the oven and allow them to rest for about ten minutes. That rest time allows the tomatoes to reach perfectly jammy goodness and texture for your pizza.
For a more chunky tomato texture, you can smash the cooked tomatoes with a fork. If you prefer your tomato sauce smooth, you can absolutely pulse it in a food processor or blender. Just don't let it run because then you'll have tomato soup.
This sauce is best used immediately, and spread as thinly as possible. If you're too heavy-handed with it, the bottom of your pizza crust won't cook. Don't worry though! A little of this sauce goes a very long way.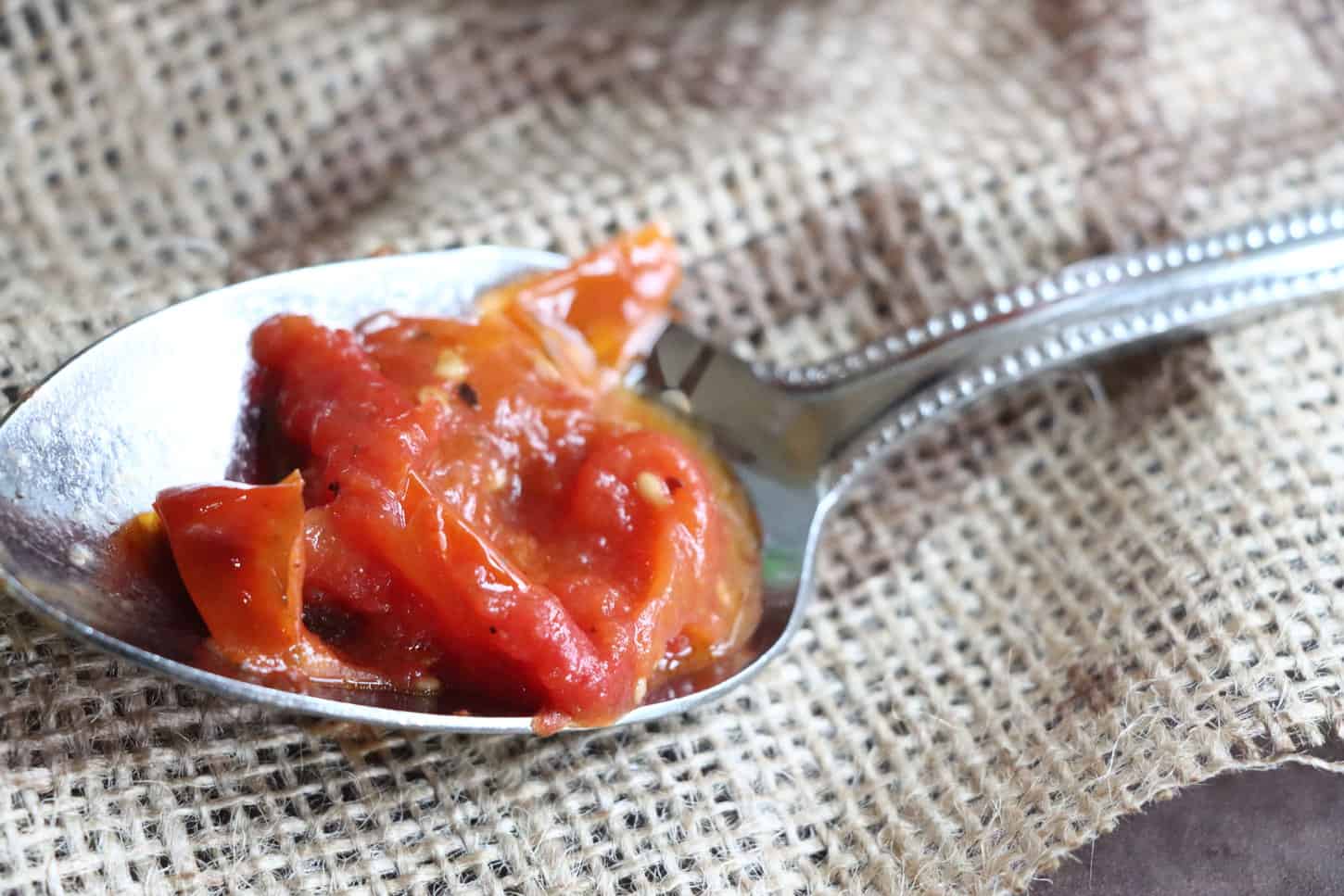 To see the process from start to finish, check out this video!
Here's the recipe Friends!
Print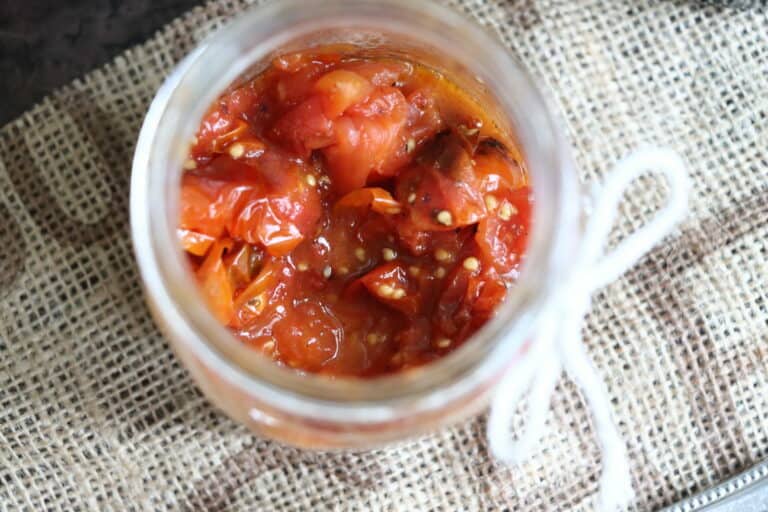 Easy Pizza Sauce (With Fresh Tomatoes!)
This is a delicious and easy sauce that comes together in a flash and takes homemade pizzas to the next level!
1

dry pint of grape or cherry tomatoes, cleaned and dried

1.5 tbsp

avocado oil or olive oil

1/2 tsp

salt

1/2 tsp

fresh cracked black pepper

1/4

–

1/2

tsp crushed red pepper
Instructions
Pre-heat your oven to 425°F.  An oven thermometer is helpful to ensure that you get to the correct temperature.
Cover a rimmed baking sheet with parchment paper.  
Place tomatoes onto the baking sheet.  Pour oil evenly over the tomatoes.  Sprinkle with salt, pepper, and crushed red pepper.
Bake in 425°F oven for 11-16 minutes, depending on desired level of caramelization.
Remove from oven and allow to cool for ten minutes.
Smash tomatoes with a fork for a chunky tomato sauce, or pulse in a blender or food processor for a more smooth sauce.
Use immediately.  A little goes a long way with this sauce, so spread it as thinly as possible.  Too much sauce will prevent the bottom of the pizza crust from cooking fully.
Notes
I use avocado oil for this recipe, but any high-heat oil will do.  
The recipe, as written, is fairly spicy.  Feel free to reduce or omit the crushed red pepper to cut the spice.
This sauce should be spread very thin on a pizza dough.  Too much sauce will prevent the bottom crust from browning.
Use immediately.
If you make this recipe, don't forget to tag @beginwithbutter on Instagram so that we can talk breathlessly about how unbelievably amazing it was!
(and while you're here, feel free to subscribe so that you can get more incredible content!)
---