Tip #1: You should really, and I do mean really, think about whether it's a good idea to make pie crust when it's 90 degrees outside and nearing 80 degrees in your kitchen.
Welcome to the most recent Sunday Session! This week, I wanted to do something I haven't done in a while: make pie with all-purpose flour instead of pastry flour. If you saw my most recent post about flour, you know that I typically use pastry flour as my personal cheat code for pie because the lower protein content contributes to a more flaky crust.
I'm excited! Let's get started.
Looking for something specific in this post? Feel free to use the hyperlinks to go straight to it!
In this post:
The Beginning
When making pie dough from scratch, it's really important to start with very cold ingredients. The morning that I started this experiment, I prepped the ingredients and then put the ingredients and tools in the freezer while I went to do something else for about thirty minutes.
Please don't ask what I did for thirty minutes. I honestly don't remember. But I know I was gone from the kitchen for a period of time and that, Friends, is a notable fact.
I also had to prep apples, since that stuff in a can is an abomination:
There were many, many apples harmed in the making of this pie. All told, I prepped about 11.5 cups (by volume) of apples. For apple pie, I prefer a very sturdy apple since baking softens them significantly, so I mixed Granny Smith (the consummate baking apple) and Honeycrisp (for both its texture and natural sweetness) for this pie.
I am so glad I mixed those two apples because the Granny Smith apples in this pie were as tart as lemons!
The Need for Speed
Regardless of the weather, it's always important to work as quickly as possible on pie crust. The best way to build your speed is to practice making pie crust over and over again! Win!
The reasons for speed are two-fold: first, because you're cutting fat into flour to make the crust, you don't want the fat to melt from being overworked. This would ruin your pie. #StartOver
Second, you have to introduce liquid (most people use water or vodka) into the mix and stir it in order to create structure, but you don't want to create too much structure and do too much stirring because you'll end up with a tough pastry crust from too much gluten development.
Speed comes from practice, Family. Please don't be discouraged if your first pie attempts don't meet your expectations!
The Method for Making Pie Crust
It was almost 80 degrees in my kitchen by the time I started making this pie dough. Luckily, my ingredients were nice and cold when I started working.
Still, since it was warm in my kitchen, I knew I was on borrowed time. Cold ingredients or not, butter will eventually get very soft once it's exposed to room temp air.
This pie crust recipe (from the amazing Kate McDermott's The Art of the Pie) is very straightforward. To begin, I added fat (butter) to a mixture of flour and water. Then, I used my pastry cutter to cut the butter into pieces about the size of fat spring peas. Because speed is a bit more important than precision, though, some pieces of butter were larger or smaller than others, and that's okay!
For a demonstration about how to use a pastry cutter, feel free to take a look at this video:
Once I was done cutting the butter into smaller pieces, I added water to wet the dough just a little bit. It's important to remember that the dough shouldn't look wet at this point. You want just enough water to help the dough stick together. It shouldn't look like a batter or cookie dough:
Three more tablespoons of water later and it was done!
The finished dough was still a dry, shaggy-looking mess, but it was beautiful in its own way. Pie dough is complete when it comes together just to the point that it stays together when it's squeezed between your fingers.
I separated the dough into two balls, flattened each into a thick disc shape, and then wrapped each disc in plastic wrap to go into the fridge and rest.
I usually let these dough discs rest in the refrigerator for at least an hour. Because it was so hot in my kitchen, I let it rest for several hours before moving onto the next step.
Roll Out
There are a couple of tricks that can help you roll pie dough on a hot day:
Fill a zip-top bag with ice and cold water, then lie it the surface where you plan to roll out your dough for 5-10 minutes;
Put your rolling pin in the freezer; and/or
Use a marble rolling pin and pastry board, like this one (not an ad).
I used none of those tips when I rolled out this dough:
Just threw caution to the wind and took my chances. So I had to work fast fast.
I have no excuse for being so reckless with this dough.
When rolling dough, you can use as much flour as you need to avoid the dough sticking to the rolling pin. For that reason, I used a lot of flour on this day.
To roll dough into a roughly even circle, I always roll my rolling pin away from my body, turning the dough in quarter turns after 3-4 passes with the rolling pin. I also turn over the dough a couple of times during the rolling process to make sure that the bottom isn't starting to stick to the surface.
That technique helped me achieve the rough circle that you see, below. After rolling the dough into that rough circle, I brushed excess away the excess flour and was left with this:
Pie Construction
True story: it's only when I get to the filling that I feel like my pie has a chance of not failing.
Once filled, the pie went back into the fridge so that I could work on the top crust. As a cute mom gesture, I asked my daughter how she'd like me to decorate the top crust. Of course she chose a lattice top. Of course she did:
I put the pie into the refrigerator before finishing the edges, just as a last bit of insurance against melting. This was also the time that I warmed up the oven.
After another half hour, I removed the pie from the refrigerator, crimped the edges and added egg wash. At this point, the DJ in my head started playing Stevie Wonder's "Isn't She Lovely" on repeat.
The oven wasn't finished warming completely (my oven is a habitual liar when it comes to temperature, but that's another story for another day), so the pie went back into the fridge. Again.
The Bake and the Conclusion
This apple pie baked in my oven for a total of 55 minutes. I added some demerara sugar (Sugar in the Raw) for the last ten minutes of baking in order to give it a last special touch.
Here she is!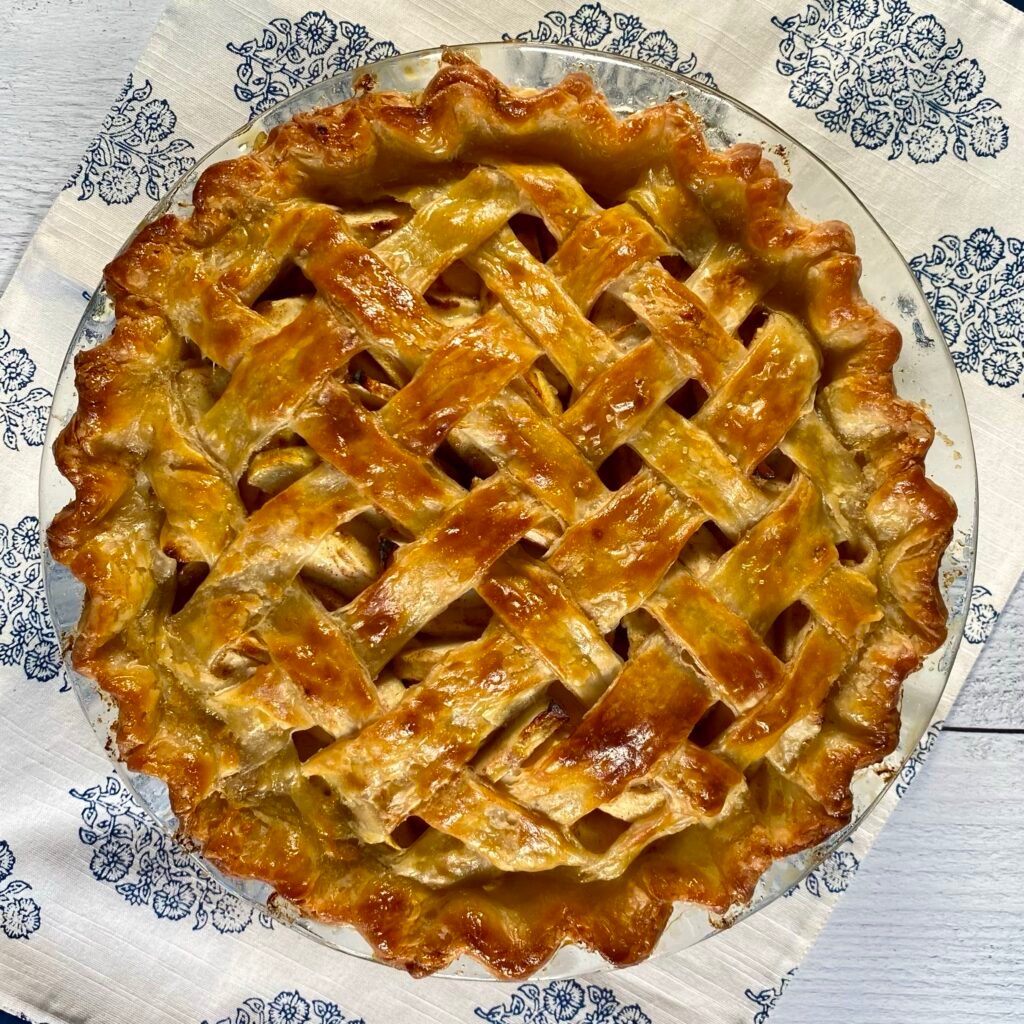 Y'all. This pie stressed me out. But I am so proud of how it came out. The crust was perfectly flaky and left telltale flaky crumbs on the table after our family dessert session. My daughter–who previously refused every pie I ever offered her–DEVOURED it.
I think it's safe to say that pie with all purpose flour was an amazing success. While I did notice a slight difference in the flakiness of the pie, I think I was the only one (of the five of us who ate it) who even thought about it.
Do you find video tutorials helpful? Feel free to comment, below! And don't forget to subscribe so that you can get weekly updates about everything BwB!