Spring. Hate the pollen (OMG the sneezing). Love the start of berry season.
Friends. I woke up at 4:10 this fine Sunday morning (don't judge) with blueberries on my mind. While a more healthy person might have put those blueberries in some Greek yogurt and moved on with their day, I decided that blueberries on the brain could only mean one thing:
Blueberry muffins.
While I did have a desire to bake blueberry muffins, because this was a spontaneous decision, what I did not have was fresh blueberries or the desire to go to anybody's grocery store at 5:00 in the morning. Fear not, Family! There is ALWAYS a big box store-sized bag of frozen blueberries in my poorly-organized deep freezer. Crisis averted and onto the bake!
Note: this is why I tend not to be spontaneous. LOL.
While I have my own tried and true blueberry muffin recipe, I figured that today was just a good a day as any to try a new recipe. This morning, that was quite possibly my delirious mind at work.
I do, however, generally believe that trying new recipes, even when we have Old Faithful recipes in our repertoire, keeps things fresh and can introduce us to flavor profiles that we can incorporate into our favorites.
Or we can find new faves!
Honestly, Saints, I have no idea what got into me with all this spontaneity!
I hope it's not catching.
The Recipe
I landed on the "Best Blueberry Muffins" recipe from Once Upon a Chef with Jenn Segal. This recipe offers Metric measurements for its ingredients, and if you read my most recent post, you'll know that Metric is my primary love language when it comes to baking.
I read the recipe from start to finish to determine the level of difficulty, and to see if I had all of the ingredients on hand. Aside from the fresh blueberries and almond extract (my baking is nut and nut-extract free), I had everything else. The recipe looked very simple so I was good to go!
The Prep
Of course I started by prepping my mise en place before I got started. Pro tip: when it's early in the morning and you don't want to prep your ingredients, that's when you need to prep your ingredients the most!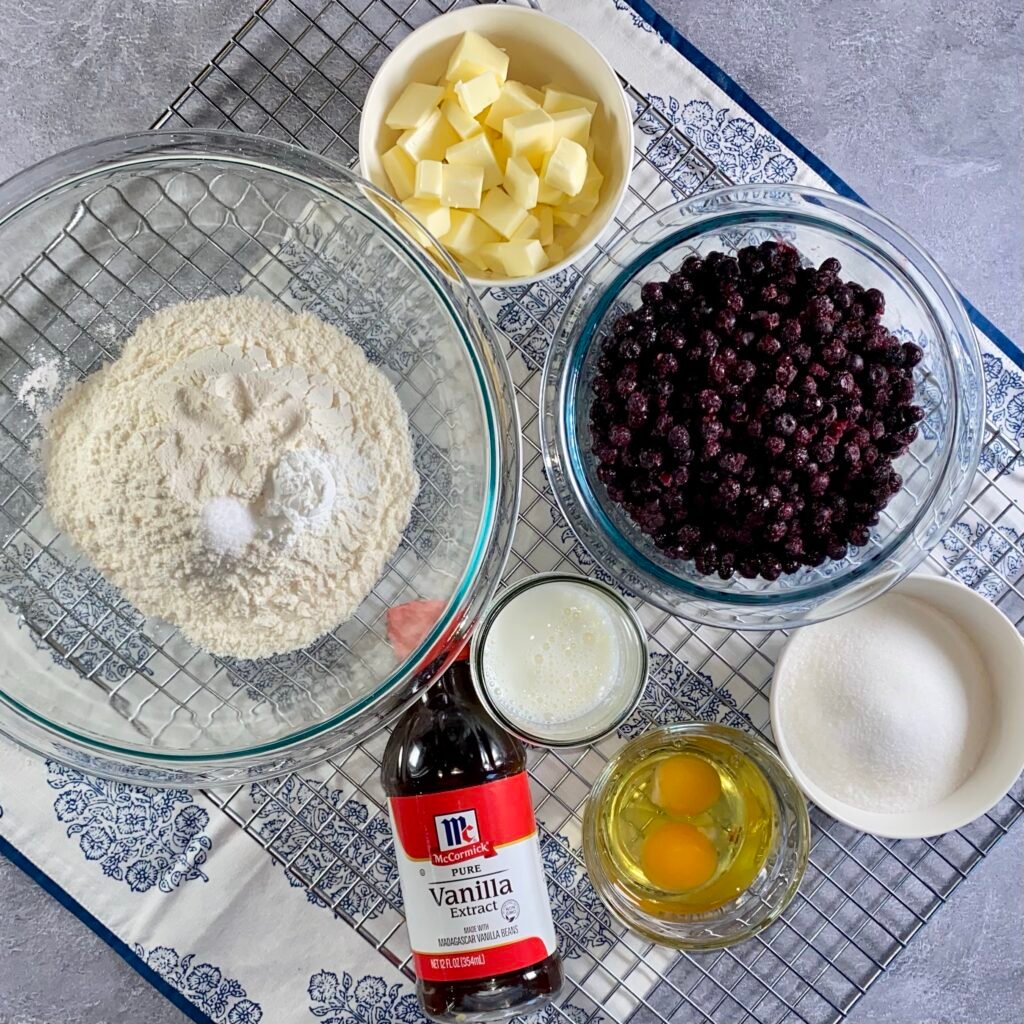 Intrigued about mise en place and what it means to actually prep your ingredients before you bake? No worries! You can check here for helpful tips that will help you become a more efficient, calm, and controlled baker in your home kitchen. Because nobody wants to be a frazzled mess during a baking session.
The Method
There are a few categories of muffin: the ones that use the creaming method and the ones that use an all-in-one method. The "creaming" method simply means that you mix your room temperature butter and sugar at high speed until the mixture is well blended. This method creates lovely air pockets that allow your leavening to do its work and create rise.
Creamed butter and sugar look like this: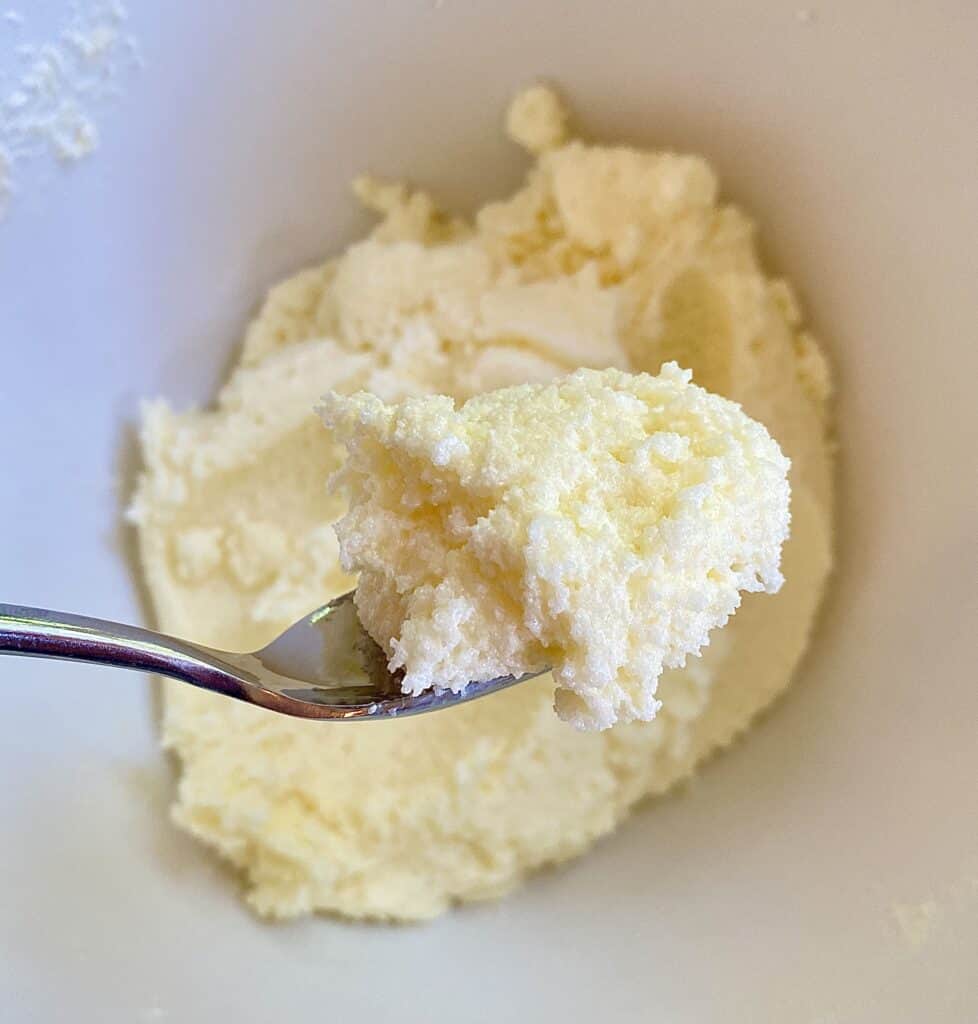 The other common muffin type is the all-in-one muffin. In traditional baking, this usually means that the dry ingredients come together in one bowl and the wet ingredients in another, then the two are married and barely mixed before the batter goes into muffin cups. The fat in an all-in-one muffin can either be oil or melted butter.
Each type of muffin has its own pros, and honestly I don't prefer one over another. When I want a muffin, I want a great muffin, and both methods can deliver a great muffin.
This recipe uses the creaming method, and it came together so quickly! Before I knew it, I was ready to take the batter off of the mixer stand and fold in the fruit by hand.
Fun fact: fruit muffins (like this one) mostly come together without the fruit. Fruit typically gets folded into the batter at the end of the mixing phase, when there are still a few streaks of unincorporated flour. That's what I did here.
Sorry. No pictures of that! BUT if you want to see an example of what a completed batter with "unincorporated" flour looks like, as well as a technique for folding ingredients into a batter, take a look at this literally-totally-unrelated-but-totally-relevant-on-this-point video about pancakes (around the 2:45 mark):
Prepping the Pan (and a Surprise Technique!)
Batter finished, I prepped my muffin pan for the bake. For fruit muffins, this means using both paper muffin cups and nonstick spray.
I mean, unless you like scraping muffins from a pan and toasting the muffin carcasses to make parfait…forget that cooking spray, Saints, and that is exactly what you'll be doing.
No hate! I like parfait too! (Let me write that down, though, for the next time I stick muffins to the pan.)
Tip: when making blueberry muffins, I carefully fold three quarters of the blueberries into the batter itself and save the other quarter to drop on top of each muffin right before I bake them. This gives me glorious blueberry color and texture throughout the entire muffin!
That's exactly what I did here: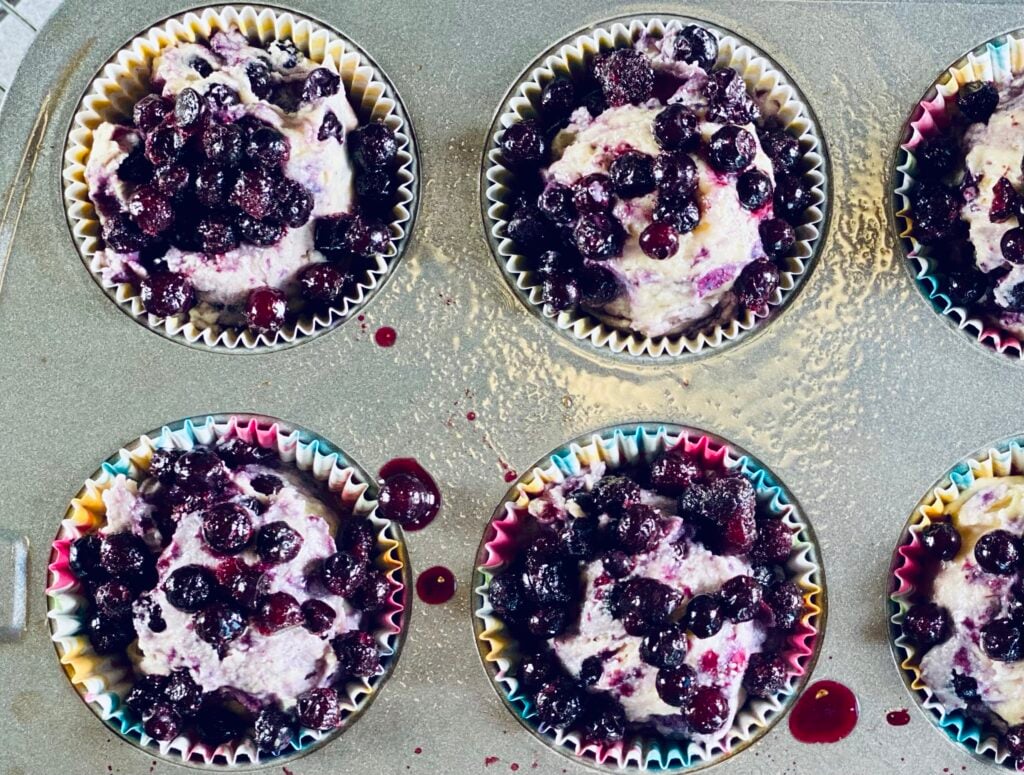 Before I put these in the oven at 350, I sprinkled some demerara sugar (I used Sugar in the Raw) over the top of each muffin for additional texture.
The Bake
I am…not patient. This was a long 35-minute bake. But it was totally worth it when these came out of the oven:
I burned my mouth eating that half of a muffin! But listen, Family. it was SO WORTH IT. These muffins are delicious and so easy to make. Including the time for mise en place, I spent a total of 25 minutes of active time working on them. The rest was waiting, and waiting, and UGH waiting…
So much waiting.
I hope you enjoyed this Sunday Session! Don't forget to subscribe and tell me what your favorite muffins are to eat!