Since childhood, strawberries have always meant summer to me. And fresh strawberries = this versatile and delicious strawberry sauce!
In my house, friends, the strawberry is the Queen of Fruit. It is one of the few types of fruit that everyone will eat.
I know, I blame me too. But everyone in my family likes what they like, and I'm just glad that they like strawberries because I love them so much.
This Strawberry Sauce is deceptively easy to make, and you can use it on just about any summer dessert…including my amazing (and recently posted) Strawberry Pound Cake!
(I might have also tested it on a bowl of Talenti gelato just now…for quality control purposes.)
Why Strawberries = Summer to Me
Growing up in Naperville, Illinois, summers meant too many hours at the pool without sunscreen (it was the 80's), ice cream melting down my fingers as I laughed hysterically with my twin sister and our best friends, and long evenings at home with my family, watching lazy fireflies glide through barbecue-scented air as we shared the adventures of our days.
Summer meant pushing the boundaries of "be in the house before the street lights come on" (and usually losing that bet ????), riding bikes, skinned knees, fishing with hot dogs as bait in the neighborhood ponds (and depending on the kindness of others because I would never, ever touch the fish that I caught), roller skating in the unfinished basement when it was storming outside (which, incidentally, was the only time that we were allowed to come in the house during the daytime as kids), and many wounds that probably needed stitches but only got butterfly band-aids and mommy kisses.
Summer meant shorts and t-shirts (FINALLY!), jelly shoes and flip flops, and drinking from the hose outside.
Summer meant peaches and nectarines and watermelons, to be sure, but in those early days, I absolutely knew that summer had arrived when my mother started putting strawberries in the fridge.
Those blessed strawberries. They were as big as my palm and so deeply red that they were almost purple. And their sticky-sweet smell overpowered just about everything else in the refrigerator. Sniffing strawberries in the grocery store is still one of my favorite parts of shopping.
My mother's signature summer dessert was her strawberry ice cream. To say that it was "hers" is generous, since her contribution to the effort was simply telling us the ingredients, and then leaving us with salt, ice, and a hand-crank ice cream maker to do the work. Outside. ????
So, Family, I will forever equate strawberries with summer. I love you Mommy. Happy First Day of Summer. I'm sorry that I wore shorts before today but it's been HOT!
How to Make this Strawberry Sauce
This strawberry sauce is incredibly simple! All of the ingredients go straight into a small saucepan, then you bring them to a boil and reduce to a simmer. Stir every few minutes to check the consistency, and in thirty minutes you'll have jammy, unctuous, lovely Strawberry Sauce.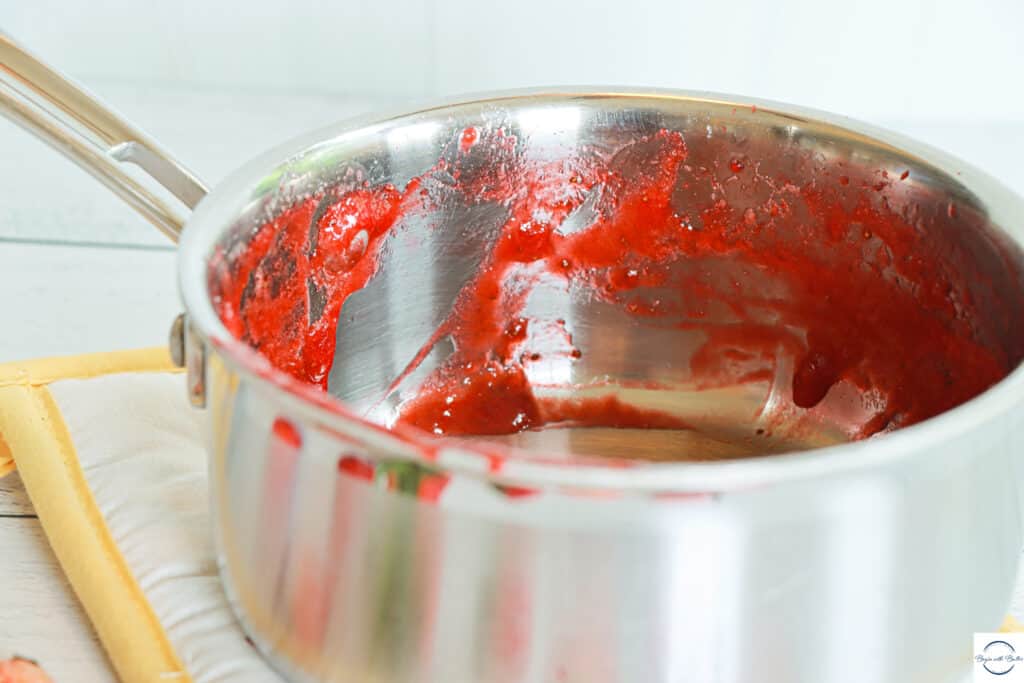 If you're feeling "saucy" (friend, understand that I will never pass up on the opportunity for a pun ????), you can absolutely use an immersion blender to make a smoother sauce. If you're really feeling froggy, you can run the sauce through a fine-mesh strainer to remove the seeds (I never do this).
I hope you love this taste of summer as much as I do! It truly is the most perfect topper for all the things.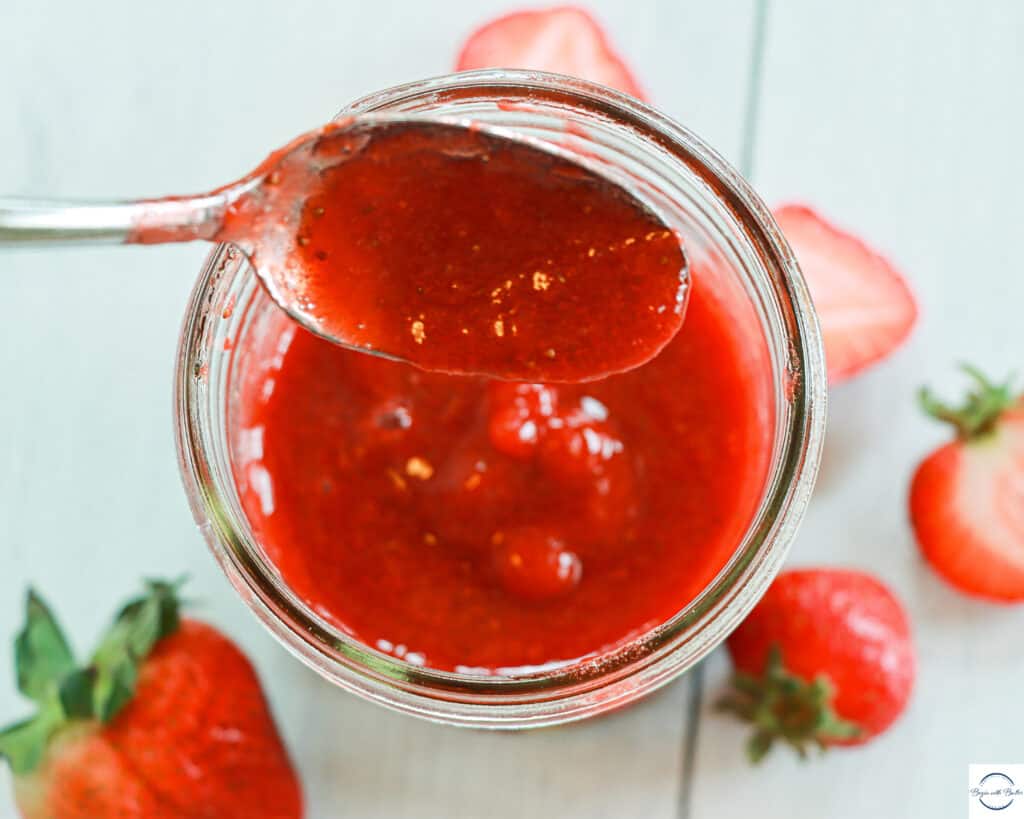 Print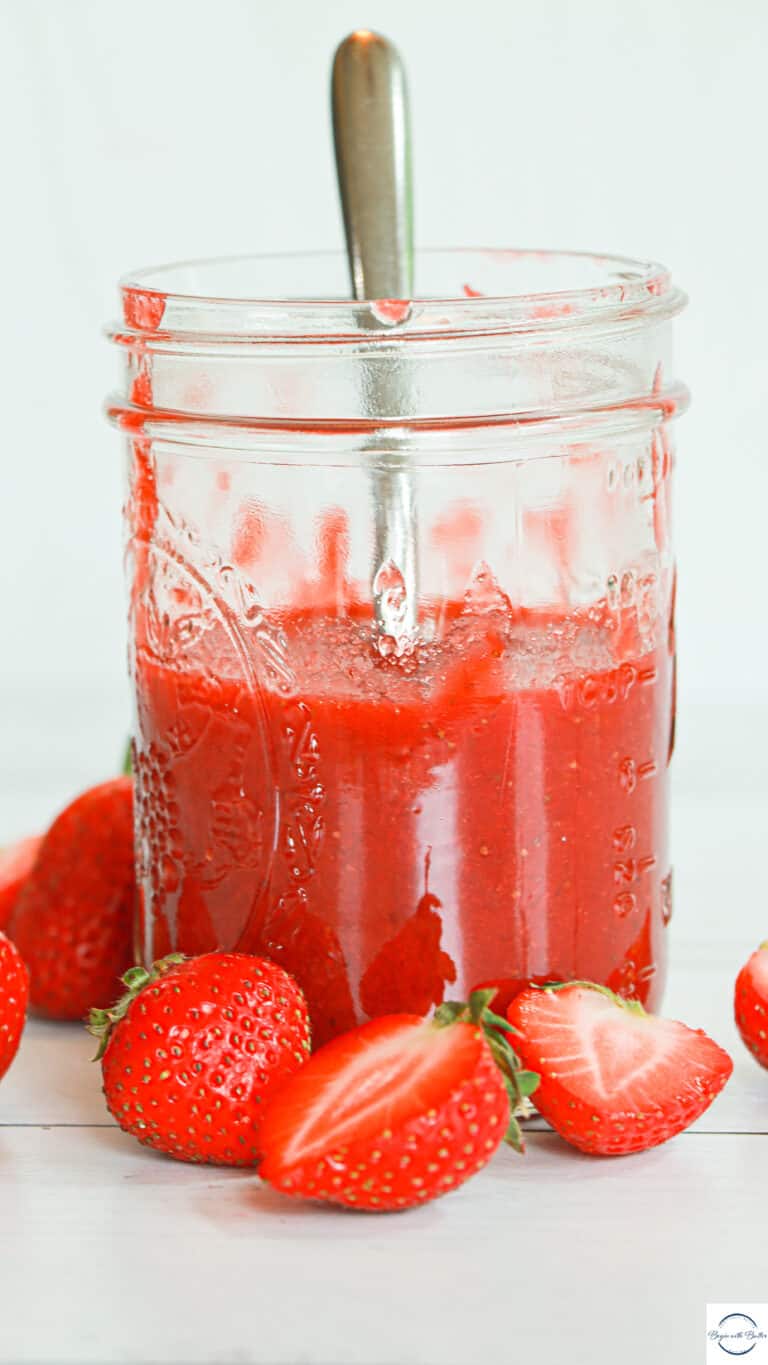 The Best Strawberry Sauce
A perfect finishing touch for summer.  Perfectly balanced with just four ingredients, it is a special taste sensation on summer desserts.
454

g

fresh strawberries, hulled and quartered

100

g

granulated sugar

1 tbsp

fresh lemon juice

1/8 tsp

salt
Instructions
Add strawberries, granulated sugar, lemon juice, and salt to a small saucepan.  
Stir to coat strawberries with the sugar.
Bring the mixture to a boil over medium high heat, then reduce to a low simmer.  
Simmer for 20-25 minutes, stirring every 5 minutes, until the strawberries are softened and the sauce has reduced (thickened).  
Remove from heat when the thickened sauce coats the back of your cooking spoon (and doesn't drip!).
If desired, use an immersion blender to gently create a smooth sauce.
Allow to cool for ten minutes, then place in a heat-proof container.
Notes
Sauce can be kept in the refrigerator for up to five days.  Use it for cakes, ice cream, waffles…you're only limited by your imagination!
Sauce will continue to thicken as it cools.  After refrigeration, it will have a very jammy texture.
Thank you for dropping by! While you're here, consider signing up for the BwB email list so that you can be the first to hear about all of the good things happening with BwB!