Family, when I'm developing a recipe, I often close my eyes…
I consider what crumb I want a particular cake to have. I consider the flavors I'm trying to achieve in a simple syrup. I consider the texture of the buttercream or finishing glaze. I consider the experience, or the color, or the smell I'm trying to recreate in a sauce.
I consider so many little details that I frequently get lost in the inspiration. And I love it. That process feeds my creativity in ways that I could never fully describe in words.
But lately, I've gotten away from the process that I've loved so much. I became much too focused on hitting targets and producing as much content as possible that I started to feel a bit…lost.
A Little Sidebar
In the last two months, my life changed dramatically. I am proud to be a full-time entrepreneur and to have the opportunity of a lifetime with Begin with Butter. Full-time entrepreneurship led me down a path of always always always working. I felt like I was losing myself. And a person that I'll call the Leftover Litigator showed up.
Let me explain the Leftover Litigator. For the decade and a half before I started full-time entrepreneurship, my productive professional pursuits involved living and dying by litigation deadlines. Motions. Briefs. Oral arguments. Evidentiary hearings. Arbitrations. Replies to Motions. Sur-Replies to Motions. Responses to thirty-day nasty-gram letters. Expedited responses to ten-day super nasty-gram letters. I still have physical symptoms of anxiety when I think about that life.
Family, that kind of professional pressure doesn't leave your psyche right away. And when I took the leap into full-time entrepreneurship in January of this year (2022), the Leftover Litigator was right there in my ear, telling me to push push push because deadline deadline deadline. So, more out of habit than anything else, I set impossibly ambitious goals for 2022 and told myself that I had to hit every target to have a good year and justify my existence in this entrepreneur space.
It was not at all how I wanted to start my entrepreneurship journey. I am no stranger to hard work, and don't get me wrong, I still intend to work harder at entrepreneurship than any other professional endeavor. I honestly still intend to hit all of my now-adjusted goals.
BUT
The Leftover Litigator had to go. My mind had to settle. And this sauce was the perfect exercise in patience to show me that you cannot rush what is truly meant to take time.
It took a couple of rock-solid conversations with my dear, dear friends Artney at My Pretty Brown Fit + Eats and Patrice at Total Tax Experience this week to help me actually see what was happening so that I could correct course. I am beyond grateful for their friendship, and their ability to accept my vulnerability with such open arms. I am so blessed to call Artney and Patrice and a small group of women my good friends. I just love them so much.
During our conversation, Patrice, my friend for over a decade (and also my incredibly patient tax professional), said something that she always says to me: "You have to slow down to speed up."
And that, Friends, is how this Blueberry Cardamom Sauce came to be.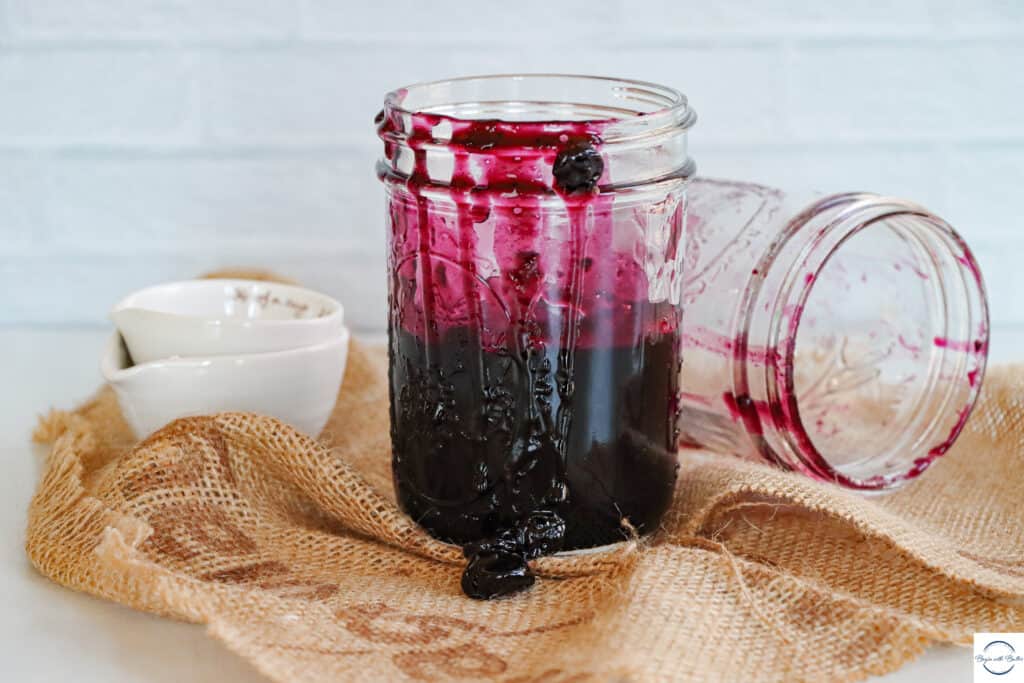 About this Blueberry Cardamom Sauce
This sauce contains a few simple ingredients, and it can be used in a multitude of ways. More important than any ingredient, however, is time.
This isn't a five-minute sauce and I like it that way. If you give this sauce the time it needs, you will be rewarded mightily.
How to Make It (With Video Tutorial!)
To start, you'll need 300 grams of blueberries, 150 grams of granulated sugar, 1 teaspoon of cardamom, and a pinch (1/8 tsp) of salt. Add all of them to a small saucepan, stir to cover the blueberries with the sugar mixture, and turn it on over medium low heat.
Then leave it alone until you see bubbles around the edges of the saucepan. Don't leave the stove unattended for more than a few minutes at a time, because you don't want the sugar to burn.
Also, don't turn up the heat to more than medium (and if you turn it up to medium, don't walk away from the stove). The sugar can bubble over the top of your saucepan and cause a MESS.
Medium low. This sauce won't be rushed. And it won't taste the same if it is rushed.
The directions are very easy. Cook over medium-low heat for 35-40 minutes over medium low, stirring occasionally.
Once the mixture begins to thicken on its own (at about 35 or 40 minutes), add the tablespoon of orange liqueur (or water) to the tablespoon of cornstarch. Stir to combine. Add the cornstarch slurry to the blueberry mixture and stir.
Turn the heat up to medium (or whatever heat gets your mixture to a very low boil) and allow to boil under your most watchful eye for one minute.
Reduce the temperature back to medium low and allow to simmer for an additional 2-3 minutes. Stir occasionally to prevent sticking. By this point the blueberry sauce will be scrumptiously thick.
Turn off the heat and allow the sauce to sit for about ten minutes. Carefully pour the blueberry sauce into a heat proof container and allow it to cool completely before refrigerating.
How to Use This Sauce
This sauce can be used in any number of ways. Need more decadence on My Favorite Buttermilk* Pancakes? A dollop of two goes a very long way. Want a perfect sauce for my Lavender Vanilla Pound Cake? Add a spoonful to each slice and watch your guests' anticipation grow by the second.
It's the full experience of this sauce that makes it so spectacular: the rich texture, the sweetly tamed spice of the cardamom, and the almost-unintelligible hint of orange from the Triple Sec.
And the secret ingredient is just…time.
This Blueberry Cardamom Sauce brought me back to center, and I will always have a very special relationship with it for that reason. I hope you all try it and I hope you all love it as much as I loved making it.
Here's the recipe!
Print
Blueberry Cardamom Sauce
This wonderfully luscious and versatile sauce is a slow-food superstar.  Use it to add an additional special touch pancakes, pies, ice cream or cakes!
330

g

(1 dry pint) blueberries, cleaned (frozen works fine)

150

g

granulated sugar

1/2 tsp

kosher salt

1 tsp

cardamom

1 tbsp

cold water or orange liqueur (I used Triple Sec)

1 tbsp

cornstarch
Instructions
Clean and de-stem the blueberries.
Add blueberries, sugar, cardamom, and salt to a medium saucepan.
Heat the mixture over medium-low heat for 35-40 minutes, stirring every 5-7 minutes to avoid burning.  If the mixture starts to bubble up, turn it down slightly.  This mixture should simmer gently.  It shouldn't boil.
When the sugar first melts, the mixture will be very watery.  The mixture will remain watery for the first 30-35 minutes of cook time.
Once the mixture begins to thicken, combine the water/orange liqueur and cornstarch, and stir until fully combined.
Add the cornstarch slurry to the blueberry mixture.  Stir to combine.
Bring the blueberry sauce to a boil for one minute.  Stir as necessary to prevent mixture from boiling over.
Simmer for 2-3 additional minutes, then remove the blueberry sauce from the heat.
After ten minutes put the blueberry sauce in a heat proof container.  Refrigerate sauce once it is completely cooled.
Notes
The success of this recipe depends largely on the quality of the blueberries that you use.  If blueberries are out of season in your area, then I recommend using frozen blueberries.  They work beautifully in this recipe because they're picked at the peak of the season and frozen immediately.
Don't cook this mixture too high!  Time is the secret ingredient.
Follow Begin with Butter on Instagram!