"I wasn't born with the baking gene, but God didn't give me this sweet tooth for nothing." –Shani
I need sweet treats on demand. Before I could bake, this…was problematic.
That all changed one fateful fall day in 2013, and I haven't looked back. I made some splendidly mediocre sugar cookies over a feverish and sleepless night, and that was it, Friends. I was HOOKED on baking. HOOKED.
At the beginning, I worked with simple, go-to recipes that never failed. Those recipes helped me build confidence during those early days.
Alas, friends, I am a creative by nature. So, while it was fun to make someone else's recipes, I yearned to create my own.
I didn't have money for pastry school, but I had an unquenchable desire to learn, so I bought the books and dedicated myself to study and practice. I'm happy today to share the books that I've found most useful as I've gone on my journey.
I'll link to the books on Amazon in case you're interested. I make no money from these recommendations; I just find these resources helpful. Let me know if you do too!
In this post:
Let's do this.
The Professional Pastry Chef by Bo Friberg
There are not enough lovely words to describe this book. It is a textbook, to be sure, but it is also literally the first baking resource I ever check when I'm looking for a definitive answer about something.
As the name suggests, this book is written for pastry students, but it is an incredible, comprehensive resource for anyone looking to up their baking game. It contains concise, easy-to-follow baking science, conversion charts, baker's percentages, and clear-cut explanations for so. many. pastries.
Oh! And diagrams! I love diagrams and this book has them in spades. Diagrams teach you the method for working quickly and efficiently, while producing pastries worthy of a high-end pastry case. We love diagrams.
This book is how intermediate bakers become advanced bakers. How those looking to truly understand baking science learn that knowledge.
For the petty, this book is how those looking to dominate the dessert scene at Thanksgiving put the debate to bed forever and ever. Going forward, that will be [insert your name here]'s dessert table. Picture it.
The recipes in this book use weight measurements, and the yields are for professional kitchens, but if you're using weight measurements, it's easy enough to scale these recipes down to suit your needs. And, of course, there are instructions in this book for how to do that without ruining the the integrity of whatever you're making.
The new edition of this book comes out in September, and while I've preordered it, this version has a very special place in my heart.
Ratio: The Simple Codes Behind the Craft of Everyday Cooking by Michael Ruhlman
Super fun fact: if you don't know what you're doing with basic baking ratios, it's extremely difficult to create your own recipes without tons of food waste.
You see, the baking recipes that you see in cookbooks and online are generally based on basic ratios (formulas). That means, for example, knowing that for every cup of flour, you need x amount of sugar, x amount of fat, x amount of leavening, et cetera, et cetera.
These basic ratios are the foundation of baking recipes; they are time-tested to produce consistent texture, taste and color for your baked goods. Recipe development, then, depends mostly on knowing the ratios and making slight modifications to produce different variations. Once you know the ratios, you can let your creative flag fly!
This book cracks the code about ratios. For intermediate/advanced bakers who are ready to flex their creative muscles, this book will teach you basic ratios for baking that you can use to start your creative journey. Bonus: this book is not just for bakers! It is actually mostly dedicated to savory, but the information about baking is invaluable. (psst….the savory stuff is well worth the read too).
Not only will this book teach you about ratios, it will give you the industry-accepted ratios that pros use. If you're ready to truly learn how to build baking recipes of your own, then this book is it. It's a power-packed short read and a great resource.
The Great British Bake Off: How to Avoid a Soggy Bottom: And Other Secrets to Achieving a Good Bake by Gerard Baker
This book-with-a-long-title is an amazing resource for quick answers about nagging baking questions. It's broken into short, easy-to-find information.
Family, this is the book you need when you want a quick answer…like when you're in the middle of a baking project and something is about to go horribly wrong. When you need a plainly-written, effective answer to help you get back on track (hopefully). Or when something goes horribly wrong and you want a quick resource to troubleshoot how to avoid the mistake in the future. This book is that book.
This book also has adorable history lessons (like about the history and use of baking powder and baking soda, and the cookie/biscuit distinction in American and British baking). Sometimes it's fun to just get lost in this book for those cute history snips.
Of course, the writing is fluid and fun and you can absolutely kick your feet up with a cup of tea and just read straight through as well. While the sections in this book are a quick read, it is an excellent resource for learning bite-sized baking science in a Q&A style.
The Art of the Pie: A Practical Guide to Homemade Crusts, Fillings, and Life by Kate McDermott
Friends, when I say that I saved pie making for the very last thing I ever learned about baking because I was so intimidated about pie crust? Because the humble pie will HUMBLE YOU.
Then this book came along and changed everything. Kate McDermott calmed my fears in the first five pages and made me realize that "it's just pie." Those words changed everything. I also felt quite silly because what was I freaking out about?
Then I got overconfident and underbaked my first pie by a mile. But this book helped me realize that pie, like life, is about growth. So I just kept making more pie.
Lucky for me, this book has easy-to-follow pie crust recipes and techniques that made me feel very accomplished very quickly. There are also a crazy number of filling recipes to choose from.
After working with this book for a while, I tried several online pie crust recipes and I have yet to find one that I love better than the all-butter crust on these pages. And the fillings are always on point. Considering my book's overall worn appearance, you know that it's been well-loved over the years.
Flour Water Salt Yeast: The Fundamentals of Artisan Bread and Pizza by Ken Forkish
Let me apologize in advance for the overall beat up appearance of this book. At least the book jacket is still on it. I consider that more than a minor miracle.
This, Friends, is the tome for advanced bread makers. This book is based on the premise that bread only needs four humble ingredients: flour, water, salt and yeast.
Don't be fooled though. This book shows that the secret to transforming those humble ingredients is in your technique. If you take the gentle hand this book extends and take a walk through the pages, you'll see that those ingredients can be transformed in any number of ways.
In addition to more common straight doughs (bread doughs that use yeast only), this book offers the advanced baker a primer on those types of sourdough "starters" (biga, levain and poolish) that add are used to create spectacular, bakery-quality loaves. This book primarily uses baker's percentages in place of "recipes" that you might be used to seeing online, so it really appeals to my nerdy heart.
This book also does a tremendous job of explaining, in simple terms, how external factors (like humidity and air temperature) impact your bread. It gives practical tips for addressing those external issues to help you get the best loaf possible. The loaves in these pages are a lot of work, but they are more than worth the effort.
This is a tremendous, tremendous book.
The New Artisan Bread in Five Minutes a Day by Jeff Herzberg and Zoë François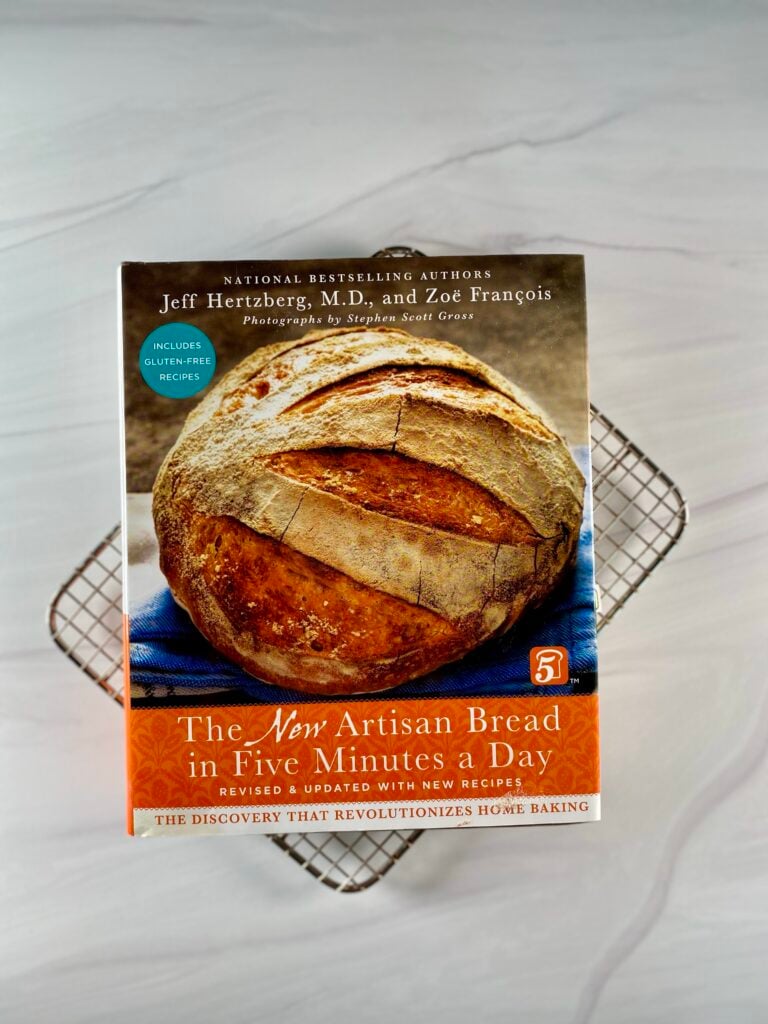 For beginning bread makers, and intermediate/advanced bread makers who don't want to babysit loaves all day, this book has the answer. Bread dough in five minutes that lasts in the fridge for several days.
These recipes are amazing because you can have fresh bread whenever you want it, with minimal effort. The recipes in this book are unfussy and can make anyone feel accomplished with just a few ingredients. The directions are clear-cut and easy to follow.
This book promises bread dough in five minutes and it delivers in a big way. It's extremely accessible for home bakers who have a million things going on but still want to make good loaves with whole ingredients. For those intimidated about working with yeast, this book is a way to gain quick confidence for more ambitious bread projects!
The Bread Lover's Bread Machine Cookbook by Beth Hensperger
There some bakers who look down on bread machines because they feel that there's too much sacrificing of quality for convenience.
I honestly think that's unfortunate and don't subscribe to that kind of thinking at all. We celebrate all bakers here. #PositivelyBetterBaking
There are a million reasons why someone might want to use a bread machine to make homemade bread. I, for one, truly appreciate any effort to make bread from scratch. And bread machine sandwich loaves > store bought sandwich loaves any day of the week.
My point is that there is no one true way to make bread. And again, for busy people who don't have the time to babysit sandwich loaves, I support you! Get yourself a bread machine and some ingredients and have the best time. Seriously!
This book works for any baker with a bread machine. Whether you're an advanced baker who wants a "throw and go" recipe that allows you to toss ingredients into a machine while you're off to the market, or you're brand new to working with yeast, there are tons of great recipes to experiment with and enjoy. I'm partial to the Cinnamon Raisin Oatmeal Walnut Whole Wheat bread recipe (sans nuts) myself.
The point is that there are a ton of well thought-out, truly delicious recipes in this book that are supported by baking science. Go for it! Have fun! It's an amazing time saver and you'll get bread with whole ingredients. Win!
Final Thoughts
I like to think that I graduated summa cum laude from the Culinary School of Hard Knocks. Mine has been an exceptionally worthwhile education, but it can be lonely trying to learn all of this stuff on your own.
I created this blog as a place to share what I've learned over the years. A place where you can find everything you need in one nice, neat baking blog package. For those of you who want to take supplement what you're learning here with my favorite resources, feel free to check out one or all of these books and let me know how they worked out for you!
Until next time!
---
While you're here, you should subscribe! It's the best way to stay on top of the very latest with BwB!