Friends, I have made many, many batches of these Orange Creamsicle Spritz Cookies.
Not because the recipe wasn't great (it surely was!), but because it's Spring Break here and my children wouldn't stop eating the cookies from the cooling rack. It went something like this:
Make a batch, put them on a cooling rack, and go to a meeting. Return to half of them gone.
Make a batch, put them on a cooling rack, and go take a shower. Return to most of them gone.
Make a batch, put them on a cooling rack, and go outside to play with the dogs. Return to half of them gone. Again.
My children are equally responsible for their demise and my daughter doesn't even like the taste of oranges. But I was able to guard this last batch with my life so that I could at least write this post.
About These Spritz Cookies
Spritz cookies are the absolute most adorable little confections ever. And they're incredibly simple to make. So simple, in fact, that they're a perfect accompaniment for a weeknight dinner! They look much more complex than they actually are, because you get to use a cookie press (note: this is an affiliate link) to make perfectly shaped cookies!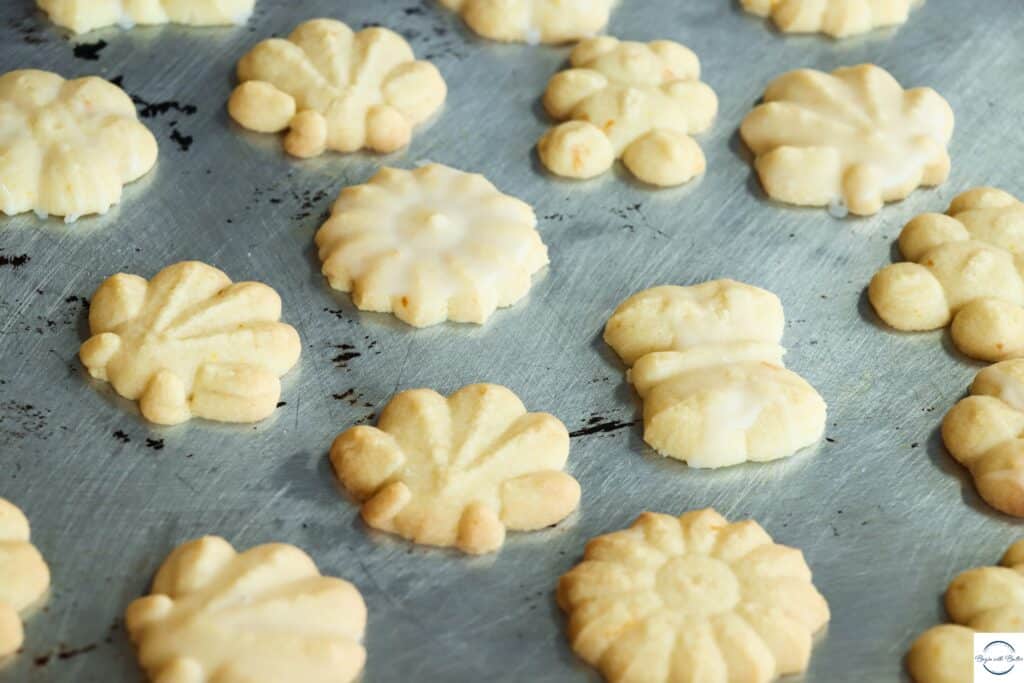 I recently started my new podcast, "I'll Bring Dessert". During the first episode of that podcast, I had the absolute honor of hosting my friend Hammed from The Prince Eats, and making his incredible Beef Lo Mein. We had a ball on the pilot episode, and you can watch it right here! The next live episode will be March 25th!
After looking at the ingredients for Hammed's Beef Lo Mein, I knew I'd want a dessert recipe that was simple enough for one person to execute while another person was making the meal. And, while I originally thought that orange shortbread cookies would be perfection, in actuality these Orange Creamsicle Spritz Cookies fit the bill perfectly! They are the best combination of a sugar cookie and a butter cookie, and you can do the optional glaze for even more flavor.
Orange Creamsicle Spritz Cookie Ingredients
All-Purpose Flour: These wonderful cookies are so buttery and soft and perfect. All-purpose flour gives these one-bite cookies (don't judge) a perfectly soft, chewy texture.
Baking Soda: This recipe uses my favorite citrus zest/sugar technique. Because citrus is an acidic ingredient, baking soda was the proper leavening for these cookies.
Kosher Salt: Salt is very important in any dessert; it balances the sugar and keeps the dessert from becoming cloyingly sweet. A little goes a long way in this dessert; resist the urge to use a "large pinch" of salt here, or it will overpower the delicate orange flavor.
Orange Zest: Friends. Do yourselves a favor and zest the orange for this particular recipe. Orange extract won't give you the wonderfully delicate flavor that I was going for, but you can always sub 1/2 tsp of orange extract and add it at the same time as the vanilla extract. Don't to both though!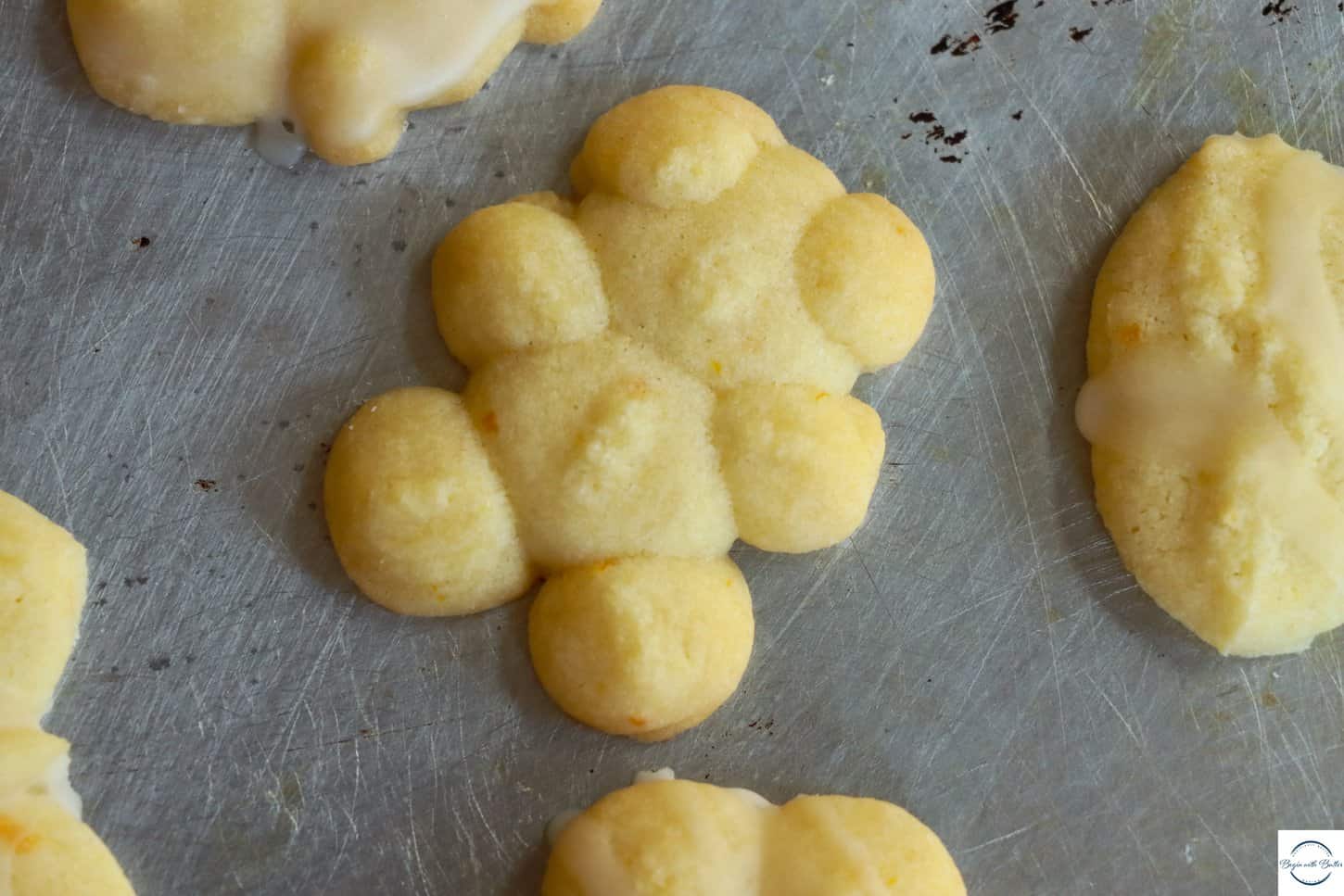 Unsalted Butter: These cookies are very butter forward, in such a delightful way. The process of creaming butter and sugar ensures that these incredible cookies plump up beautifully, that they taste perfectly buttery, and that they're a perfect 1-bite dessert. ?
Granulated Sugar: Granulated sugar adds sweetness to these cute cookies. Not too much, though!
Egg: The protein in the egg adds structure to these cookies, while the fatty yolk adds delicious flavor. All that from one egg!
Pure Vanilla Extract: Make sure to use the good stuff, like Nielsen-Massey, for this incredible recipe! Whatever brand you use, make sure you use pure vanilla extract.
I truly, truly hope you all love these Orange Creamsicle Spritz Cookies! My kiddos could not keep their hands off of them (even before they were glazed!), so I'm thinking that's a good indication that they are truly as good as I hoped they would be!
Enjoy, Friends!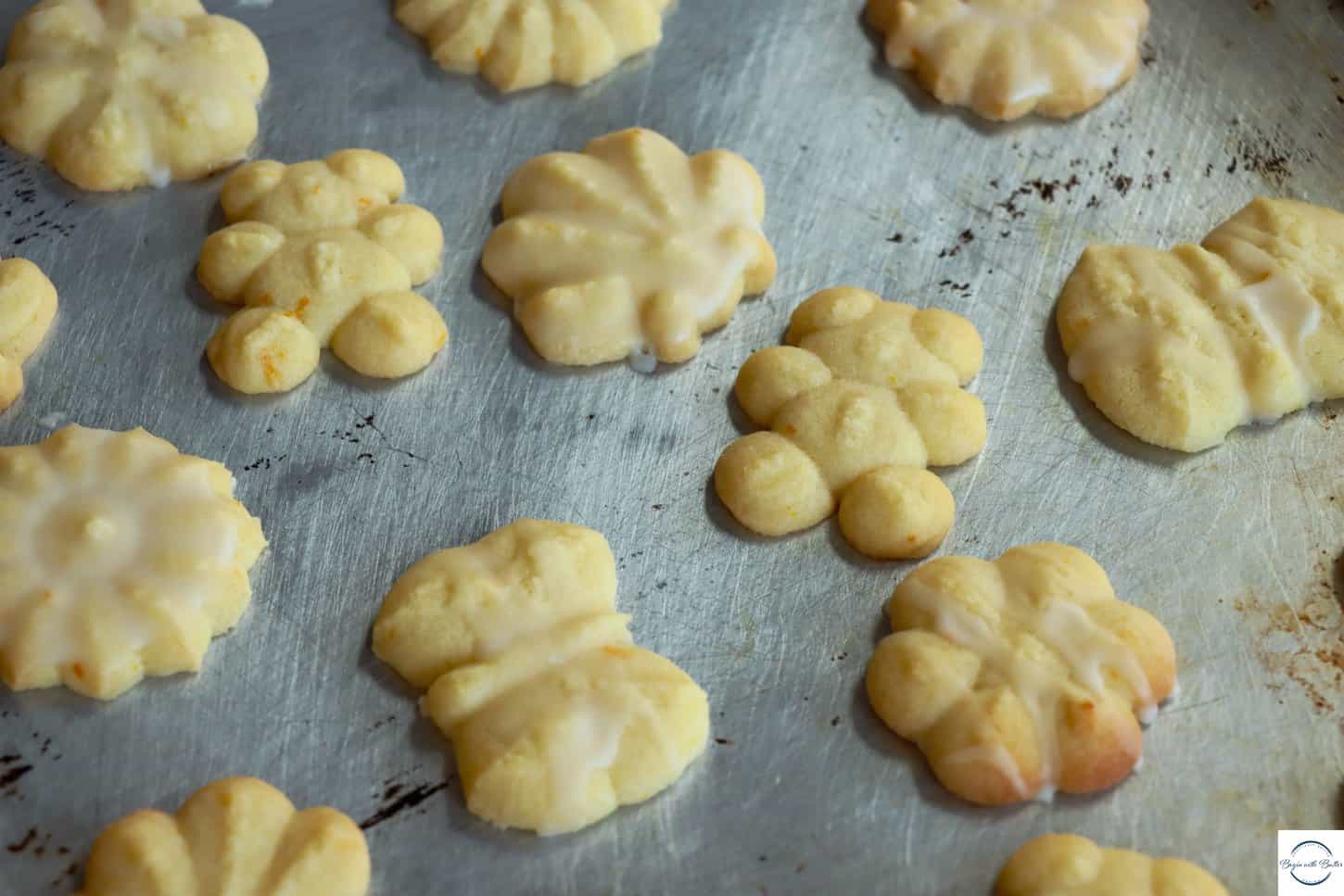 Print
Orange Creamsicle Spritz Cookies
These amazing Orange Creamsicle Spritz Cookies come together perfectly for a weeknight meal!  It's the perfect something sweet to end the night.
Total Time:

~25 minutes

Yield:

80

–

90

cookies

1

x
320

g

(2.5 c) all-purpose flour

1/8 tsp

kosher salt

1/2 tsp

baking soda

200

g

( c) granulated sugar

1 tbsp

orange zest

227

g

(1 c) unsalted butter, room temperature

1

egg

2 tsp

vanilla extract
 1 x The Best Vanilla Glaze, optional
Instructions
Turn on your oven to a true 350°F.
Sift together all-purpose flour, kosher salt, and baking soda.

 

Set aside.
Massage orange zest into sugar for at least three minutes.

 

Set aside.
Cream butter and infused sugar until light and fluffy.

 

Scrape the sides and bottom of the bowl as needed.
Add egg and mix until fully combined.
Add vanilla extract and mix until fully combined.

 

Scrape the sides and bottom of the bowl as needed.
Add flour mixture in two batches.

 

Mix until nearly combined.

 

Finish by mixing leftover flour with a very stiff spatula and then giving 5-7 more turns with your mixer.
Load cookie press according to manufacturer's instructions, and press cookies onto an unlined, uncreased cookie sheet.
Bake for 3 minutes on 350°F, then turn the tray and bake another 3 minutes or until the cookies look set (but before they are brown!).
Remove the cookies from the oven.

 

Allow to remain on the cookie sheet for 3 minutes, then carefully move to a cooling rack.

 

If the cookies are slightly stuck, use a stiff spatula to gently "scoot" the cookies before lifting off of the cookie sheet.
Enjoy!
Notes
You can save some of this cookie dough for later by refrigerating it for up to 72 hours. Just make sure that you allow it to come fully to room temperature before using it.
You can absolutely glaze these with my favorite glaze of all time, The Best Vanilla Glaze, for that creamsicle effect!  But you can eat them plain (as my children will attest to) and they are delicious as well!
Author:

Prep Time:

15 minutes

Cook Time:

6 minutes (per batch)

Category:

Dessert