If the plummeting temperatures and "crisp" days are any indication, Fall has officially arrived! And while I don't know how I truly feel about the loss of summer (lie: I feel very sad about summer going away because I am solar powered!), I feel very good about the fact that I can now indulge in these delightful Pumpkin Spice Cinnamon Rolls!
So, it's a net win.
These cinnamon rolls celebrate one of the most wonderful things about fall (pumpkin) combined with one of the most decadent types of bread known to man (the incredible brioche). They are perfect for a fall-themed brunch (or, if you're like me, an early-morning bake), and they're just delightful with my pumpkin spice blend!
Pumpkin lovers, this is the cinnamon roll of your DREAMS!
About These Pumpkin Spice Cinnamon Rolls
When I say that there is pumpkin spice in these cinnamon rolls, I mean it! My version of pumpkin spice includes cinnamon, nutmeg, and cloves, and oh boy does that deliver right in the brioche dough!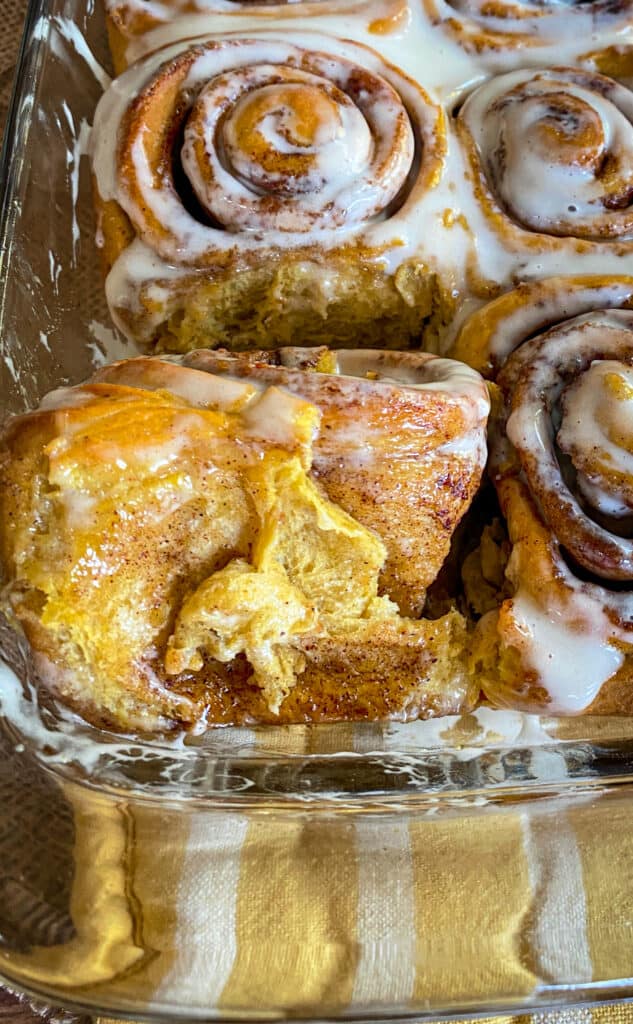 In addition to the brioche dough, these cinnamon rolls feature oodles and oodles of cinnamon sugar filling, and a classic glaze that is ::chef's kiss:: delicious.
It will seriously challenge your will power to not eat the whole pan of these delectable cinnamon rolls.
Beginners Start Here
Brioche is one of the most delicious types of bread/yeasted pastry that you can ever consume. It's also a little intimidating for some bakers, so here are some resources to help you become successful!
If you truly want to become the best bread baker you've ever been, and if you want to break through your baking barriers when it comes to yeast breads, you'll be happy to know that you can now purchase the BwB Bread Bootcamp replay for a discounted price!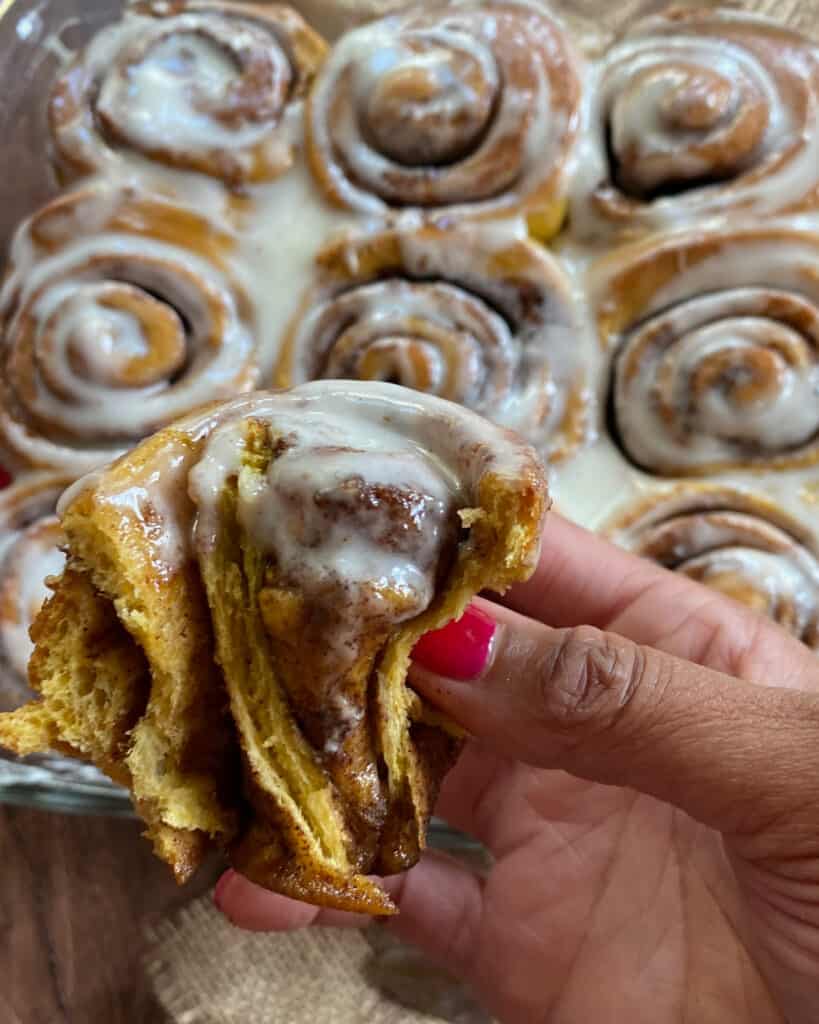 Best Equipment for this Pumpkin Spice Cinnamon Roll
** this section contains affiliate links. While I do get paid a small commission if you purchase the items on this list, they are truly items that I use daily in my kitchen. **
These are a few of the items that I use and love in my kitchen for these cinnamon rolls. You certainly don't need to purchase these exact items, but I love to use them myself!
My Friends, it's time for my favorite part…the recipe. Please enjoy this incredibly special Pumpkin Spice Cinnamon Roll for the fall and beyond!
Print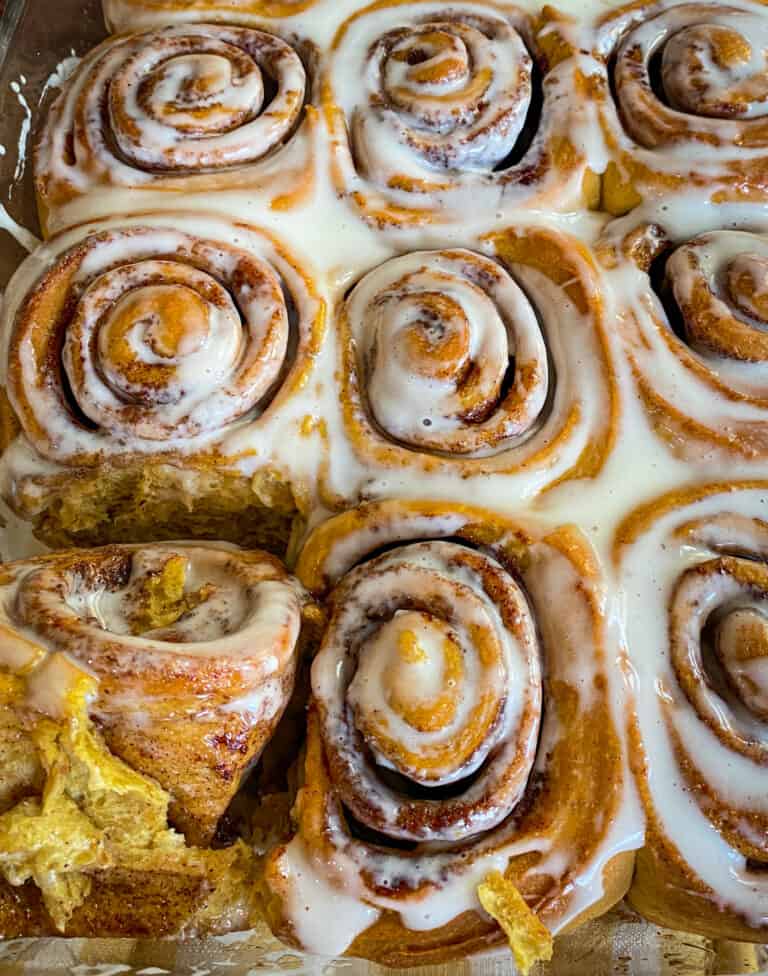 Pumpkin Spice Cinnamon Rolls
This incredible Pumpkin Spice Cinnamon Roll is perfect for any fall brunch.  It's perfectly spiced for the season and the brioche dough is pillowy soft!
Total Time:

~3 hours

Yield:

12

Rolls

1

x
For the Dough:
64

g

(1/4 c) water, 110°F-115°F

1.5 tbsp

instant yeast

1.5 tsp

turbinado sugar

576

g

(~4.5 c) all-purpose flour (See note about flour!)

1 tbsp

salt

1/2 tsp

cinnamon

1/2 tsp

nutmeg

1/4 tsp

cloves

67

g

(~1/3 c) brown sugar

63

g

(1/4 c) pumpkin puree

1 tsp

vanilla extract

4

large eggs

115

g

(1/2 cup) unsalted butter, room temperature
For the Filling:
113

g

(1/2 c) butter, melted and cooled (but still liquid)

200

g

(~1 cup) dark brown sugar

2 tbsp

cinnamon

1/8 tsp

(pinch) salt
For the Final Glaze:
165

g

(1.5 c) confectioner's sugar

60

g

(1/4 c) cream cheese, room temperature

1 tbsp

whole milk

1 tsp

pure vanilla extract

1/8 tsp

fine sea salt
Instructions
Add the water, yeast, and turbinado sugar to a 1-cup liquid measuring cup.  Stir until all of the yeast is hydrated.  Allow to bloom for 6-8 minutes, or until the yeast has expanded.  If the yeast does not expand, try again with new yeast.
Add flour, salt, cinnamon, nutmeg, cloves, and brown sugar to a large bowl.  Do not combine.  Allow the flour to remain at the bottom of the bowl.
Place the brown sugar in a small bowl and set aside.
Place the eggs and vanilla in a small bowl and set aside.  You don't want shells in your beautiful brioche!
Add the 200 grams of dark brown sugar and 2 tbsp of cinnamon (for the filling) to a small bowl and set far aside.  You won't need this until after the dough is complete.
Cut the butter into 1 tbsp cubes and set aside.  You won't need them until the rest of the dough has come together, but you want them to be a soft room temperature before they're added to the dough.
Add the bloomed yeast mixture, vanilla extract, pumpkin puree, eggs, and three level 1-cup scoops of your dry ingredients to the mixing bowl of a stand mixer.  Stir the ingredients with the flat beater of your stand mixer until combined, and the ingredients are starting to stick together.
Switch to the dough hook of your stand mixer, and begin kneading with the dough hook.  Use a 1/4 cup measurement to scoop level amounts of your dry ingredients into your dough.  Knead for at least one minute on low speed between additions.
When the dough comes away from the sides of the mixing bowl, add flour, 1 tbsp at a time, still kneading for at least a minute between additions.
If you use all of the flour in the recipe, you should not need more than 3-4 more tablespoons of flour total.  At this point, the dough is "finished" when it is ever-so-slightly tacky to the touch, but not sticky.  It should also pass the windowpane test at this point, before you incorporate the butter.
Once the dough passes the windowpane test (the first time), begin adding the butter, one tablespoon at a time.  This is the longest part of the dough-making process, so pack your patience!  Allow the dough to fully incorporate each tablespoon of butter before adding the next one.  The bowl will likely get a buttery coating during this process.  That is normal!
When all of the butter is incorporated, allow the dough to knead for another 5-7 minutes on low speed.  The dough is complete when it easily passes the windowpane test (again!) and is very pliable.
Spray the mixing bowl with a light coating of cooking spray, and allow the dough to rise, covered with plastic wrap (with a small hole to vent gases), for about an hour, or until doubled in size.  You can also use the finger poke test at the one-hour mark so that you can decide whether it needs a few more minutes.
Gently de-gas the dough by pressing down on it in the mixing bowl.  Use your fingers to shape the dough into a rough rectangle on your work surface, with the long side of the rectangle facing you.
Use a rolling pin to roll the dough to about 1/2" thickness.
Brush melted butter onto the dough.  Do not be shy with the butter!  But leave butter off of the top 1.5" of the rectangle.  This helps the dough stick to itself when you're sealing it!
Sprinkle the brown sugar/cinnamon filling over the top of the buttered part of the dough.  Use all of it!  You want that ooey gooey goodness in your cinnamon rolls!  Press down on the cinnamon/sugar filling once it's sprinkled over the top of the dough.
Starting with the long side of the rectangle that is facing you, tightly roll the cinnamon roll.  It probably won't be even, but that's okay!  Work slowly and make sure that the roll is as tight as you can possibly make it.
Trim the edges to make the roll an 18-inch log.  Cut the log into 1.5" rolls, and place them in a lightly greased 9"x13" baking pan.
Cover the baking pan with plastic wrap and allow the cinnamon rolls to proof for 45 minutes.  While the cinnamon rolls are rising, heat your oven to a true 350°F.
Bake the cinnamon rolls in a 350°F oven for 20-25 minutes, or until an instant-read thermometer reads 200°F in the center.
While the cinnamon rolls are baking, make the glaze by first adding the room temperature cream cheese to a medium bowl and mixing with a hand mixer until the cream cheese is totally smooth.  Add the confectioner's sugar, fine sea salt, vanilla extract, and whole milk and mix until the mixture is smooth and creamy.  Add to the cinnamon rolls immediately after taking them out of the oven.
Enjoy!
Notes
This is a rather sticky dough, and it works best in a stand mixer.

 

However, those who are more adventurous or experienced with bread can absolutely accomplish this special dough with a wooden spoon or Danish dough whisk!
Metric measurement is the most accurate way to make any recipe, but it's particularly helpful for bread recipes.

 

It is easy to over-flour bread when you just use measuring cups.
About flour:

 

The amount of flour in my bread recipe is the amount of flour that I've reached after testing the recipe multiple times.

 

There are many times that you won't need all of the flour that a bread recipe calls for, and there are many times that you will need just a wee bit more.

 

Practice makes perfect with bread recipes!

 

With bread, it's all about how the dough feels once it's done.

 

The best advice I can give you is to be slow and steady when adding flour to this recipe, as you don't want an over-floured brioche dough.  The windowpane test will be the determining factor!
You can make this dough the night before, and refrigerate the prepared rolls.

 

It makes a great weekday breakfast if you'd like to do it that way!

 

If you decide to refrigerate, give the rolls 90 minutes to 2 hours of rise time before placing them in the oven.
Author:

Prep Time:

1 hour (active)

Cook Time:

20-24 minutes

Category:

Breakfast

Cuisine:

American
Keywords: Pumpkin Spice Cinnamon Roll
This Pumpkin Spice Cinnamon Roll is such a special fall treat, and I hope you love them! If you make them, make sure to tag me on Instagram so that I can celebrate your success with you!
Until next time, my friend!